Duo serenades rubble of $35M Philadelphia Free Library renovation
At one time, there were six floors overhead, each shelving tens of thousands of books. But, for just a brief moment, the space was filled with the delicate breath of a flute.
Listen
2:45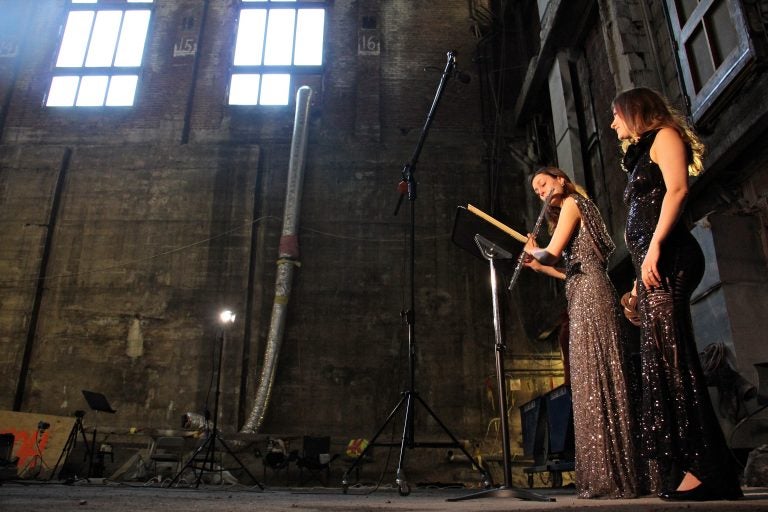 The main branch of the Free Library of Philadelphia is in the middle of a $35 million renovation project to rebuild its closed shelving stacks as new public spaces.
Right now, six stories of shelving have been removed, leaving behind a giant concrete box, 8,000 square feet on the floor and 65 feet high. On Tuesday that raw space became an impromptu concert hall.
It looks apocalyptic. At one time, there were six floors overhead, each shelving tens of thousands of books. Now there is nothing but air, and the smell of damp concrete. The space is littered with a mountain of dismantled sheet metal ductwork. At the ready is a giant, 26-inch concrete saw, which will be used to cut pads into the floor to accommodate new steel infrastructure.
But, for just a brief moment, the space was stilled and silent, then filled with the delicate breath of a flute.
"It felt almost as a religious experience," said flutist Anna Urrey. "It has a similar feeling of playing in a cathedral. The sound just keeps going up and up and up, and disappears."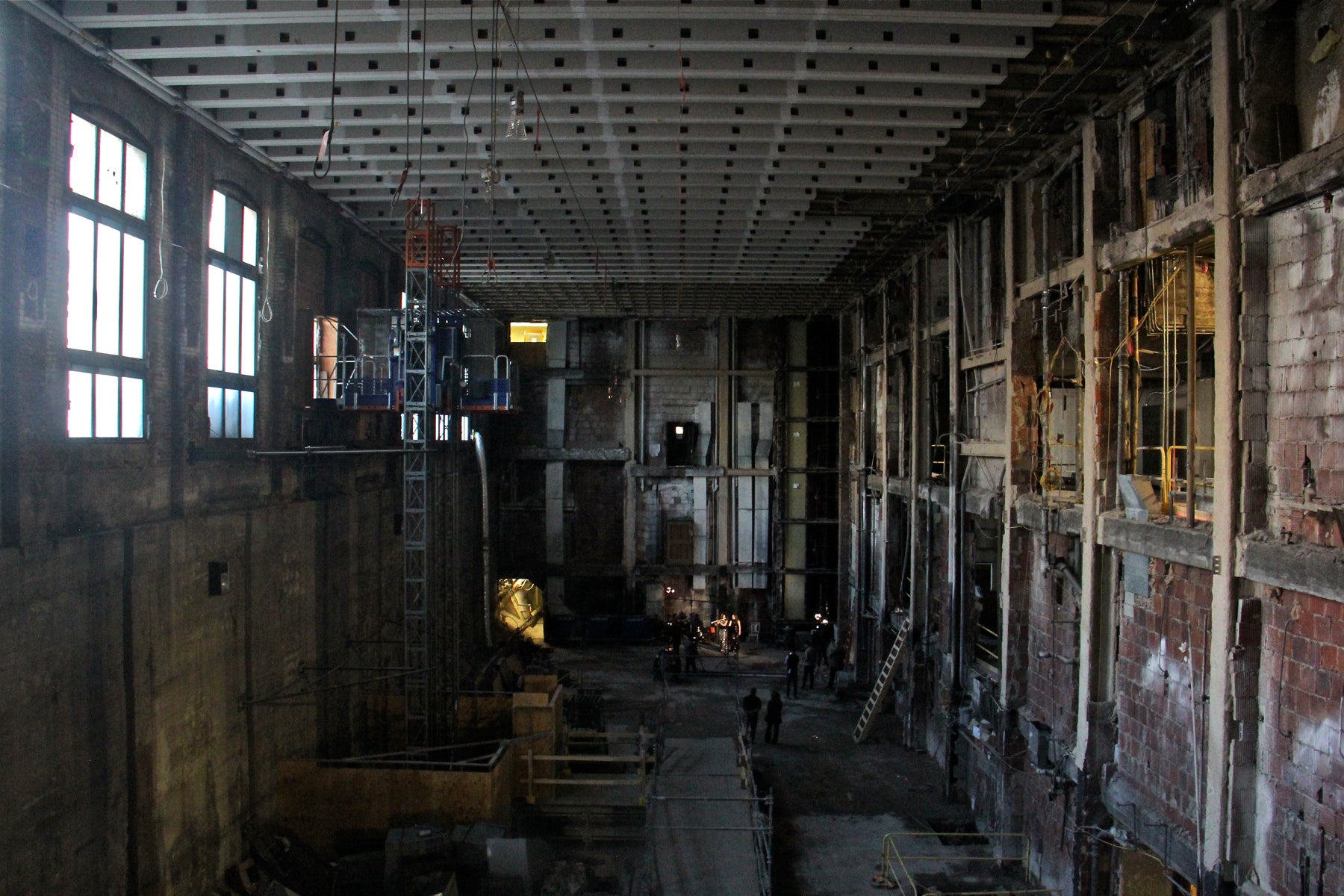 Urrey and vocalist Katherine Skovira performed inside this space that once held a million books at the invitation of Ray Banas, the head of the Free Library of Philadelphia's music department. He watched the slow, deliberate demolition of a giant steel cage that was the library's stacks, and thought it was so cool.
"I saw a big metal structure, and to have modern music played in there would have been awesome," he said.
What would have been awesome also would have been fantastically dangerous. The library's property manager, James Pecora, gave the idea an emphatic "no," but realized there would be a small window of time — just a few days — after the space was cleared of debris and before the construction began on the new floors. About a year from now, 40,000 square feet of newly available public space will open.
"It's one of those perfect storm things. It just worked," said Pecora. "This is so unique. We all did what we could to make it work. You don't see this too often."
In fact, the concert of flute and voice was witnessed by very few. Aside from a handful of library staff, there was no audience; there are far too many threatening liabilities to allow a crowd of people in the construction space.
However, a three-camera film crew captured the performance, with several retakes for the benefit of the editor. A music video is expected to be released online in a few months.
The duo chose a program of pieces to reflect the cold, damp, and nearly lightless space: a mournful flute solo "Mei" by the Japanese composer Kazuo Fukushima, Claude Debussy's "Syrinx," and a trio of Irish songs by John Corigliano.
"There are themes of deconstruction of the space and the hope for the future," said Skovira, the vocalist. "It is highlighting that this will be a stunning cultural center in a year or two."
Her partner, Urrey, needed some convincing.
"I asked the question, 'Are you sure we want to play so many dark things? Could we throw in some lighter things? Jingle Bells?'" said the flutist. "We came to the understanding that this is about what this space is, right now. We'll have an opportunity to celebrate later with more uplifting pieces."
WHYY is your source for fact-based, in-depth journalism and information. As a nonprofit organization, we rely on financial support from readers like you. Please give today.