Childhood stress wires the brain for adult anxiety
Listen
10:08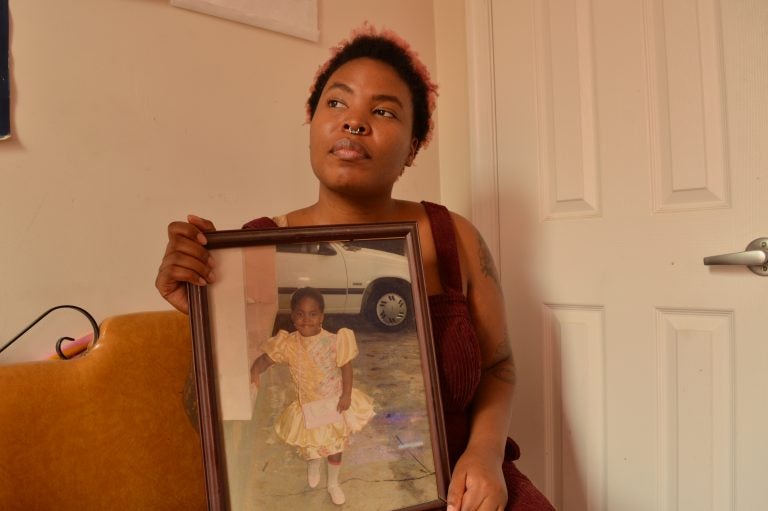 Negative childhood experiences — ranging from neglect to abuse — are among the biggest risk factors for anxiety and depression. Sometimes, the effects don't show up for years, or even decades, after the experiences occur.
That was the case for Adesola Ogunleye, 31, who says she first became aware of her anxiety in her mid-20s.
"I had like heard talk about anxiety and panic attacks and I was like, I don't know what that is, what are you talking about?" Ogunleye says.
Then, she had her first panic attack.
"That was a whole new thing for me," she says. "I was just like, okay, so now I know what this is."
Ogunleye soon realized that a majority of her anxiety seemed to center around a new relationship with her then-boyfriend, Greg Pachell. The relationship held promise — but it seemed like the nicer Pachell was, the more Ogunleye lashed out.
"I broke up with him like a million times," she says. "I said really nasty things to him."
Ogunleye ticks off the thoughts that swirled in her head.
"He's going to do something mean really soon," she says. "He's going to hurt me. He's just messing with my head."
For Ogunleye, it was a way of protecting herself. She was 6-years-old, when she moved to the United States from her native Nigeria alone. Once here, she spent years being shuffled between relatives and family friends. It wasn't until the age 11 that Ogunleye started living with her mother again.
Ogunleye says her mother was emotionally and sometimes physically abusive. She could be strict and controlling, would lash out at Ogunleye and then gaslight her later.
"My mother — she confused me as a child a lot," Ogunleye says. "And I think that's where a lot of it really comes from."
Ogunleye was a couple years into dating her boyfriend when another source of childhood trauma surfaced to her consciousness.
One evening, Ogunleye and her boyfriend were getting intimate when a news story about sexual abuse began circling round and round in her head.
"It just unlocked something — and I just had a panic attack," Ogunleye says.
She says she flashed back to memories of early childhood sexual abuse.
"And it was just like thinking of it, and then someone touching you at the same time — it's so overpowering and overwhelming," she says. "I just freaked out."
That experience made her realize that huge anxiety had been looming in her life — and where it was coming from: "… all these times in my life where I had not consented to someone touching me," she says. "That my body was not mine for so long in my life."
That realization led to an even bigger one — that the sexual abuse Ogunleye experienced was part of a painful pattern throughout her childhood — a pattern of adults betraying her trust.
Psychology researcher Seth Pollak says childhood stress like Ogunleye experienced can have a formative effect on the brain.
"Anxiety is very, very common among people that have early childhood stress exposure," Pollak says. "It appears to affect the way different aspects of brain functioning become wired."
Pollak says that wiring affects how different parts of the brain communicate with one another.
"Some brain circuits might be overwired or underwired and might not be communicating as effectively as they should be," Pollak says.
For example, if the part of the brain responsible for higher judgment isn't communicating effectively with the part of the brain responsible for emotions and survival, knee jerk reactions can quickly get out of hand.
Among people who experience sustained childhood stress, that changed wiring trains the brain to perceive innocuous situations as a threat.
"When you're a child that's experiencing very high stress in, in many different forms, this environment is actually shaping your view of what the world is like," Pollak says. "And so if people that are supposed to be caring for you and protecting you are hurting you or harming you, or responding to you in an inconsistent way, this is shaping what you're expecting from people in the social environment."
Scientists are still figuring how how to best undo the wiring caused by sustained stress.
At age 31, Ogunleye has worked out ways of coping. She talks with friends, plays the drums, in her band, Full Bush, hangs out with her husband, Greg — the two got married, despite their rocky start — and she does her best to stay in the present.
"I just try to focus on what I'm doing at the moment — I try not to let it overwhelm me," she says. "I do breathing exercises, take a step out if I need to, look at a funny cat meme. And just like enjoy the small moments of life where I am happy."