Center City's first pot dispensary set to open this fall
Until now, any operating dispensaries have been in the suburbs.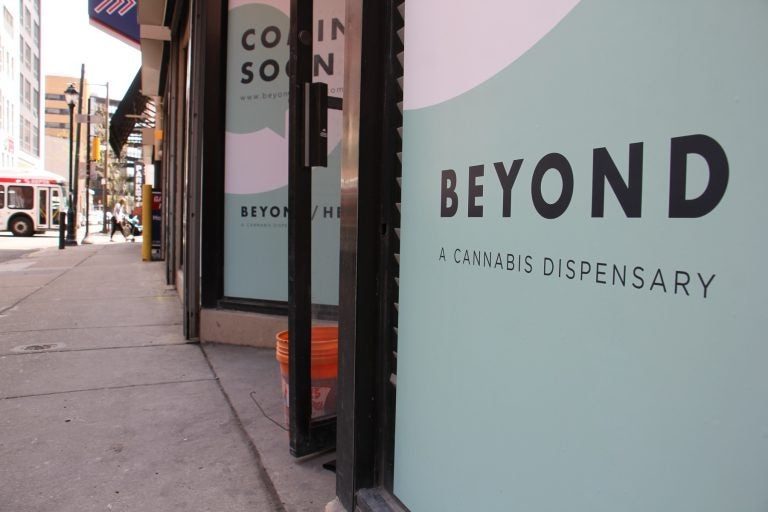 Center City's first pot dispensary will open some time in September or October this year.
The fourth medical marijuana retailer, Beyond/Hello will set up shop at 12th and Sansom Streets. Restore Integrative Wellness, another medical marijuana facility is set to open next month in Fishtown. Keystone Shops will open a dispensary near the sports complex in South Philly, and Holistic Pharma plans to open a location in Bustleton this summer.
Beyond/Hello President Blythe Huestis is bullish on the facility. "We think it will grant access to a lot of patients who otherwise have to travel quite far to get their medication," she said.
Until now, any operating dispensaries have been in the suburbs. Andrew Sacks, managing partner and head of medical marijuana division at Sacks Weston Diamond, said zoning restrictions are to blame for the lag in city-based locations. Any approved dispensary must be at least 500 feet from a childcare facility. He said that limits potential sites and creates an inconvenience for patients.
"You could go all the way down to the airport and probably open because there's not going to be a daycare there, but who's going to be able to get down there?" he said. "There's a whole majority of the population of Philadelphia that's either going to have to take an Uber, get a caregiver, or drive out to the suburbs to get medical marijuana every 30 days."
Councilwoman Cherelle Parker disagrees. She said the city already succeeded in getting a variance from the state, and reducing the childcare setback from 1,000 feet to 500 feet due to the city's density. Even with the rule of 500 feet, she said, companies can always apply for permission to open at a location that is closer than that.
"They can go through the variance process like people in any other industry in the city of Philadelphia," she said.
Beyond/Hello's Huestis has worked in the medical marijuana dispensary business for years. They're in Arizona, which legalized medical marijuana in 2010. She said zoning restrictions like the ones in Philadelphia are common in the cannabis industry. "Every state has its hurdles and challenges, but ultimately this has been a really smooth rollout."
Beyond/Hello's Bucks County location will open next month, with another southeastern Pennsylvania location in the works as well.
WHYY is your source for fact-based, in-depth journalism and information. As a nonprofit organization, we rely on financial support from readers like you. Please give today.