Vietnam's paradox: Veterans and objectors alike can feel like 'moral deserters'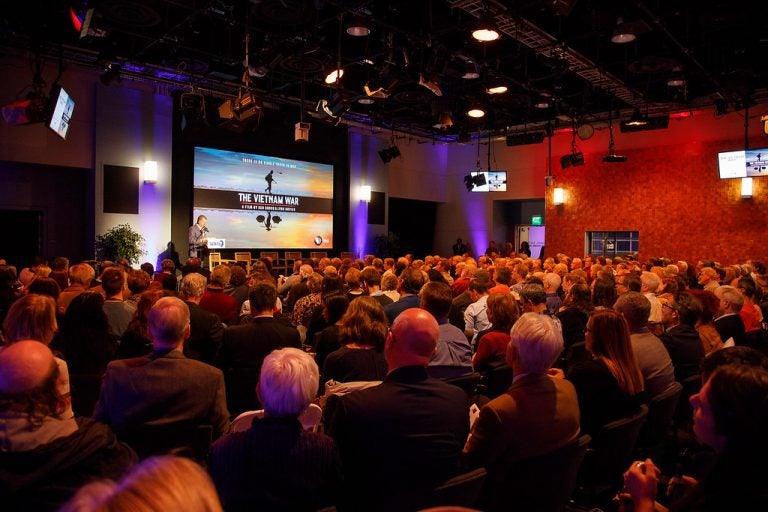 On Thursday, Oct. 12, WHYY's Laura Benshoff moderated a public discussion with the director of PBS' "The Vietnam War," Lynn Novick; writer and veteran W.D. Ehrhart; Marsha Four, vice president of Vietnam Veterans of America; and Ronald Ferrizzi, a veteran from North Philadelphia. Speak Easy contributor and anti-war activist Sam Flint attended the discussion and has this reflection.
—
I knew Thursday's event and the entire Vietnam series would evoke strong emotions, but the intensity surprised me. The most jarring moment in the series came during the interview with the vet who went on to write "The Things They Carried." During one interview (before viewers discovered he was critically acclaimed author Tim O'Brien), he talked about not having the courage to take off his uniform and just quit.
He felt he lacked courage. Him too?
Here was a guy who willingly put his life on the line for his country, and even he felt like he was copping out. What began to dawn on me was a deeply suppressed feeling that I could not admit to myself back then — that, at some level, I too felt residual guilt for copping out. Some poor bastard was taking my place because he didn't know that he should resist the draft or didn't know how to do it. Even though the war was wrong, and I wanted no one to go, I knew that guys just like me were shipping out every day. Regardless of what you did, everybody with a shred of conscience felt like a moral deserter in one way or another.
Context is so important. Our generation was born in the vivid shadow of World War II. The perpetrators of the Holocaust and other atrocities committed by the Axis powers in Nanking and elsewhere by soldiers who were "just following orders" didn't stop the Nuremberg courts from holding the officers accountable for their crimes. The world began subscribing to a new ethical code, one where loyalty to country was superseded by enduring morality. Being Jewish intensified my commitment to these values. Just three or four years before I was born, my relatives were being sent to hard labor camps and the gas chambers. I knew people in my daily life with numbers tattooed on their arms. How could I look the other way when my country was being infected by a similar irrationality?
Much of our generation believed the post-World War II world had to be guided from now on by new principles of personal responsibility. No one could claim one's country of residence constrained their life choices. We were "condemned to a world of freedom," to borrow from Sartre.
And if those values didn't permeate everyone, tens of millions of us in the peace movement subscribed to them. We accepted that we were free to choose our life's direction and obligated to choose morally, but our Hobbesian choices were all so unpalatable: Submit to the draft and kill innocents; join the reserves hoping to avoid battle; refuse induction and face a multi-year prison sentence; go to Canada and leave home behind forever; exaggerate a medical condition (like bone spurs in the heel); act wacky at the draft physical to get a "psych out;" apply for conscientious objector status; or try to string together successive deferments to age 26, an option that became increasingly difficult as the war wore on and grad school and the Peace Corps were dropped from the deferment list. That was it. There was no exit, no honorable option.
Even conscientious objector status was seen as a cop out reserved for well-read college guys. It was unlikely that a farm boy from Kansas or an inner-city kid from Boston who held those beliefs could articulate the compelling case that the application required. I was so pleased that the documentary underscored the point that the guys who went to Vietnam were disproportionately lower educated, lower income, rural, and minority.
Me, I signed up for the Coast Guard reserves at the end of my sophomore year of college in 1966. I later removed my name as it began to climb the waiting list, because I felt that would still make me part of the war machine. Ultimately, I found a psychiatrist who was known to help draft resistors and went the psych-out route. It seemed like the least unacceptable choice, but I hated it because I knew I wasn't crazy, just deeply distressed by the insanity gripping the country.
I grew up as a patriotic kid, a true believer. My uncle was wounded in Italy at the Anzio Beachhead, and I had older cousins who served in Korea. My father never went into the service, because he had two children and was deferred. But both he and my mother, a genuine "Rosie the Riveter," worked in the shipyard in Providence, Rhode Island, to support the war effort.
When I was 7 or so, I was proud that my dad volunteered for the Civil Air Patrol, which meant he took shifts each week on the coast looking through binoculars to spot Soviet planes flying below the radar used in the '50s. I was a Boy Scout at the Star rank, and I knew that when it was my time to serve my country, I would go. Like everyone else, I accepted compulsory military service as a necessity. After all, we had the Cold War to win. Then the country went haywire, and we began behaving like the Nazis, napalming villages and people who never meant us any harm. I became angry and deeply alienated.
I chose to fight the war, but as I discovered in the wake of the series and the Thursday event, I always carried with me some level of self-doubt, a hidden, unending ambivalence. Should I have just gone to prison or started a new life in Canada? And the worst secret fear was wondering if part of my stand was driven by pure physical cowardice?
Sure, I went to dicey confrontations like the march on the Pentagon in '67, and we all saw the bloody police riot at the '68 Democratic Convention in Chicago and Kent State, but that stuff paled in comparison to the Ia Drang Valley and Hamburger Hill. I refused to go because I believed, in my heart and in my head, that I would have to kill innocent people to earn that red badge of courage that every red-blooded American boy was taught to prize, and that price was too high. History proved that I was on the right side, but, still, the lingering self-doubts gnawed at me unconsciously and unrecognized — until a couple of days after Thursday's panel, when I started to tell my daughter about it, and they came to my conscious mind. Like the country, I finally allowed myself to feel, and perhaps heal, them.
—
Sam Flint is a health policy analyst and advocate. He was an executive with the American Academy of Pediatrics for nearly two decades and taught public policy and health economics at three universities. Sam has authored more than 20 articles on Medicaid and health reform in a half-dozen peer-reviewed journals, and he has served as an expert witness in federal courts in several Medicaid cases addressing the rights of children to access medically needed care. Sam holds a B.A. from University of Rhode Island, an MSW from Florida State University, and a Ph.D. from the University of Chicago. He and his wife, Rebecca, live in Media, Pennsylvania.