Video artist traces the scars of war from South Philly to Vietnam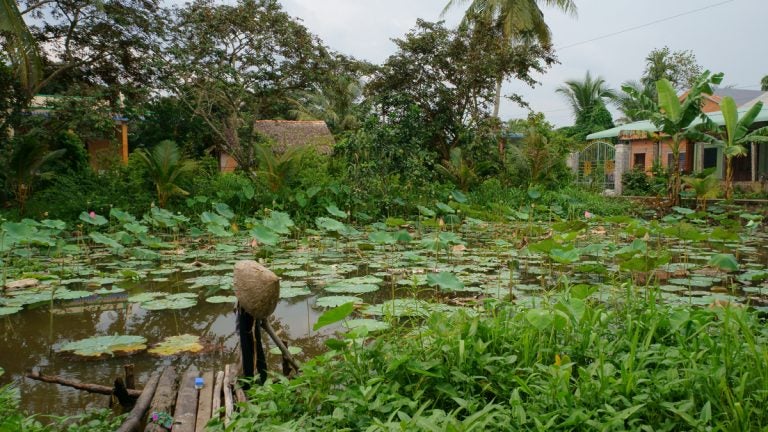 This story is part of a WHYY series examining how the United States, four decades later, is still processing the Vietnam War. To learn more about the topic, watch Ken Burns and Lynn Novicks' 10-part documentary "The Vietnam War" running Sunday, Sept. 17 at 8 p.m. through Thursday, Sept. 28 on WHYY-TV.
—
A Philadelphia video artist born in Vietnam is currently shooting a documentary of a different sort, chronicling his personal connection to scars the war left on the landscape.
When Boone Nguyen's family immigrated to America in 1975, they arrived at Mifflin Square in South Philadelphia. "We were one of the first — if not the first — Asian family in this neighborhood," he said.
Nguyen was seven years old at the time, and his formative years were spent in Philadelphia. He has returned to Vietnam only a handful of times.
During one of those visits in 2013, his cousin took him to his grandmother's grave in a rural farming village. She died during World War II and her grave marker had been lost to the undergrowth, only recently rediscovered.
"Right near it, during the American Vietnam war, a bomb was dropped," recalled Nguyen while sitting on a picnic table in Mifflin Square. "Now there's a crater near where she was buried, and the crater is filled with water."
The bomb crater had become a pond and the pond became fertile. Villagers started cultivating fish and lotus plants. Nguyen discovered many bomb craters that had become reclaimed by residents as natural resources.
"When I saw how closely tied people's identity and understanding of history was to the land in rural Vietnam, I started thinking about this park, Mifflin Square Park in South Philly where I grew up," he said.
Whereas he was once the only Asian kid on the block, the neighborhood around Mifflin Square is now predominately Southeast Asian, with many Cambodians and Vietnamese.
Commissioned by the Asian Arts Initiative, Nguyen is now working on a video project tracing a line between Mifflin Square with rural Vietnam, as two places deeply affected by the forces of migration during and after the Vietnam War.
"In Vietnam there was a post-war migration back to the rural land after upheavals of war," said Nguyen. "The U.S. strategy was to drive rural villagers off the land into the cities where they could be easily controlled. After the war, people migrated back."
Nguyen is splitting time between Philadelphia and Vietnam, shooting footage for a public installation project expected to be finished next spring.
This disclosure: The William Penn Foundation supports WHYY. 
—
To learn more, watch Ken Burns and Lynn Novicks' 10-part documentary "The Vietnam War" running Sunday, Sept. 17 at 8 p.m. through Thursday, Sept. 28 on WHYY-TV. WHYY Members will have extended on-demand access to the series via WHYY Passport through the end of 2017.