How it started, how it's going: A fish story at Drexel's Academy of Natural Sciences
The first fish to crawl onto land 375 million years ago was discovered in 2004. It became a media darling. Now, for the first time, you can see it in person.
From Philly and the Pa. suburbs to South Jersey and Delaware, what would you like WHYY News to cover? Let us know!
It's been almost two decades since paleontologist Ted Daeschler and his team of researchers made the breakthrough discovery of an evolutionary missing link that shows how fish started to crawl out of the water 375 million years ago.
But aside from researchers, few have had a chance to see it.
For the first time, the Tiktaalik roseae fossil is being publicly displayed, shown within its paleontological context, in "Life Onto Land: The Devonian" at the Academy of Natural Sciences of Drexel University.
The now-extinct Tiktaalik lived during the Devonian period (aka the Age of Fishes) of the Paleozoic geological era. It may not be as sexy as the age of dinosaurs' Mesozoic era, which came much later, but the Devonian saw an explosion of plant diversity and complex development of fish.
As curator, Daeschler has plenty to show off.
"It really hasn't been done before, here or anywhere," he said. "It's not a household name, the Devonian period, but it should be."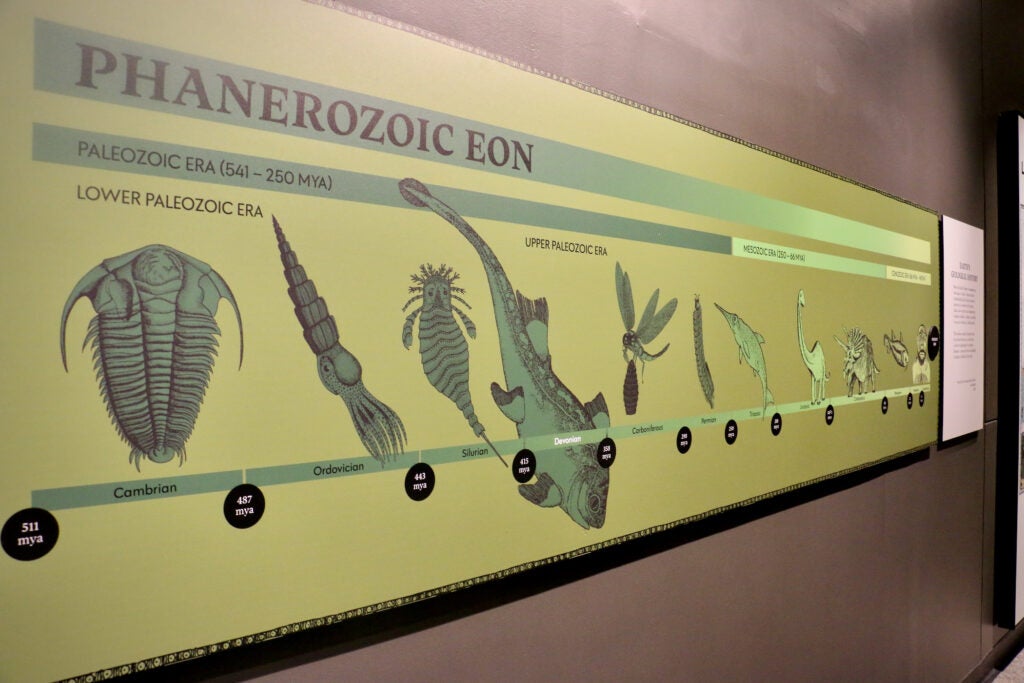 Daeschler's retirement from the Academy of Natural Sciences comes at the same time his final exhibition, "Life Onto Land," is opening. His Devonian journey started 30 years ago, nearly in his backyard. He began driving the backroads in rural central Pennsylvania where the Pennsylvania Department of Transportation was cutting into hillsides to build new roads. PennDOT was inadvertently exposing Devonian-era rock.
"What has been terrific for us are these recent construction projects since 1990. Not only are the road cuts fresher, but they're bigger. They really open up the sides of a hill," he said. "PennDOT has created these good exposures. We started to find a lot of great stuff."
A particularly rich road cut is along Route 120, about 20 miles north of Lock Haven in Clinton County, called Red Hill. In 1993, Daeschler and fellow paleontologist Neil Schubin discovered a species of ancient tetrapod, the Hynerpeton, which had four appendages that functioned roughly as legs.
That discovery put Red Hill on the paleontological map. Since then it has become a magnet for amateur fossil hunters.
Larry Decina, a member of the Philadelphia-based Delaware Valley Paleontological Society, often takes trips to dig sites to hunt for fossils. He said Monmouth County, N.J., has good Cretaceous era shark teeth, and has found Miocene period whale vertebrae in the Chesapeake Bay area. The club will go as far as the Badlands in South Dakota to look for dinosaurs.
Pennsylvania, the society's home state, is rich with Devonian period material, mostly trilobites.
"A lot of people in our club will collect any fossil," Decina said. "Is the Devonian more fascinating? If somebody said to me you can go to a dinosaur footprint site in Reading, Pennsylvania, I'm going there before I'm going to a trilobite site. Everybody has their own little interest."
The Red Hill site stood out. It was easy to access — you just have to pull over to the side of the road — and there are fossils you can't find anywhere else. Decina is particularly attracted to its abundance of fish teeth.
"The fish teeth are huge," he said. "I mean, they are a couple inches long."
Now the Red Hill has its own fossil museum. The site is not as easy to access as it used to be: Decina said you now need a permit to hunt for fossils.
"The Devonian" exhibition includes some Hynerpeton fossils from about 340 million years ago that were discovered at Red Hill. Hynerpeton was a transitional species that led to amphibians and reptiles with more defined legs. But there was still a gap earlier in the evolutionary record: How did fish develop bones and muscles that would become the Hynerpeton's appendages?
Daeschler had to go beyond Pennsylvania to find that missing link. Through a partnership with the Canadian Nature Museum, he co-led an expedition team, again with Schubin, to Ellesmere Island in Canada's Nunavut Arctic archipelago. There they found a nearly complete skeleton of a marine creature from about 375 million years ago, with fins that had developed a structure that more closely resembled pectoral and pelvic appendages (i.e. arms and legs).
Daeschler and the team named it Tiktaalik, from the indigenous Inuit language meaning "large freshwater fish."
They had found their transitional tetrapod: one that was not really a fish and not really a land animal, but something in between. The "fins" would not allow the animal to swim like the fins of a typical fish; neither could they support weight and walk like legs on land.
But they were located under the body, not on the side, and were strong enough to push along the bottom of a body of water. The Tiktaalik had adapted to thrive in shallow water, like ponds or swamps.
"We believe that it could sort of wriggle itself, say, over a sandbar or into a shallow pond," Daeschler said.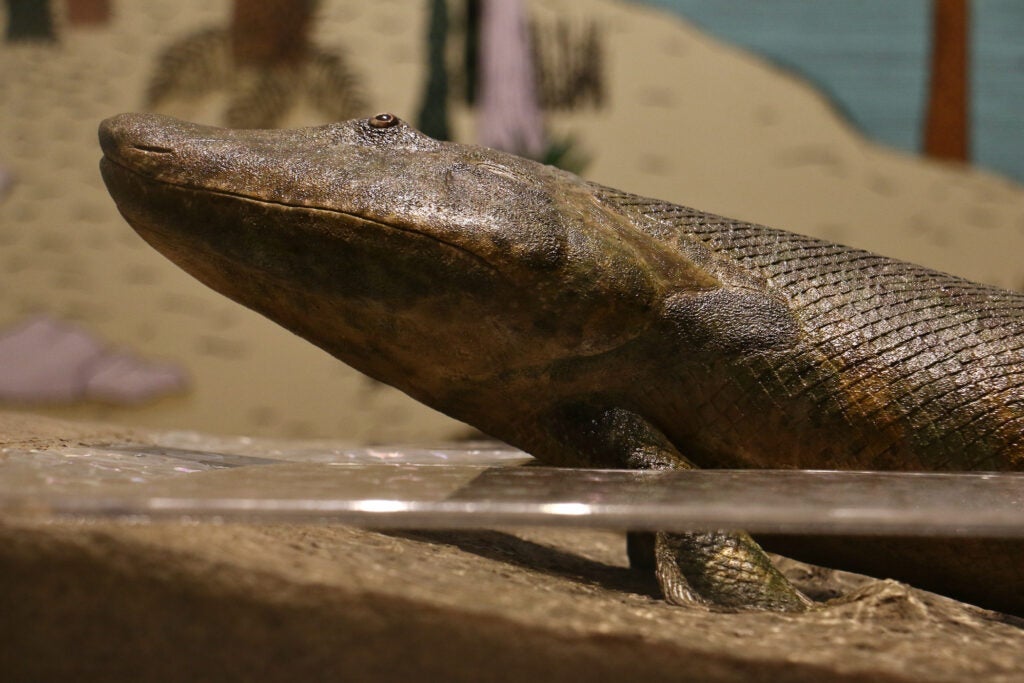 That wriggle gave the Tiktaalik a survival advantage, because the world was changing. The Tiktaalik's evolutionary predecessors had little reason to venture onto land as there was very little there. Plant life was only just beginning. Daeschler describes the landscape of the earlier Silurian period as a kind of "green crust" on the edges of water, with interior land being mostly sand and rock.
But during the Devonian period complex plant life developed into forests, attracting invertebrates.
"Millipedes and things started to find a resource, and they left the water and came onto land," Daeschler said. "Guess what? Those are good eating."
When Daeschler and his colleagues published their first paper on the Tiktaalik in 2006, it became a minor media sensation, even getting a segment on the late-night talk show The Colbert Report. The Tiktaalik seeped into the culture as a meme. People posting on social media would include the Tiktaalik when expressing misanthropic sentiments that humankind had made a mess of things and wouldn't it be better if fish had never crawled out of the water.
Cartoonist Tony Auth, with The Philadelphia Inquirer, used the Tiktaalik for an editorial about immigration, wherein plants watching the first fish crawling out of the ocean proclaim, "We should build a wall!"
That one in particular tickled Daeschler.
"I just love it," he said.
After the discovery of Tiktaalik, the fossil was moved to Philadelphia to be studied at the Academy of Natural Sciences. Daeschler and his team published about a half-dozen academic papers on the strength of the skeleton before returning it to Canada in 2015.
"We actually had it here in Philly for 10 years to do the research-y part," he said. "When we thought, 'OK, we've done most of the research we want to do,' we put it in the back of my Subaru and drove it up, along with hundreds of other fossils, back to that collection up there."
The Canadian Nature Museum never put the Tiktaalik on public display. It temporarily loaned it back to the Academy for this exhibition. A spokesman said the museum is waiting for a museum complex to be built in Nunavut, when all fossils discovered on Ellesmere Island will be repatriated back to their native land.
"Life Onto Land" is the first time the Tiktaalik is being shown to the public. It may be the star of the show, but the rest of the exhibition explains why Daeschler calls the Devonian period an "ecological revolution."
"You will never see a better Devonian exhibit anywhere in the world," he said. "No one else could actually do an exhibit with all of this material."
"Life Onto Land: The Devonian" will be on view through September 2024.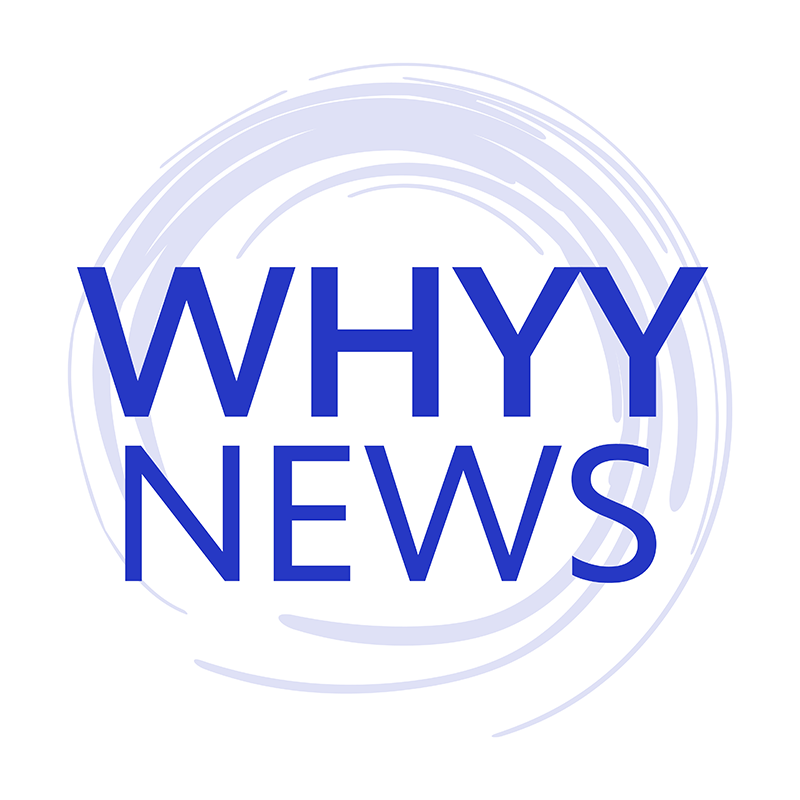 Get daily updates from WHYY News!
WHYY is your source for fact-based, in-depth journalism and information. As a nonprofit organization, we rely on financial support from readers like you. Please give today.