The myPhillyRising mobile app tells residents about upcoming events, local resources available.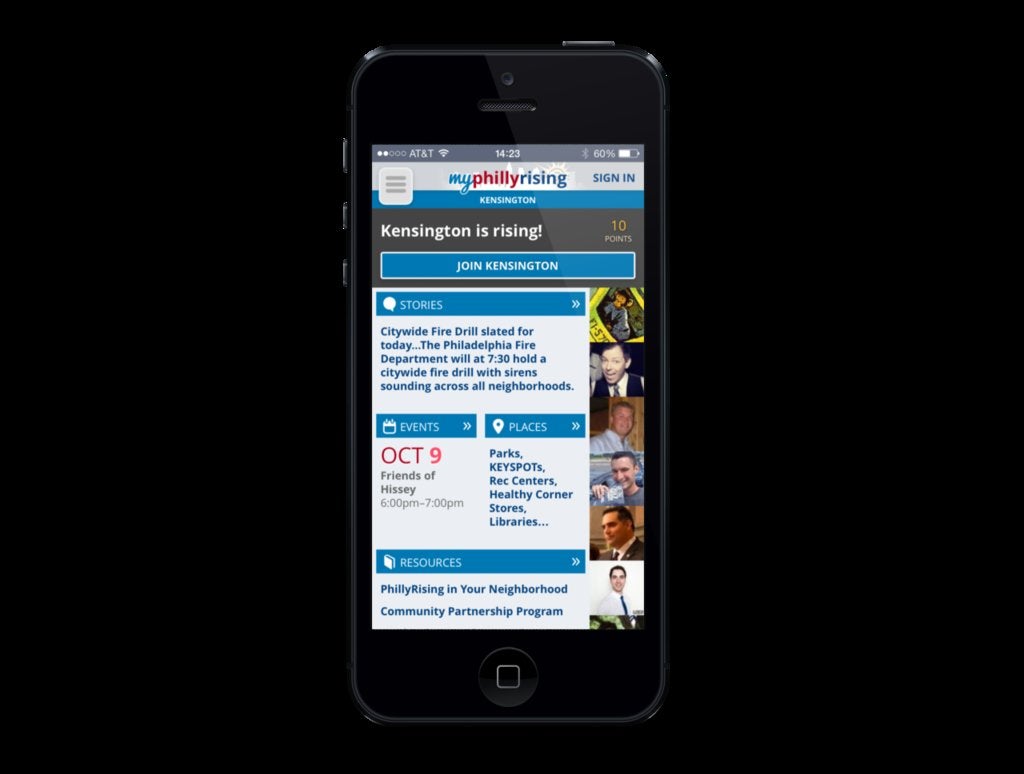 The City of Philadelphia introduced a new mobile web application (app) that allows citizens quickly to find out more about neighborhoods that are part of the PhillyRising Collaborative. Core features of the app include: upcoming events like community meetings and cleanups; information about community resources; locations of neighborhood facilities such as libraries, KEYSPOTs and healthy corner stores; success stories in neighborhoods; and an open discussion forum for each neighborhood. The app's purpose is to connect residents with their communities and provide a forum to share important information that can ultimately help improve the neighborhood.
Deputy Mayor for Administration and Coordination and Managing Director Richard Negrin said, "The myPhillyRising app is the latest tool in the City's efforts to engage residents in improving their neighborhoods. It helps residents connect with neighbors and resources in their neighborhood, including those that can help close the digital divide. If you need help from the City, use Philly311, but if you want to help and get involved, use myPhillyRising."
The app serves the following neighborhoods: Elmwood, Frankford, Haddington, Hartranft, Kensington, Kingsessing, Lawncrest, Market East, North Central, Penrose, Point Breeze, Southeast, St. Hugh's, Strawberry Mansion, Swampoodle and Allegheny West. Information will be uploaded to the app by PhillyRising staff but individuals can also share information through the app.
John Farrell, Deputy Managing Director for PhillyRising, added, "We are excited to have an online location where residents will be able to both learn about activities and resources in their community as well as interact and create new events. Connecting residents who are interested in improving their neighborhoods is part of the core mission of PhillyRising, and this app will simplify that process. The fact that the app works across multiple platforms makes this even easier and more inclusive."
To access the app, visit www.myphillyrising.com. Because the app is web-based, it can be used through iPhone, Android and Blackberry devices as well as desktop computers, laptops and tablets. Rather than downloading it, simply bookmark the address in the device's internet browser. The app is also available as a widget on the Philly311 mobile app. Users can sign-in using Twitter, Facebook or a Philly311 Mobile App login.
City Chief Innovation Officer Adel Ebeid said, "Several months ago, we began experimenting with new ways to engage smart, agile companies from our own technology community to help us build useful services. This app has provided a great first result, and we're committed to keep trying these new ideas to help us provide better services to the citizens of the City of Philadelphia."
The opportunity to contract on this project was posted on GitHub, and there were ten responses. The vendor for the app is OpenPlans, a 501(c)3 nonprofit based in Philadelphia and New York City with staff who are former Philly Code for America fellows. The app is open-sourced, meaning that other cities can take advantage of the model.
WHYY is your source for fact-based, in-depth journalism and information. As a nonprofit organization, we rely on financial support from readers like you. Please give today.