The crowds, and the sun, come out for Made in America's return to the Parkway
Made in America returned to Benjamin Franklin Parkway for the first time since 2019 on a mild, sunny Saturday that bore no resemblance to the rain-drenched, windblown mess that marked the days preceding it. (Even parts of the Vine Street Expressway nearby, underwater since Thursday morning, were reopened by late afternoon.)
Gates to the two-day music festival — a Labor Day weekend fixture in Philadelphia since Jay-Z started it in 2012 — opened at noon to people with tickets and proof of vaccination or a negative COVID-19 test. Masks were required, in accordance with a city mandate for outdoor events over 1,000 people. A Live Nation representative told the Philadelphia Inquirer earlier this week that ticket sales were on track to reach as high as 60,000.
The early festival crowd was young and eager to see the wide array of music acts set to perform. Marvin Davis, 24, from Coatesville, was excited to see rapper Coi Leray, and he said he would have found a way to the front gates even if the flooding hadn't subsided.
"I was showing up regardless. I paid my money. We got to take the canoes or whatever — we coming,"  Davis said.
Davis wasn't the only one who was keeping an eye on the weather. Although the music began at 2 p.m., Cyrus Quaye, 24, arrived early to secure a spot in the shade.
Quaye is from Allentown, but he said he had his eyes glued to Philadelphia news coverage in the days leading up to the festival.
"My mom was like, 'Why are you watching Philadelphia?' I'm like, 'Because it's the only place I care about at this point,'" Quaye said. "I don't need Philadelphia flooding, because I need to be here. And we're here. The sun is out. It's gorgeous, good vibes."
Though this week's storm definitely had some worried that the music festival would be canceled, many in the crowd said they were concerned that a resurging pandemic would once again mean trouble for Made in America.
Liam Holmes, 17, of Northeast Philly, said this was his first concert and he was hoping that it could be a fun experience to end the summer right before school. Then the delta variant came along and threatened his plans.
"The pandemic in the beginning of this summer actually did scare me, because I bought tickets when it was pre-released. And when I saw things closing, I was actually scared that this was going to shut down, but luckily it was not," Holmes said.
Yet others were confident the 2021 festival would go off as planned, regardless of the pandemic. There was way too much money at stake — at least that's what Boris Fabre, 23, of Camden, figured.
"Listen, they are trying to make their money. I don't care what they say, like, 'Oh, diversity,' like no, they want to make the bread. They're not canceling that," Fabre said.
Each year, Made in America partners with a charitable organization. Some of the proceeds of this year's festival will go toward the American Civil Liberties Union of Pennsylvania and the REFORM Alliance.
Joy Marshall, 32, flew all the way from California after hearing about the festival just three weeks ago.
"I was like, 'OK, cool. I've never gone. Let's try it.' I'm spontaneous," Marshall said.
Mikhaila Douglass, 22, came from Maryland.
"I wanted to experience a music festival, instead of, like, just a concert for one artist," Douglass said.
Getting to the Parkway from anywhere was just one step of the journey, with neighborhood street closures in effect. Getting inside the gates was another, because of COVID restrictions.
To adhere to city guidance, the festival used the Clear mobile app to check the vaccine or coronavirus test status of people entering the grounds. Festival organizers advised concertgoers to complete the process prior to arriving at the gates. People could also opt to bring printed proof of a negative test or vaccination.
For the most part, things appeared to go smoothly.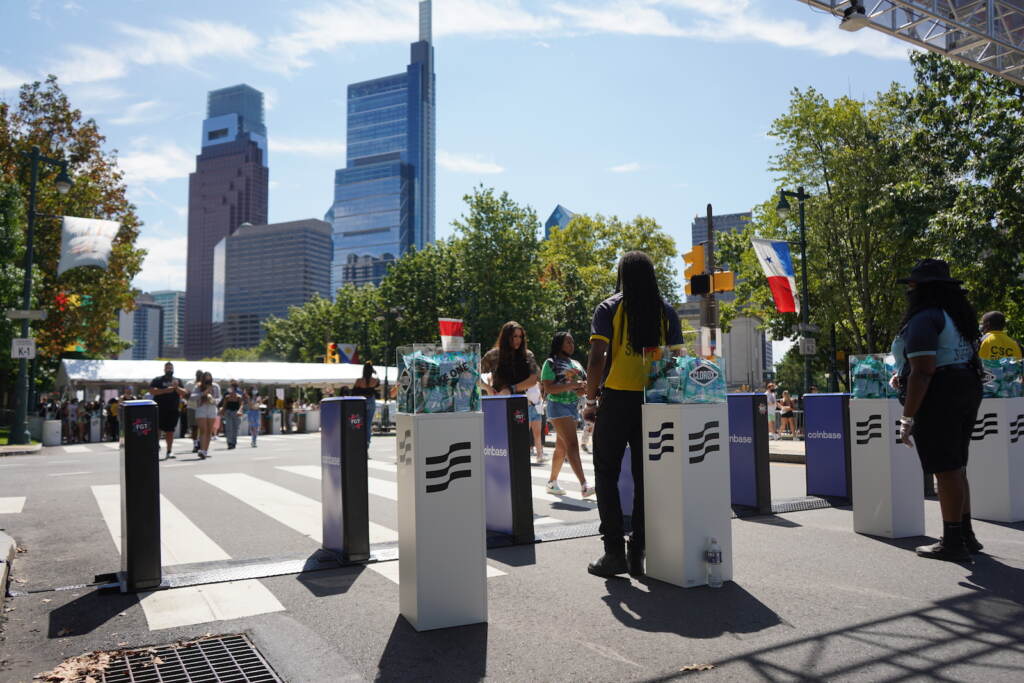 "I did the app that they told us to download and upload all of our documents on there. So all I had to do was just show that my vaccine card was up on there, and they let me in, so it wasn't that difficult," Quaye said. "It took about like five minutes to set up. I just had to find my vaccine card. That was the hardest part of all of it."
But Fabre said not every test provider was listed on the app, and he was prompted to make a request to Clear so that the app could add his provider. Fabre did so twice.
"The Clear app never said anything back. And I did that on Thursday," Fabre said. He brought proof of his COVID test instead.
Once ticket holders got into the line, the process was easy — a bit too easy, some said.
"They barely looked at the ID. That girl did not check for my name validation," Douglass said.
As for that festival-wide mask mandate, the results were a mixed bag. When the gates first opened, most people were adhering to the policy. But as the day progressed, masks were sliding down faces and getting pushed below the chin.
As the first musical act headed to the stage, there was a buzz of excitement. But most of the enthusiasm was for the musicians set to perform later Saturday and on Sunday — acts like Roddy Rich, Tinashe, Megan Thee Stallion, and Doja Cat.
"I'm excited for Megan Thee Stallion and Doja Cat," said Mya Pierce, 17, of West Chester. "I am actually so excited, like you don't even know. Like, they are my girl bosses".
Cyrus Quaye, 24, kept a close eye on Philadelphia news coverage. Now, he's excited to see Megan Thee Stallion and Tinashe perform after COVID ruined last year. (Kenny Cooper/WHYY)

The floods weren't going to stop Marvin Davis, 24, from getting to the Made in America festival. He was prepared to bring out the canoe if necessary. (Kenny Cooper/WHYY)

Joy Marshall, 32, flew all the way in from California for the Made in America festival. (Kenny Cooper/WHYY)

Mikaila Douglass, 22, and Boris Fabre, 23, sit under the shade as they wait for the first act to perform. (Kenny Cooper/WHYY)

Liam Holmes, 17, and Sean Fitzpatric, 16, wanted to end the summer with a "banger" — so they came to Made in America. (Kenny Cooper/WHYY)

Mya Pierce, 17, wants Megan Thee Stallion and Doja Cat to know that they are her "girlbosses." (Kenny Cooper/WHYY)