TEDxPhiladelphia: The new classroom of the world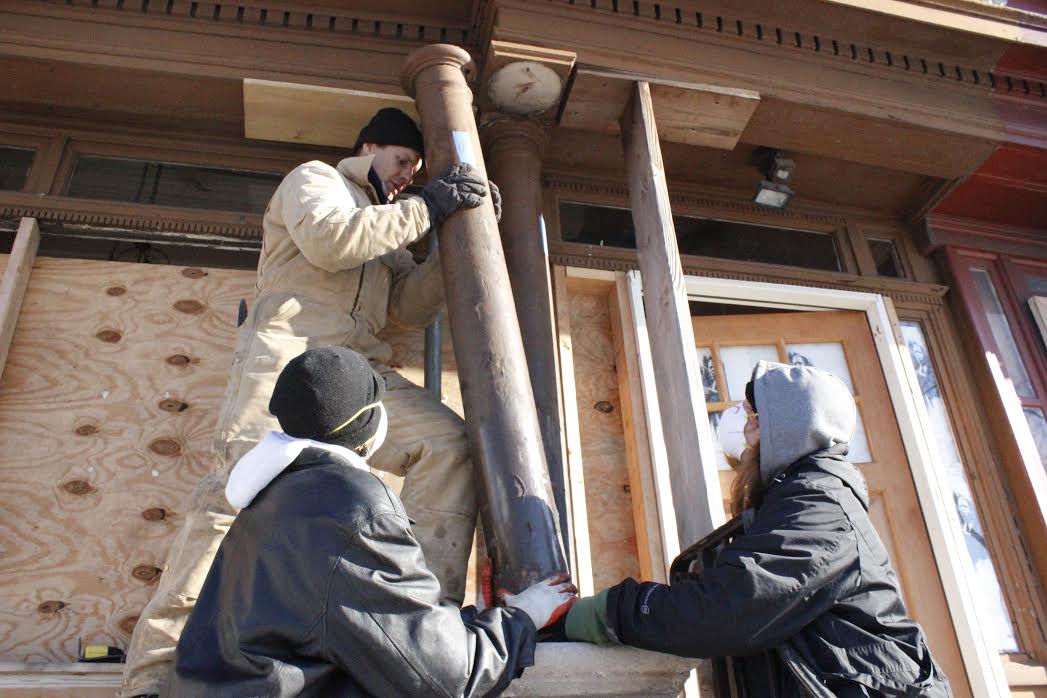 PlanPhilly is a partner for this year's TEDxPhiladelphia event, and we're sharing ways we think Philly is becoming a "New Workshop of the World". You can also join us for a tour of South Bank as part of TEDx – just a couple tickets left – on Saturday.
It's fitting that the famous FDR quote, "We cannot always build the future for our youth, but we can build our youth for the future," came from an address he gave at the University of Pennsylvania in 1940.
Nearly 75 years later, Philadelphia is coming up with new ways to prepare youth for the future and to solidify the city's title as "The New Workshop of the World." Through programs like Workshop School, YouthBuild Philadelphia and PowerCorps PHL, Philadelphians are utilizing the city as a workshop where young people can learn new skills, problem solve and create.
In turn, these programs are training the next generation of makers, do-ers and leaders – the very people who will ensure Philadelphia continues to thrive as the workshop of the world.
SUSTAINABILITY WORKSHOP @ THE NAVY YARD
The country's leading innovators are looking for ways to improve energy efficiency, address climate change and lead the green economy. So are Philadelphia high schoolers enrolled in Sustainability Workshop.
Sustainability Workshop, a program of Workshop School, is an alternative education initiative that provides a year of hands-on, project based learning to students enrolled in Philadelphia's public schools. Workshop School grew out of a desire to have students tackle real world problems in a way that is more natural than the segmented structure of traditional schools, and through the Sustainability Workshop – which happens to be housed at the Philadelphia Navy Yard – students can choose to spend their senior year completing sustainability-based projects. (Check out Sustainability Workshop co-founder Simon Hauger's TEDxPhilly talk!)
YOUTHBUILD PHILADELPHIA
Based on the national YouthBuild model, YouthBuild Philadelphia offers a one-year program through which high school dropouts can earn their diplomas and learn job skills. Over the course of the program, students build or rebuild homes for low-income or homeless people in their communities.
While YouthBuild is a national program, YouthBuild Philadelphia puts a unique spin on the curriculum by partnering with Philly "makers" like the Preservation Alliance for Greater Philadelphia. This winter, through a Preservation Alliance partnership, three students were chosen to work with a historic preservation expert on a restoration project at The John Coltrane House. While the majority of YouthBuild's work does not entail historic preservation, the preservation work YouthBuild completes stands out. The Preservation Alliance recently announced it is giving YouthBuild an achievement award for the rehabilitation of 82 homes and work on Cedar Grove Mansion in Fairmount Park and The John Coltrane House.
(YouthBuild Philadelphia)

(YouthBuild Philadelphia)

(YouthBuild Philadelphia)
POWERCORPS PHL
PowerCorps PHL is another uniquely Philadelphia take on a successful national program. That is, PowerCorps PHL is Philadelphia's own AmeriCorps offshoot. The new program works with Philadelphians ages 18-26. For six months the PowerCorps work full-time as AmeriCorps members at the Philadelphia Water Department or Philadelphia Department of Parks and Rec. Then for three months the participants receive intensive job placement support.
The program grew out of environmental stewardship, youth workforce development and violence prevention goals. When it is in full swing, the program plans to enroll 100 young people annually, and over the next three years, PowerCorps PHL will plant 3,000 trees, revitalize 3,000 acres of public land, educate 18,000 residents in watershed preservation and connect 300 young adults to meaningful employment, post-secondary education or continued national service.
For a full list of the work the inaugural PowerCorps PHL cohort has completed, visit http://powercorpsphl.org/impact/service/
"The foundation of every state is the education of its youth," -Diogenes Laertius
ABOUT TEDXPHILADELPHIA
TEDxPhiladelphia offers interactive, immersive experiences for all participants. The not-for-profit group, licensed by TED, was created in the spirit of the TED conference and its mission, "ideas worth spreading." While the 2014 conference is SOLD OUT, audiences everywhere can access a free live video webcast of speaker talks at www.TEDxPhiladelphia.org on March 28 and watch talks year-round after the event.
WHYY is your source for fact-based, in-depth journalism and information. As a nonprofit organization, we rely on financial support from readers like you. Please give today.