Taking a Toll on Jewelers Row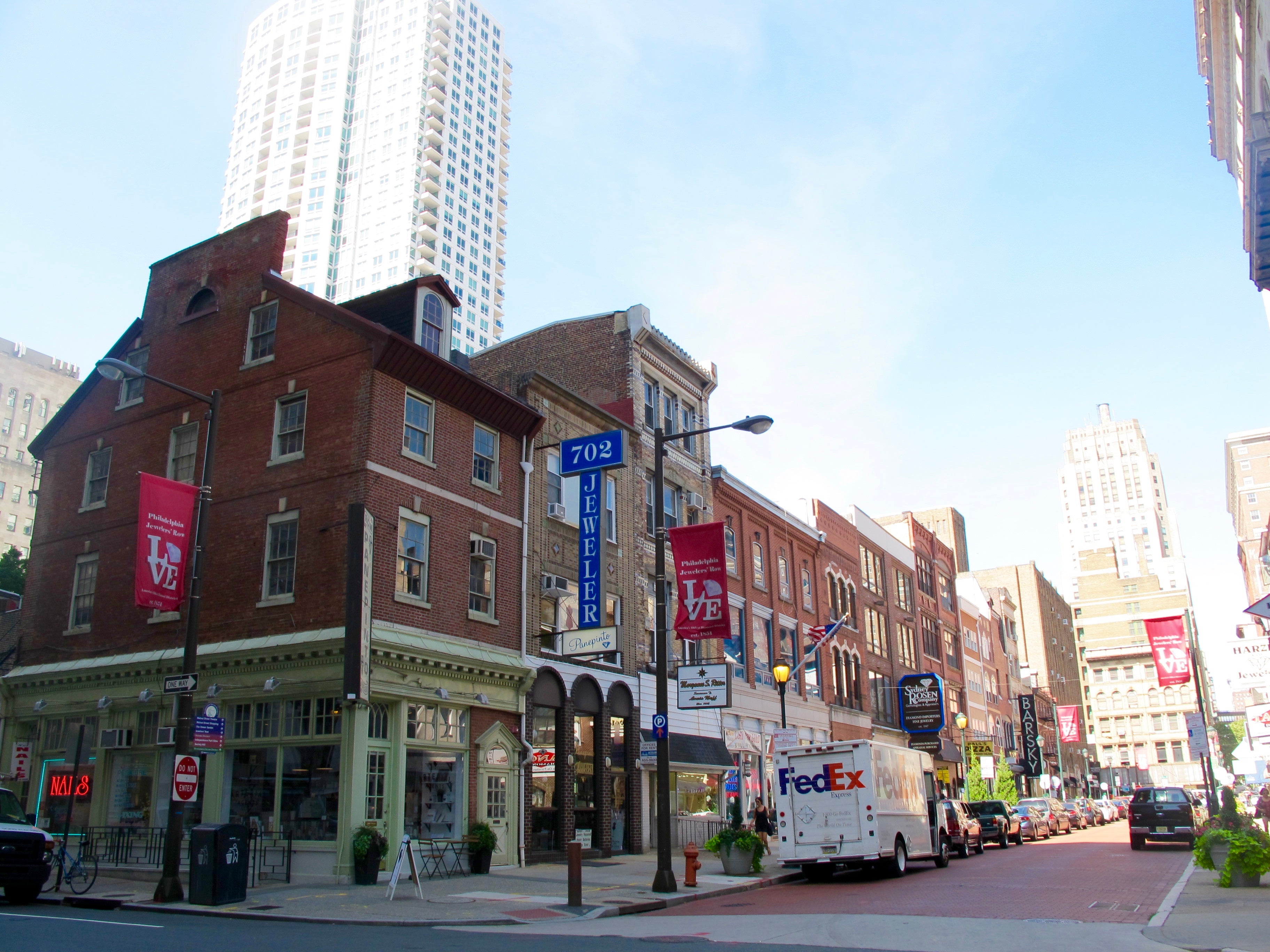 What kind of city do we want to be?
That's the question ringing in my ears reflecting on the news that Toll Brothers has plans to raze five adjacent properties on the edge of Jewelers Row. Toll intends to build a 16-story residential building, a development applauded by some as progress for the city. Others are left wondering, basically, if nothing in this city is sacred?
To those left frustrated or head scratching: Consider this a splash of cold water. Welcome to Philadelphia 2016. Our World Heritage City where the combination of permissive zoning and increasingly desirable neighborhoods is drawing developers to eye any and all soft sites, no matter how historic. Consider the Boyd. Consider 1911 Walnut. Consider the Society Hill Playhouse. Development in Center City's core shows no signs of slowing and preservation interests are behind the ball.
By most measures Jewelers Row is a distinctive and historic district. Except it isn't actually a locally designated historic district.* Its heart is the 700 block of Sansom, a cacophony of commerce in 19th century buildings along a brick-paved street that sits a mere block from Independence Hall. No individual buildings on this block are especially extraordinary; they're serviceable, interesting, older commercial buildings with storefront alterations made over time.
What makes this place matter is that Jewelers Row is a distinct and legible district with a clear identity, shared history, and common scale. As America's oldest Diamond District (est. c. 1850), Jewelers Row is a still functioning commercial ecosystem. It is a place where much of Philadelphia's jewelry trades actually trade, craftsmen actually craft, and sellers actually sell.
Toll plans to replace the five buildings at 702-710 Sansom Street with a 16-story residential building, the Inquirer's Jacob Adelman reported Thursday. That news left the preservation community up in arms, petitioning the city to intervene, but with little leverage.
If we're dismayed to learn Toll's plans were quietly advancing by right, remember this: You get what you zone for.
Much of Center City's core is zoned as CMX-5, the city's most permissive category that makes way for the tallest, highest-density, mixed-use buildings. This block is no exception. This proposal should come as no surprise. The city all but invited this sort of development by virtue of the mismatch between generous zoning and a lack of historic protections for blocks like these – intentionally or not.
Philadelphia's development climate, despite its challenges, has mercifully awoken from a decades-long slumber. There are plenty of properties in the downtown core ripe for redevelopment, occupied by otherwise crummy single-story buildings or surface parking. The trouble is when historic resources are treated with the disposability of a surface parking lot.
A real city fills its weak spots. That's why there's hardly a gas station left in Manhattan. But other real cities have a more robust preservation environment than we do. And we're once again forced to question if Philly takes its preservation responsibilities seriously or not.
The days are over when it's safe to assume our city's interesting or authentic places will be preserved simply because they're still standing, especially in areas deemed desirable for new construction. Philly is past due for completing historic resource surveys (a herculean task) and designating new historic districts.
But the Historical Commission is not designating historic districts any longer, thanks in no small part to the political interventions that scuttled its last attempts in Overbrook Farms. The piecemeal strategy of nominating all of the city's worthy buildings individually would take a century. So this is what we get: A clearly historic city where just 3% of the building stock is afforded any preservation protections.
This isn't only about Jewelers Row. It's about everywhere like it: upzoned but unprotected.
Philadelphia has no clear preservation priorities, and the Kenney administration has been all but silent on the issue. But this is a choice – a collective choice about being the kind of city that builds its future by razing its past. What kind of a city do we want to live in? One where the past is an active part of the present, where the old sits cheek-by-jowl with the new? Or one with development that looks blandly interchangeable with any other city street in 21st century America? We have a choice.
And to the density-freaks who just want to see the city get taller, there's still a preservation-friendly solution here. This is exactly the kind of block that by virtue of its high-value low-rise historic buildings could be a perfect candidate for a transfer of development rights proposal. Under that sort of an arrangement, owners of properties that are under-built given the zoning can sell "air rights" to be used for increased density at another nearby site – a kind of transferrable zoning bonus. Sadly we don't have that as an option at this point.
Philly deserves new development but not at the expense of the places that make it distinctive. Toll is proposing the latest damage to a street with real character and historic identity, but it won't be the last.
*Note: John Gallery, former director of the Preservation Alliance, wrote in to remind us that Jewelers Row is not locally designated but it is listed in the National Register of Historic Places.