Tagged: Graffiti removal programs and three ways you can help
Eyes on the Street is taking a practical look at graffiti removal this week with a two-part feature.
Yesterday conservator Lauren Drapala shared tips for taking graffiti removal into your own hands. Today we review the programs for graffiti removal and how you can help.
________________________________________________________________________________________________
Graffiti breeds graffiti.
Which is why I found myself using a bit of elbow grease to scrub spray-painted scrawl off of a neighbor's house and my own during a thaw this January. And the more I looked around the more it seemed that graffiti of every sort – from scrawl to elaborate tags – is surging.
Graffiti like all urban cycles comes in waves. And it does appear that Philly is experiencing an uptick in graffiti vandalism citywide, on properties as diverse as fireplugs in Fishtown, to roll-down security gates on Snyder Avenue, to Walnut Street cornice lines. The closer you look the more you see.
But is it the problem any worse than in recent memory? Yes and no. The amount of the city covered in graffiti is less than it was a decade ago. In part that's because graffiti removal efforts have increased annually. The city's Anti-Graffiti Network estimates its Graffiti Abatement Team has removed more than 1.4 million pieces of graffiti since 1995.
Graffiti Abatement: FY1995 – FY2013

FY2012 – Graffiti Abatement

FY2012 graffiti removal by zip code
GRAFFITI REMOVAL in Center City and Neighborhoods
Last year crews from the Anti-Graffiti Network and Center City District removed approximately 128,000 pieces of graffiti from buildings and street fixtures. That seems like a lot, until you consider the sheer volume of tags and stickers that crop up every day across the city, and those that seem to linger for years at a time.
Since the mid-1990s the Center City District has removed an average of 300-500 pieces per year in Center City proper. Their crews focus only on the first floors of buildings, street poles, and signage within the district.
This year Center City District estimates its crews are removing an average of 12 tags per week, not including stickers or posters. In 2012 CCD removed 590 tags in Center City, up from 545 the year before.
"Sources of graffiti are very different. There is clearly a gang and drug related part of this, which is not as big in Center City," said Paul Levy, President and CEO of Center City District. The bigger nuisance in his district? "The art students of Center City who should find better canvases," Levy said, as well as promoters who hand out stickers, and people who draw on USPS mailing labels.
Two commonly hit objects that Center City District crews don't maintain are newspaper honor boxes and BigBellie solar trashcans. They're starting to take on cleaning BigBellies too even though they're the responsibility of the Streets Department.
Beyond Center City, the Anti-Graffiti Network dispatches 24 field employees to remove graffiti in neighborhoods citywide. These crews are assigned by zip code and respond to graffiti removal requests that come in through the city's 311 system.
"We average between 50 to 250 311 graffiti requests weekly," said Deputy Managing Director Thomas Conway via email.
The 19134 zip code – encompassing Port Richmond and part of Kensington – demands by far the most graffiti removal attention, and accounts for 18% of the city's anti-graffiti work. Here's a look at the 10 zip codes where the Anti-Graffiti Network was most active in FY2012:
City crews also assist the Center City District with graffiti complaints that are above the first floor.
"If the property is inaccessible or above the second/third stories, we will have a property maintenance violation issued to the property owner for them to remove graffiti from their property," Conway explained.
Both Conway and Levy agree that speed and persistence are vital to the success of any graffiti-removal effort.
Back in the 1990s when Center City District started its graffiti-removal efforts they counted 5,000-7,000 pieces of graffiti.
"It looked overwhelming but what we've quickly realized is that it was years of buildup," Levy recalled. So it was key to get rid of some of those layers, and work to get ahead of the problem.
"Back in the day when we first started, graffiti was on blocks at a time but now it is just more of tags on properties as opposed to blocks." said Conway.
"Our experience has clearly been if you can take it off quickly you eliminate one of the major incentives for graffiti, which is visibility and notoriety," Levy said.
And that's something we all can help with.
Three ways to help keep graffiti at bay:
How to report graffiti:
Call 3-1-1 (or use it online). If you're using a mobile phone or calling from a non-local number, you can also reach a 3-1-1 operator by calling (215) 686-8686. Use 3-1-1 for graffiti on residential, commercial, or municipal properties, street signs, or traffic signals.

If your property has been vandalized you may also report it to the police.

Within Center City District boundaries: (215) 440-5500

Public Schools: (215)400-6434

News Stands: (610) 800-6455

Newspaper Boxes: (610) 292-6312

Mailboxes: (215) 895-8610

Septa Bridges: (215) 580-7800

PGW Property:(215) 684-6288

PECO Property: 800-494-4000 (Press 0)

Verizon Phones: 800-782-8355
"We need more people reporting where the graffiti is located," said Conway.
3-1-1 is the best first stop to let the city know about graffiti. You can use the smartphone app, use the online 311 form, or simply call 3-1-1 from a local phone number (or 215-686-8686 from a cell phone or non-local number). You can also use the city's online graffiti removal request form. (I prefer the app or online form because it is easier to track your request.)
The city's graffiti-removal crews respond to 3-1-1 requests. But that's only as good as the incoming information.
When you report graffiti, be sure to have the exact address, note the location of the graffiti on the structure and whether the surface is painted or unpainted. Even better: take a picture. On average, graffiti-removal crews respond to requests within a week. Once they take care of the reported graffit, crews are supposed check the immediate area and remove other nearby graffiti.
Depending on the underlying surface, crews will either paint over the graffiti or use solvents/power washers to get rid of it.
This takes vigilance. So report early, report often.
Bonus: there is no charge.
Sometimes it's prudent to take graffiti removal into your own hands.
First, it's important to understand the material used for the graffiti and what the surface is that's been vandalized. Yesterday our contributor Lauren Drapala, an architectural conservator with the Fairmount Park Historic Preservation Trust, shared some really helpful advice in her graffiti removal guide. So be sure to read her tips before you embark on any DIY effort.
A helpful rule of thumb: Start with the gentlest, least toxic form of cleaning first. If you're stumped, you can always just contact the Anti-Graffiti Network or any number of professional companies that perform graffiti removal.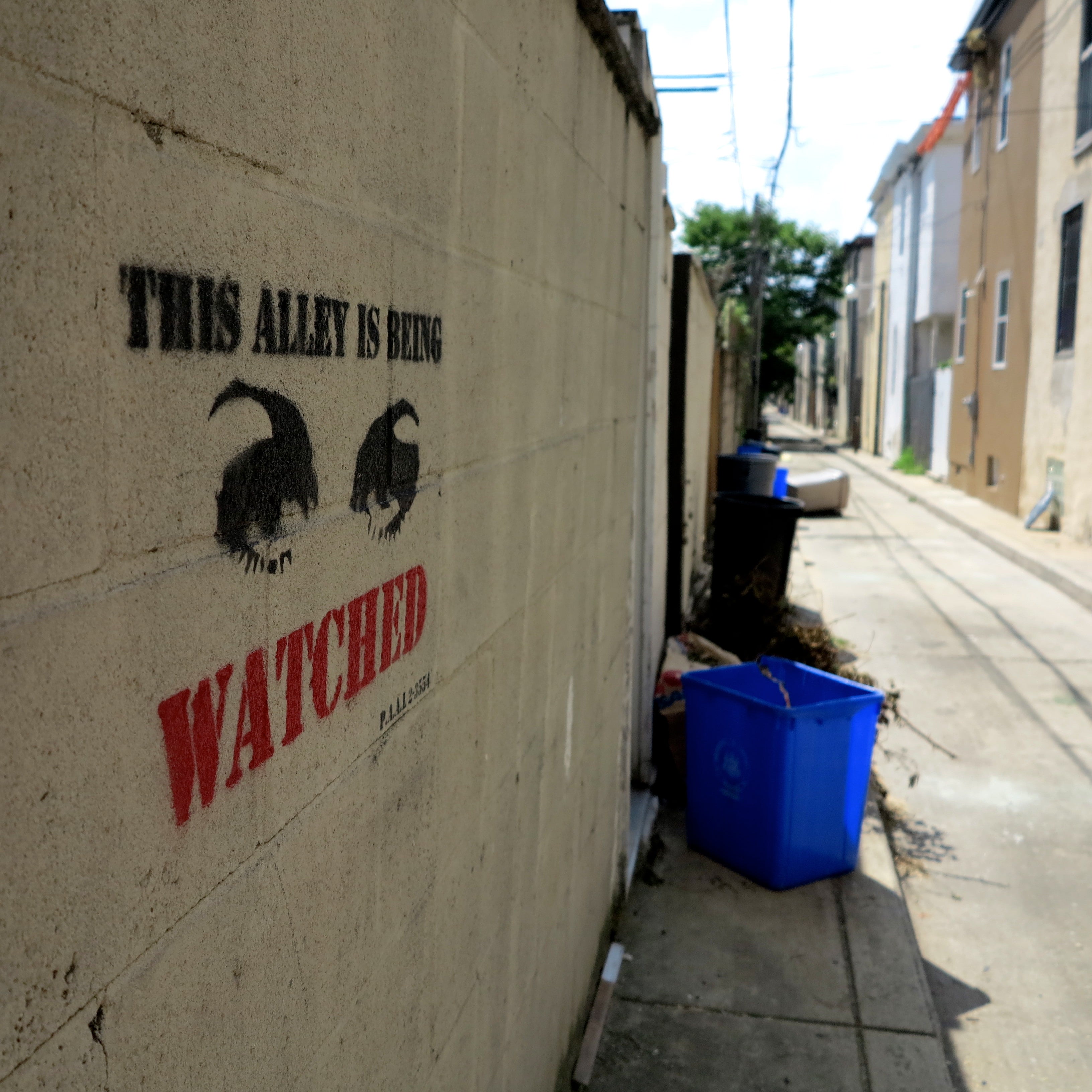 Some neighborhoods have graffiti removal heroes, from one-man volunteer removal teams to residents who take graffiti reporting walks armed with a smartphone.
There are also some highly creative attempts to curb graffiti at the individual property level.
Some residents grow vegetation up blank walls that otherwise might invite graffiti. Another option is using better lighting, in the hope that more visibility might deter would-be vandals.
I've seen other neighbors use signage, like the "THIS ALLEY IS BEING WATCHED" stencil with non-threatening looking eyes seen on the 2200 block of Norfolk Street, an alley in Southwest Center City behind Madison Square. A friend and collegaue who lives on Madison Square said that the eyes seem to work. And he might be onto something, particularly for places where too few eyes are able to watch closely. A recent study in England confirmed that the presence of signage featuring watchful eyes has been correlated to significant drops in crime.