A park that makes money? Dilworth generated $2.5 million in 2018
A separate budget projection indicates that the CCD expects these revenues to increase by 58 percent by 2022.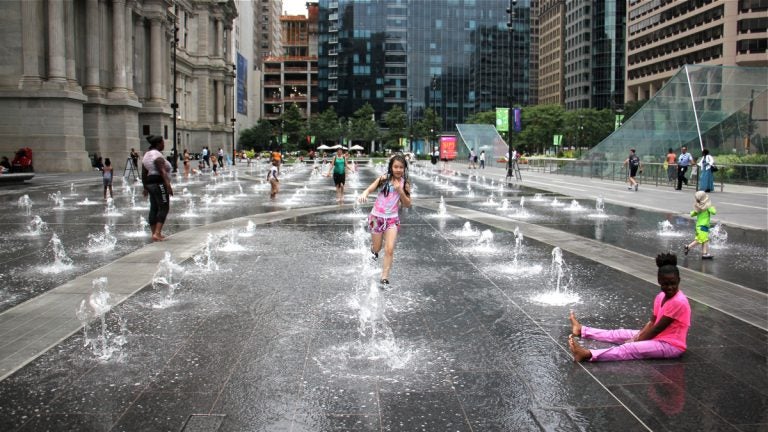 This article originally appeared on PlanPhilly.
—
When construction began last month on a second Starbucks-branded cafe in Dilworth Park outside City Hall, some Philadelphians started asking why businesses and ads were in the city-owned plaza at all.
The short answer: money.
The quasi-governmental organization that leases Dilworth from the city, the Center City District, is growing — and much of that growth comes from an explosion of revenue coming from the park.
Budget documents show that CCD brings in more than $2.67 million annually from lease agreements, advertising, event sponsorships, and other moneymaking efforts on public parcels, including Dilworth.
Historically, nearly the entire CCD budget is covered by a special tax levied on downtown real estate, but by the end of 2018 parks revenues accounted for 11 percent of the District's $23 million budget. A separate budget projection indicates that the CCD expects these revenues to increase by 58 percent by 2022.
Center City District Executive Director Paul Levy expects the new Dilworth cafe to generate $60,000 to $80,000 a year for the organization. The district also manages cafes and other activities in nearby Crét Park and Sister Cities Park — ventures that cover certain improvements to those spaces.
But the vast majority of parks revenues come from leases, ads, and private events at Dilworth and City Hall's underground SEPTA station entrance, which the CCD has managed since 2014 through a 20-year lease agreement with the city.
Fashion shows, private galas and other ticketed events sometimes take over the space but Levy said nearly all events are open to the public.
"These are the things that help pay for the park," Levy said, referring to recent events sponsored by Samsung and Peloton, an online fitness company. "It costs a lot more to maintain [Dilworth] and the revenue in the park isn't sufficient to maintain that level of service."
Money made inside the park now covers about 61 percent of the $4.7 million CCD plows into it annually to provide security, maintenance and programming — events like free concerts, movies, and light shows that help attract eight to 10 million visitors annually to the plaza.
Certain encroachments, like private parties or the new Starbucks, are trade-offs needed to create a world-class public space in a city with a 25 percent poverty rate, Levy said.
"If you've been in Philadelphia for more than three or four years, you know that these used to be failed public spaces," he said. "The city did not have money in its operating or capital budget to transform or upgrade them."
'Failed' to fancy
Center City District began creating new revenue streams to support Dilworth when it took control of it in 2014, following a $55 million rebuild of the 1960s-era plaza.
The initial redesign featured a small cafe, a glassy new SEPTA headhouse, advertising kiosks and space for rotating events, like a Rothman Orthopedics-sponsored ice rink and winter beer garden. From the beginning, CCD and the city saw the ads, event spaces and cafe as essential to financing the park's continued maintenance. Profiting from the space never entered into the picture, Levy said As a nonprofit entity charged with enhancing quality-of-life in the city's core, CCD legally cannot turn a profit off its work.
"The nature of our leases is that we can raise revenue in these parks according to very defined conditions. There are agreements with the city that explain these parameters. We can't just spend on whatever we want," Levy said. "What we've done in all these parks is relieve the city of its need to spend tax dollars on cleaning and other maintenance responsibilities."
In February, chain-link fencing went up around the site of the new Starbucks, to be managed by Comcast subsidiary Bruleé Catering. The company had outgrown its space at its existing cafe on the opposite end of the plaza and wanted more space. CCD wanted a traffic buffer around the southern rim of the plaza. A small cafe surrounded by greenery would accomplish both goals.
But the fencing triggered an outcry. Some park users complained about Starbucks downtown saturation, its recent tie to a racial profiling incident in Philadelphia, or simply that it was a non-local franchise. Some said the district had given up too much in its self-described mission of "activating" a once desolate public space.
"Building a Starbucks in one of our parks absolutely crosses the line. What officials at City Hall allowed Dilworth Park to be leased without strict rules against stuff like this?" wrote blogger Conrad Benner, in an Inquirer op-ed. "If private groups are going to manage our parks, they must put the interests and needs of Philadelphians first."
Dr. Seth A. Grossman, a BID consultant and director of the Ironbound BID in Newark, N.J., said the outcry over the new cafe alone showed that there had been a failure to create an open and clear avenue for public involvement during the planning phase of the new cafe.
"The downtown district and the city have to find a reasonable way for the public to be part of the process," Grossman said. "The issue isn't just whether or not the (CCD) is the bad guy. It's a question of how does the public get to be a part of something good?"
With new moneymaking schemes on the horizon, Grossman said it could be time for the district to create an improved community engagement system to give the public a more direct input over park operations.
"Maybe it's time to have a "Friends of (Dilworth) Park" type organization so that there's a recognized entity that's representing the community at large," he said.
Friends groups have multiplied across the city as residents and local businesses recognize a need to support public spaces they value. Dilworth, however, located in a commercial area, has never attracted that kind of grassroots support and Levy, in a recent interview, didn't indicate that he sees a need. He said that the public had ample opportunity to give their feedback on CCD's plans when Mayor Michael Nutter inked the original lease allowing the CCD to earn money off the plaza.
The city gave people an opportunity to comment again when plans went to the Philadelphia Art Commission, the city's charter-mandated design review board for architecture and public art, and the Historical Commission, another city board. Both commissions approved plans at public hearings.
Levy said that his group also advertises its plans online and invites residents to email comments or fill out a "customer survey" if they're dissatisfied with the district's activities.
"There is a debate to be had about how much private use is too much, and I invite that," he said. "But I reject the notion that any of this was done in secret."
WHYY is your source for fact-based, in-depth journalism and information. As a nonprofit organization, we rely on financial support from readers like you. Please give today.