Philadelphia police release 911 call, radio transmissions from Starbucks incident
Updated: 5:15 p.m.
—
Philadelphia police have released the tape of the 911 call made by the manager of the Center City Starbucks before two black men were arrested on suspicion of trespassing.
At 4:37 p.m. on Thursday, a female Starbucks employee called 911, saying there were "two gentlemen in my cafe who are refusing to make a purchase or leave."
The dispatcher said police would be on the way to the company's cafe at 18th and Spruce streets.
Three minutes later, at 4:40 p.m., another person dispatched the officers over police radio to the Starbucks saying, "there's been a disturbance and a group of males refusing to leave."
At 4:44 p.m., the officers call for a backup officer and a supervisor. At 5:00 p.m., the officers tell dispatchers they are en route to Philadelphia police headquarters with two arrests.
The release of the 911 dispatch calls provides the latest evidence in a case that remains largely incomplete days after cellphone footage captured the episode, which has since been viewed more than 9 million times.
Neither police nor a lawyer representing the two men have publicly identified them. Police officials say since the initial arrests did not trigger criminal charges, there are no official documents tied to the incident that law enforcement can disclose. And it still remains to be seen what, if any, legal action the two men plan to initiate.
Amid the lingering questions, Starbucks says it will close its more than 8,000 U.S. stores for several hours next month to conduct racial-bias training to its nearly 175,000 workers.
It is the latest in a string of responses by Starbucks to contain the reputational damage to the company since footage circulated of the two men being arrested after they sat in the store without buying anything. Bystanders said they were waiting for a friend, real estate investor Andrew Yaffe who showed up during the arrests.
Starbucks said the stores and its corporate offices will be closed for the training on the afternoon on May 29.
"I've spent the last few days in Philadelphia with my leadership team listening to the community, learning what we did wrong and the steps we need to take to fix it," said CEO Kevin Johnson in a statement. "While this is not limited to Starbucks, we're committed to being a part of the solution. Closing our stores for racial bias training is just one step in a journey that requires dedication from every level of our company and partnerships in our local communities."
A company spokeswoman said Johnson, who called the arrests "reprehensible," met with the two men on Monday, but declined to give any details.
A lawyer for the two men, Stewart Cohen, said Tuesday afternoon that the incident has been "painful" for his two clients. Cohen called reporters to his Philadelphia law office where he made what was described as a joint statement with Starbucks, but took no questions from reporters.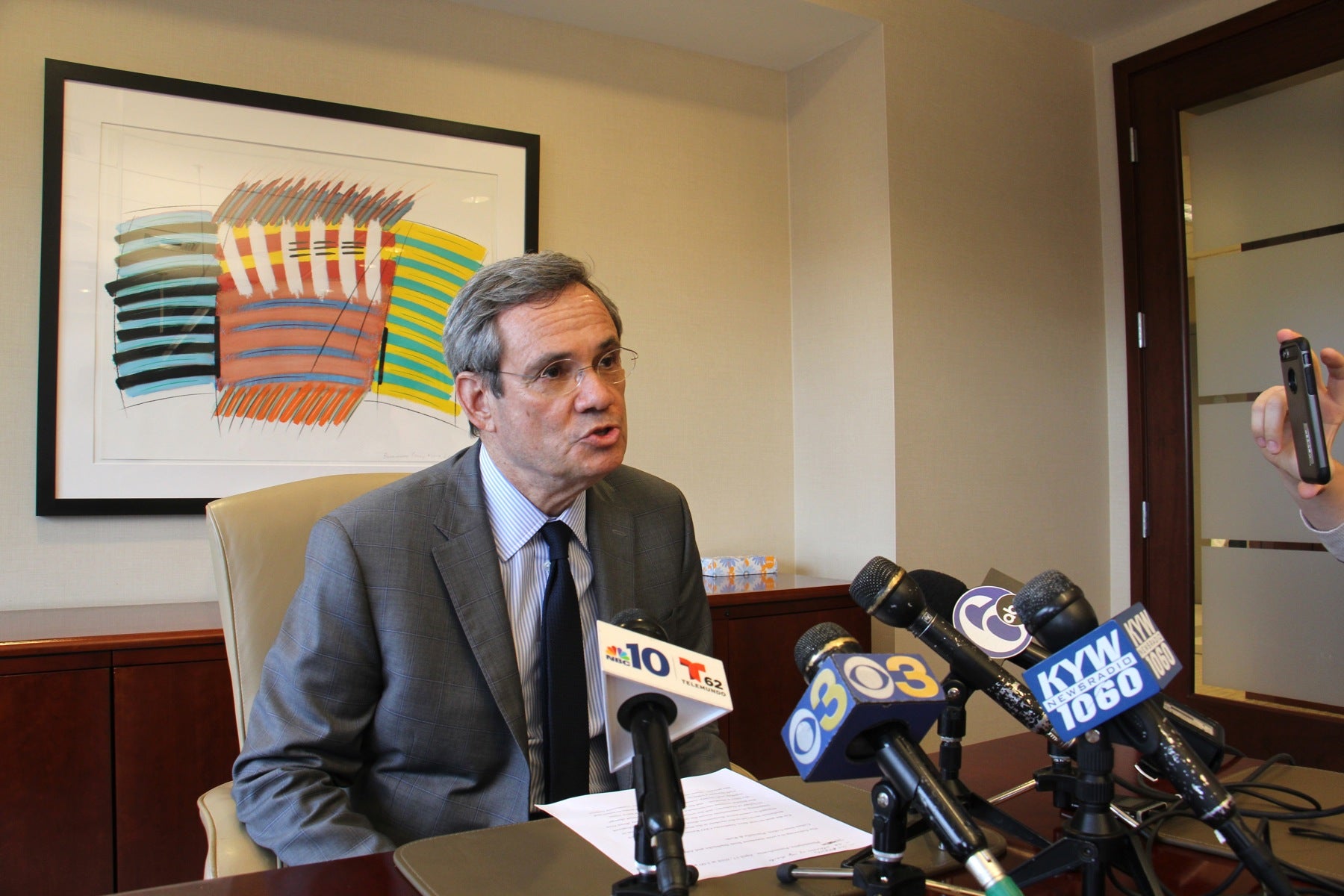 "For the past several days, Starbucks CEO Kevin Johnson and my clients, the gentlemen in the incident at Starbucks that led to their arrest, have been engaged in constructive conversations about this issue, as well as what's happening in communities across the country," he said.
"Mr. Johnson apologized on behalf of Starbucks, and the conversation continues today about how this incident can become a vehicle for positive social change," added Cohen, who declined to identify the two men.
Starbucks says the employee who called police no longer works at that location. A Starbucks spokeswoman declined to comment further.
Bobby Allyn and Katie Colaneri contributed reporting.