Spotted: Automat Americana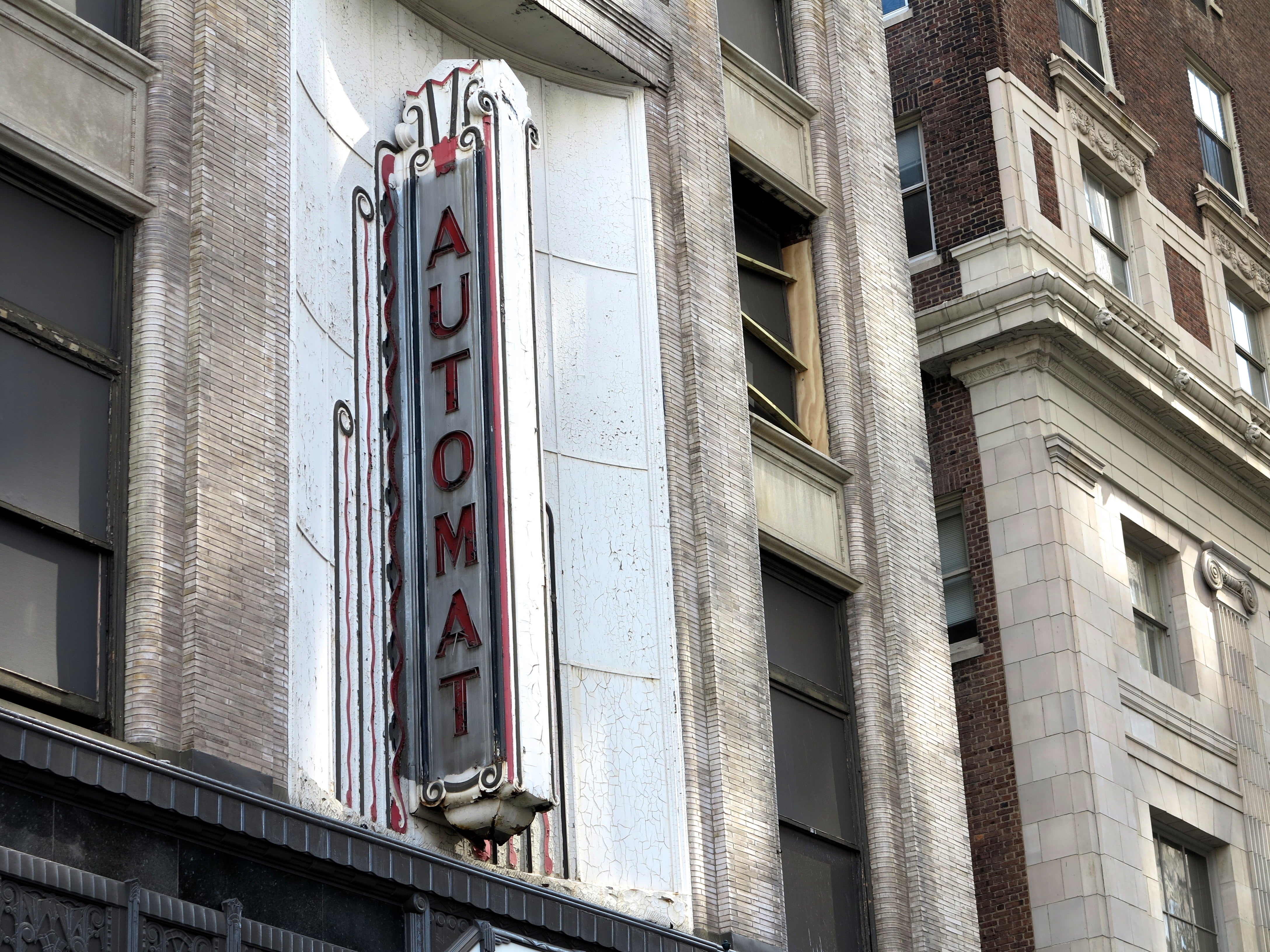 One of Philly's finest Art Deco storefronts is 818 Chestnut Street, where the first Horn & Hardart Automat opened in 1902. Passing by the other day I noticed that the facade's distinguished "AUTOMAT" sign, which had been hidden by other signage, has been revealed. It's a glorious return for this landmark building, which is where you could argue that 20th century American fast food was born.
If you're not of a certain age, you might think an automat is something that goes in your car. Not so. Automats were waiterless coin-operated cafeterias. Think of an automat as a self-service diner. Patrons would assemble meals by selecting food from compartmentalized cases. Pick your slice of pie, pop a nickel into the slot next to it, turn the knob and open the glass door to take your food from its compartment. Automats were an innovation in fresh fast food delivered on the cheap in a clean and attractive environment.
Horn & Hardart, already a successful local diner chain, opened its first automat at 818 Chestnut Street and operated there from 1902 to 1968, with a 1930s expansion and remodel. Horn & Hardart had a major presence in Philadelphia and New York, offering cheap food for all, serving thousands daily through the 1960s.
Philadelphia's Horn & Hardarts had leaded glass windows, distinctive signage, and displays made of marble, glass, chrome and porcelain. When the 8th and Chestnut location closed in 1968 a 35-foot section of its deco interior was donated to the Smithsonian's National Museum of American History for display. (Also, if you're interested the Smithsonian magazine has a great piece about automat history.)
Though the building is listed in the Philadelphia Register of Historic Places, it has long been underused. That's one reason why it's especially cool to see this fabulous façade appear whole again. A little slice of Americana lives on.
818 Chestnut Street, the first Horn & Hardart Automat

Automat sign, 818 Chestnut Street

(Department of Records | PhillyHistory.org)
WHYY is your source for fact-based, in-depth journalism and information. As a nonprofit organization, we rely on financial support from readers like you. Please give today.