SEPTA's seasonal watch | Sewer tour | ExCITe Center opens | park improvement grants | Drag queens join Mummers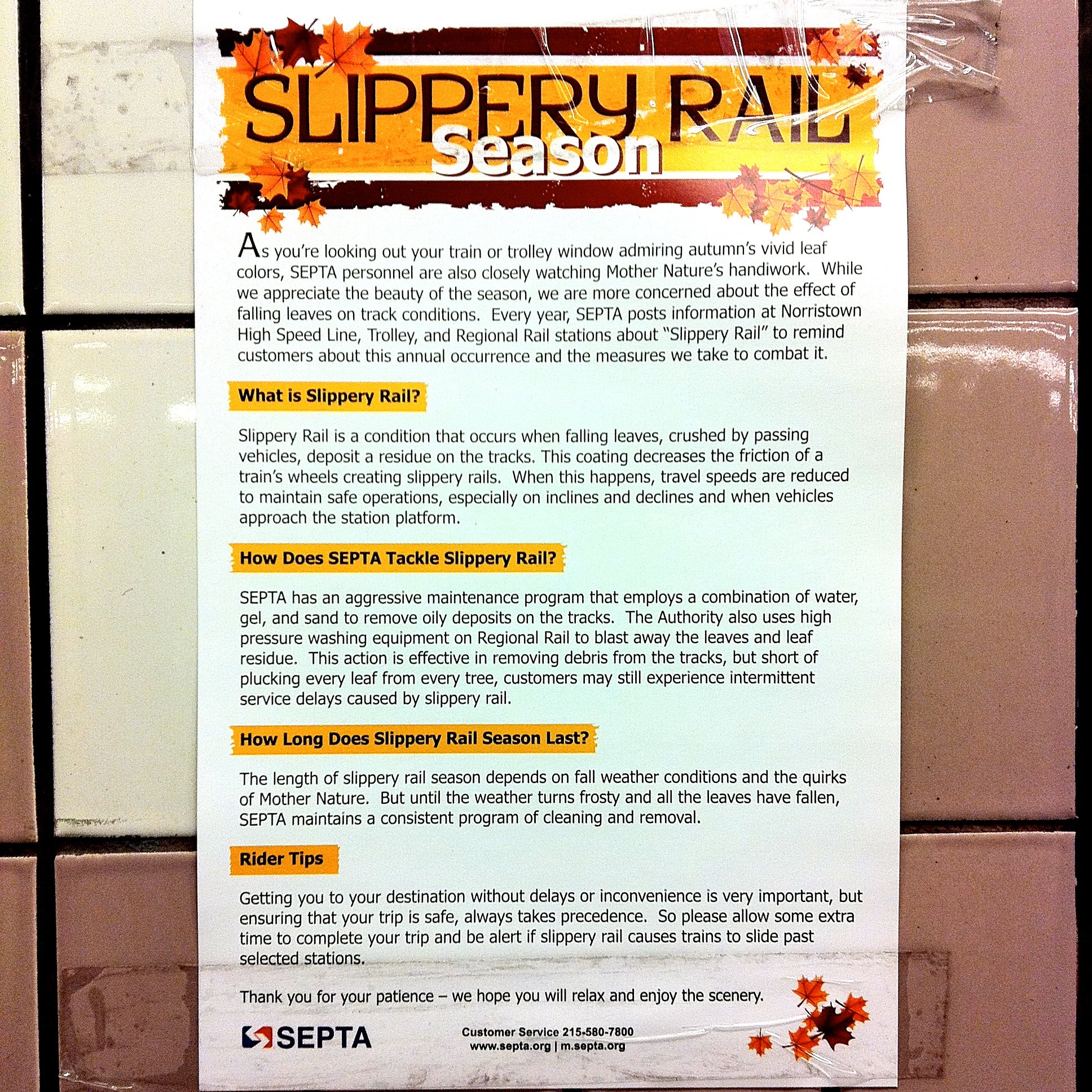 Good morning, Streeters.
'Tis the season of challenging conditions for SEPTA, explains PlanPhilly's Christine Fisher. We're deep into "slippery rail season" when crews have to constantly remove falling leaves from train tracks and trains operate at reduced speeds. On the heels of slippery rail season comes winter weather monitoring. "To deal with snow and ice, SEPTA has a combination of equipment, like ice cutters and blowers, sand and pilot trains, which run at night to keep tracks and overhead catenary wires from freezing."
Ever wonder what the inside of Philly's sewers looks like? NewsWorks went below Algard Street in the Northeast to have a look with sewer maintenance inspector Kevin Bess and historian Adam Levine and they snapped some pretty interesting pictures of their trip. In his research Levine, a historical consultant to the Water Department, pays particularly close attention to historical streams that were converted into sewers. That research will inform the Water Department's site selections for new green infrastructure projects citywide.
Drexel's new ExCITe Center offers a space for tech and art mashups, NewsWorks reports. ExCITe – that is the Expressive & Creative Interaction Technologies Center – is a new workspace at 34th and Market meant to help researchers from disciplines as different as robotics and music to collaborate and innovate, says the center's director Youngmoo Kim. "I want the people who are doing fashion design at one table to overhear the conversations from the next table, where they might be working on robots and music," says Kim, "and see how much they can actually learn from each other." The ExCITe Center opens tonight.
In Northwest Philly, the Daily News reports that Cliveden Park and Inn Yard Park will be spruced up thanks to grants from the Fairmount Park Conservancy's Growing the Neighborhood program. For both parks new signage is a priority, and Cliveden Park may also invest in new fencing or furniture. Seven parks won Growing the Neighborhood grants this year.
The first ever "Drag Brigade" will be added to the upcoming Mummers Parade, reports the Daily News. Ten drag performers dressed in costumes relating to the theme of a Fancy Brigade, will lead the procession from Washington Ave to City Hall and then serve as the hypeman for their respective Brigades at the Convention Center. Finally.
The Buzz is Eyes on the Street's morning news digest. Have a tip? Send it along.
WHYY is your source for fact-based, in-depth journalism and information. As a nonprofit organization, we rely on financial support from readers like you. Please give today.