SEPTA seeks QuietRide feedback
SEPTA's QuietRide policy is approaching four-years-old, and it's time for another QuietRide survey to check in on the fledgling program. SEPTA's customer service team is asking QuietRide passengers to give their feedback via this online survey.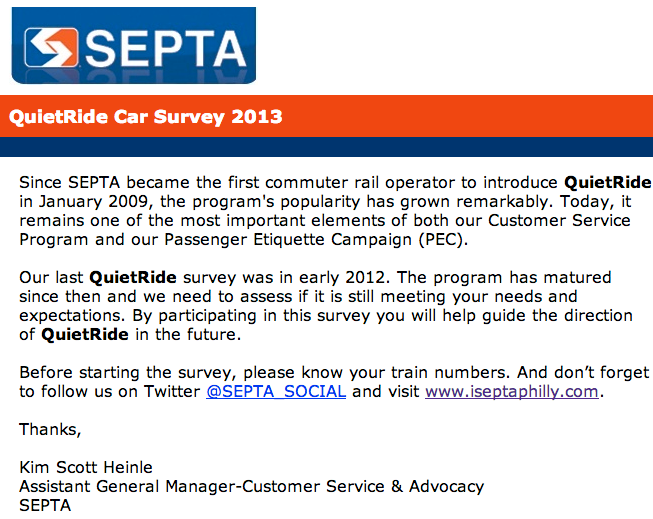 SEPTA conducted a QuietRide survey in early 2011, but since then the program has matured. Through the survey SEPTA hopes to make sure the QuietRide is still meeting passengers' needs and expectations. The survey results will also help guide the direction of QuiteRide in the future.
The QuietRide program asks passengers in the first car of weekday trains with three or more cars open for passengers to keep noise levels to a minimum. In QuietRide cars, cell phones cannot be used for making or taking phone calls. All electronic devices must be placed on vibrate or mute. Earphones must be used to listen to music, with the volume set low so that others cannot hear it, and conversations with other passengers should be short and conducted in a whisper.
The program is one of the most important elements of SEPTA's customer service program and passenger etiquette campaign, said Kim Scott Heinle, Assistant General Manager of Customer Service and Advocacy.
The initiative is also important to the Delaware Valley Association of Rail Passengers (DVARP), which advocated for the QuietRide and views its adoption as a DVARP success. Since QuietRide came online, DVARP has consulted transit agencies in New Jersey, Boston and New York on similar programs.
In January, PATCO adopted its own Quiet Car Campaign.