Rules of the Road: Bike lane clarifier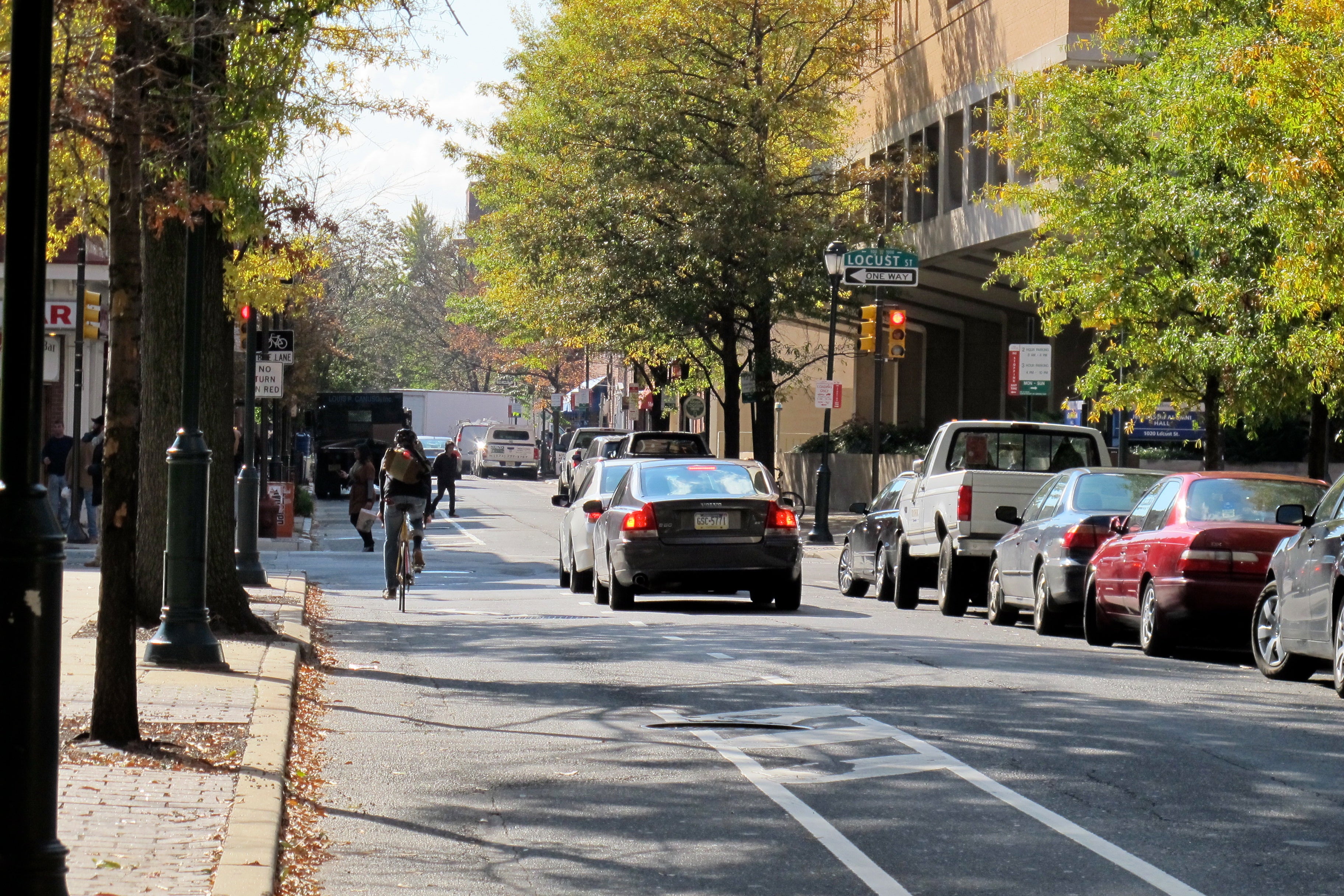 10th Street Bike Lane Do you bike on the sidewalk? (illegal) Do you park in bike lanes? (permitted occasionally) Do you run in bike lanes? (murky area)
Sharing Philly's streets can be confusing. So in the interest of keeping tempers cool and everyone safe, here's are some clarifications about the rules for bike lanes.
On Parking:
A frequent complaint is that cars and trucks use bike lanes as passing or parking lanes. (Brief stops for loading/unloading are permitted.) Tickets are supposed to be issued to motorists parking in the lanes, but enforcement is uneven. A recent variation on this complaint comes via the Philadelphia Bicycle Journal (PBJ) blog, that wondered Can it be legal for people attending religious services to park in bike lanes? Most of these parked cars have permits issued by the institutions that legitimize the practice. PBJ calls out the examples of Beth Zion-Beth Israel Synagogue (300 S. 18th Street) and Tenth Presbyterian Church (1701 Delancey Street) but this is happening all over. And they come to find that, yes, it's legal for people attending a nearby religious service to park in a bike lane with a permit.
The Bicycle Coalition's website offers an explainer from the Pedestrian & Bicycle Coordinator from the Mayor's Office for Transportation and Utilities, Charles Carmalt. He wrote: "During public meetings we repeatedly heard that neighbors supported the bike lanes provided that the ability of people to park while attending services was maintained." He also notes that permission to park in otherwise no-parking areas (including bike lanes) is granted to congregations annually by the Streets Department. In short, it's all about sharing the road, and balancing uses.
On Running:
Runners have started using bike lanes as paths. The very idea strikes fear in my heart, but evidently this is a trend. And, although not prohibited, it's not safe.
Carrie Maria writes about this trend on her Miles Covered blog today. Carrie, a runner/owner of a dog-walking service/supergal behind Monster Milers, started seeing runners in the Pine Street bike lane, with traffic. (disclosure: Our family beagle has a long-standing relationship with the Monster Minders as a dog-walking client.)
As a serious urban biker and runner Carrie wants peace on the streets. She knows all too well how dangerous cycling can be: She and her husband have each been hit by drivers who did not see them (no, not by disobeying traffic laws or being bike ninjas). So she sees that adding runners into the bike lane mix as dangerous. The Bicycle Coalition's take on the issue is that although it's a legal gray area, it is not a safe choice.
So for Pete's sake, keep everyone safe and don't choose to run in the roadway. Cyclists and cars already have a hard enough time seeing one another and accidents still happen too frequently. Like pedestrians, runners should opt for the sidewalk or head out to a trail. Getting tangled by pedestrians is a lot less risky than getting doored.
As Carrie says, "Remember, bikers and runners are not enemies – we're all just trying to get around in the fresh air."
Check out these handy guides for more of a refresher on Philly's "Give Respect, Get Respect" initiative. Be excellent to each other, Philly.