For safer more complete streets, increase Streets Department budget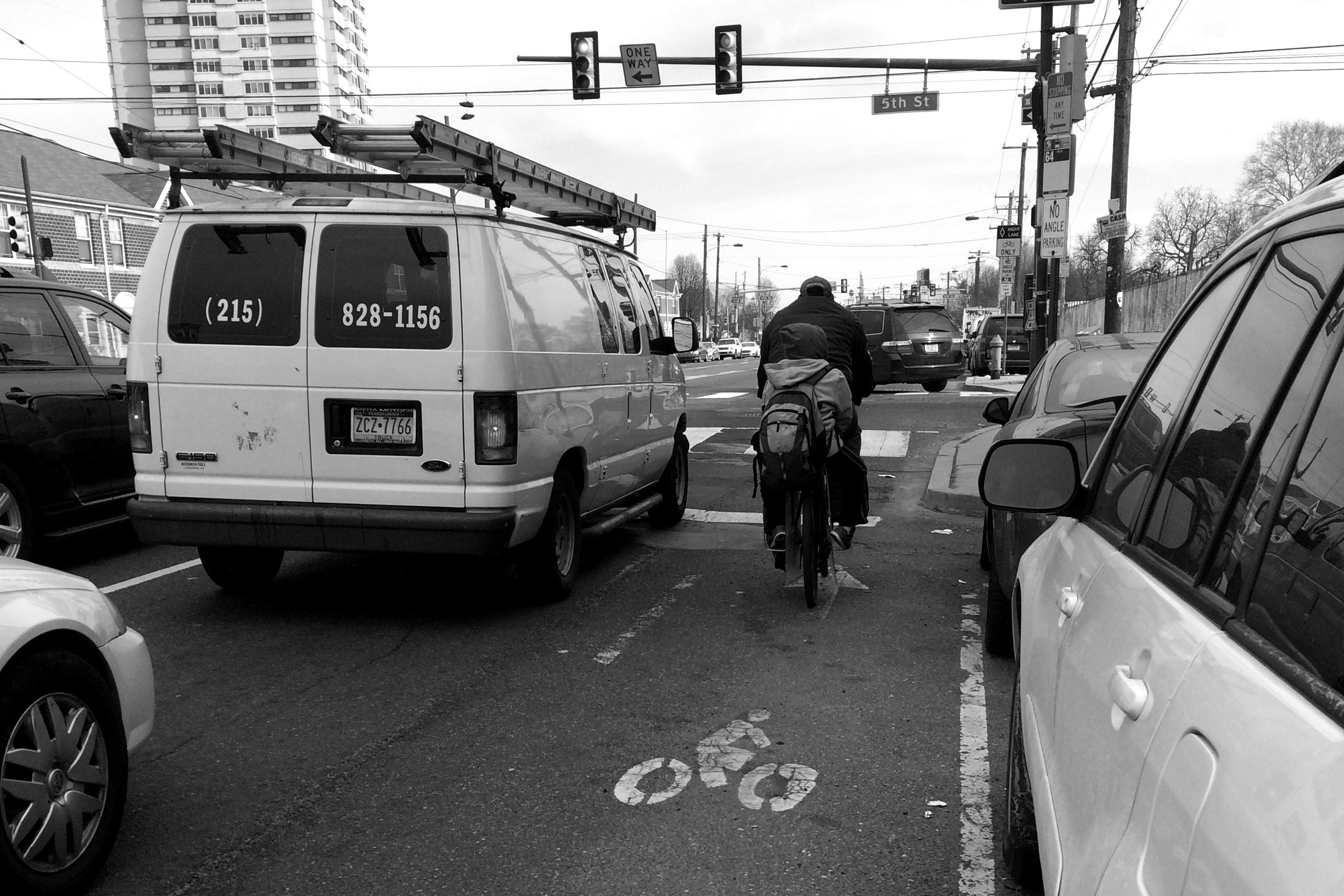 More than 30% of Philadelphia's streets are overdue for resurfacing but the Streets Department simply doesn't have the paving budget to keep up. A boosted Streets budget could do more than fix streets pockmarked with potholes and void of markings, argues Sarah Clark Stuart, deputy director of the Bicycle Coalition for Greater Philadelphia in this commentary. Resurfacing and restriping are also chances to add better bike infrastructure.
Most homeowners know that if they don't put on a new roof every 10-12 years, they risk cracks, leaks, blistering and other safety issues. The same goes for streets; if they're not repaved every 7-10 years, they start falling apart. Cracks and bumps develop; manholes sink; potholes open up more easily and quickly; gravel is everywhere; the white and yellow lines and crosswalks fade to black. Streets in disrepair contribute to crashes, blowout car and bicycle tires, make it difficult for wheelchairs to cross, and become tripping hazards for pedestrians. They are unsafe.
So, if someone arrived today and rode their bike or car around Philadelphia for the first time, they might think the city didn't care much about safety—which, as far as planning goes, just isn't true.
There's been a litany of street plans published and approved over the past few years: the Pedestrian/Bicycle Plan, Philadelphia 2035, the Complete Streets Handbook, Green Streets Design Manual, the Philadelphia Trail Master Plan, even City Council's own Community Sustainability Initiative.
Planning is great, but it's not enough. In part, the city simply hasn't put up enough money to implement those plans.
In the case of Philadelphia's streets, there isn't even enough cash in the city's budget to maintain the streets the City is responsible for, much less install new and innovative infrastructure like protected bike lanes, curb bump outs to shorten crossings, speed humps, roundabouts, and other precautions for road users.
The City has a total of 2500 miles of streets that regularly needs to be maintained; repaired, reconstructed, repaved, and restriped. As of 2014, the city had a backlog of 900 miles of streets in need of repaving. In 2013 and 2014, the Streets Department had only enough funds to pave 50 miles of streets over those two years.
Why so few miles? A combination of factors that include not enough funding allocated in the capital program and a federal mandate to spend a significant portion of those limited dollars on handicap access ramps at every corner. But, setting the curb ramp issue aside, it's hard to not see that the City just hasn't prioritized paving. In the fiscal year 2015 capital program, the City spent more on "citywide technology improvements" ($29 million) than repaving ($16 million).
And, to make matters worse, the operating budget for the Streets Department has been on a downward slide.
(Bicycle Coalition for Greater Philadelphia)

(Bicycle Coalition for Greater Philadelphia)
The portion of Philadelphia's general fund that goes to operating the Streets Department-Transportation side is down considerably from where it was ten years ago, when it was 1.14 percent. There's no question that the Streets Department-Transportation Division still remains a seriously under-resourced agency.
And compared to its peer cities' departments, the Streets budget looks even worse.
Baltimore spends $143 per capita of its operating budget on streets; Philadelphia spends $16. New York City has approximately one DOT workers for every street mile; Philadelphia has one Streets Department employee for every five miles.
This low level of funding is reflected not only by too many streets in dire need of repaving, but by the slow pace of new bicycle lanes added (the average number of miles added between 2008-2013 was 6 miles a year), as compared to its peer cities (Pittsburgh, Chicago and Boston added between 8-13 miles a year during that same time period.)
The path Philadelphia should take to recover its footing in completing and adding more high quality bike lanes is inextricably tied to a replenished paving budget and more resources for the Streets Department to do its job.
Mayor Nutter has proposed increasing the paving budget from $16 million to $20.4 million in his 2016 proposed budget, which should allow approximately 85 miles to be repaved—a vast improvement. But that amount still needs to be approved by City Council, and, ultimately, the next mayor should be working with Council to raise the budget to at least $32 million so that at least 130 miles can be repaved annually.
On the operating side, the Streets Department Transportation's projected FY16 operating budget is $33,118,461, which is an increase of $1.17 million from what was budgeted for FY15. That increase is helpful and greatly needed, but it still keeps the Streets Department-Transportation's operating budget at less than 1% (0.84%) of the entire $3.9 billion general fund.
And, the Transportation side of the Streets Department's budget still remains one-third of the Sanitation side of the Streets Department ($101 million) and is less than the Fleet Department ($50 million) and the Innovation and Technology Department ($46.8 million.)
The math is pretty simple. More paving equals streets in better condition and more bike lanes. We need both for safer streets and ultimately, a Vision Zero strategy.
City Council needs to hear from their constituents that they support an increase to both the Streets Department's operating and capital budgets. Council has scheduled a "public session" as part of it budget hearings on Tuesday, April 21st at 5:30pm. The Bicycle Coalition urges readers to testify at that session (call 215-686-3407 to sign up) or leave their own story/comment about why you want safer streets on a petition, which we will then deliver to Council.
WHYY is your source for fact-based, in-depth journalism and information. As a nonprofit organization, we rely on financial support from readers like you. Please give today.