Review: Genuine 'Love Letters'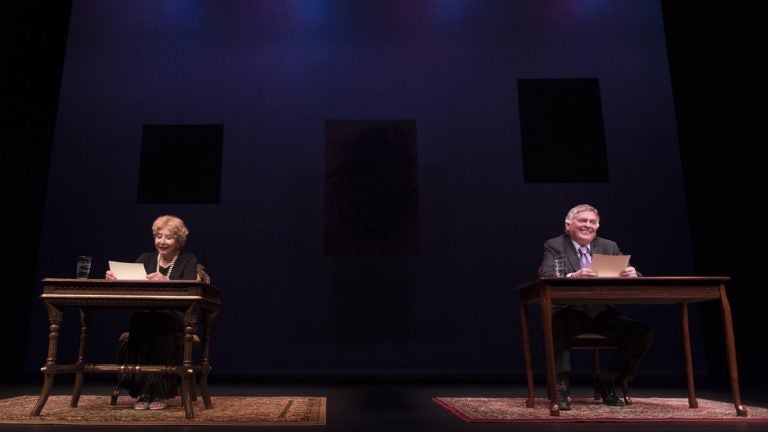 It's no wonder that audiences love "Love Letters" – even though it's a play with basic costumes, little make up, no scenery, no movement, and in some productions no intermission. What it has, though – and what people identify with almost immediately – is plenty of genuine feeling.
Actors and directors love it too for a special reason: Compared with just about any other production, "Love Letters" takes very little effort to stage. The rehearsal time is miniscule. A. R. Gurney's 1988 play has two actors, a man and a woman, reading from letters their characters have written each other a half century. There are no lines to memorize.
Even so, productions of "Love Letters," as for any play, can vary in interpretation and delivery. So it's great to report that over the last week, I've seen two of them, both at the highest level. The first was the play's Broadway revival with Mia Farrow and Brian Dennehy in the initial part of the run, which opened last week, and with other celebrities moving into the parts through January. The Broadway "Love Letters" is a bare-boned 90 minutes without intermission, and with little more than the actors' interpretations carrying both the play and the day.
The second production I saw is currently at Delaware Theatre Company in Wilmington, where the artistic director, Bud Martin, has added just a few flourishes. Martin seats his two actors at individual, simple but elegant tables, where they respond to each other (not directly) by reading excerpts from the letters that make up Gurney's script. Martin has added a backdrop – a wall with three art pieces by Mary Page Evans. The wall is lit by Scott Cocchiaro in different colors for each act, which Martin separates with an intermission.
The show's two actors – the redoubtable Michael Learned (she's played in TV's "Nurse," "The Waltons" and others) and the excellent Daniel Davis ("Frasier" and others) – give their characters inviting personalities from the letters they read. By the end of the play, which begins with their exchange of notes in grade two and ends when they are both well into their years, we feel we've been in on the key, and not so key, moments of two lives. We know them.
Gurney's script is all the more clever for what we can't see, but hear about before or after it happens. Letters, after all, comment on events that come and go. The actual events occur between the letter writing. How exceptional, then, that in "Love Letters" the letters themselves become the main event.
"Love Letters" runs through Oct. 5 at Delaware Theatre Company, 200 Water St., Wilmington. 302-594-1100 or www.delawaretheatre.org
WHYY is your source for fact-based, in-depth journalism and information. As a nonprofit organization, we rely on financial support from readers like you. Please give today.