Protesters press city to remove street sign for former Philly Mayor Goode, citing MOVE bombing
About 30 protesters rallied to take down what they called "a monument to state violence." W. Wilson Goode Sr. was mayor during the 1985 MOVE bombing.
Updated: 5:30 p.m.
___
Almost two years after Philadelphia renamed the 2300 block of 59th Street for the city's first Black mayor, about 30 protesters on Sunday rallied to take down what they called "a monument to state violence."
W. Wilson Goode Sr. was mayor 35 years ago when the city bombed the home of a radical Black liberation group called MOVE on the 6200 block of Osage Avenue in West Philadelphia. The bombing killed 11 citizens, including five children.
"They are symbolic gestures, of course," said Krystal Strong with Black Lives Matter Philly of the street sign for W. Wilson Goode Sr. Way. "But we do not want to celebrate the terrorism of our communities."
At a Black Philly Radical Collective demonstration on 59th and Overbrook ave. Some 30 people are demanding the city take down the street sign honoring Wilson Goode Sr., the city's first Black mayor. Goode was the mayor during the MOVE bombing, which killed 11 people, inc. 5 kids pic.twitter.com/U0Gg3ZVsKy

— Ximena Conde (@RadioXimena) July 19, 2020
MOVE, which ate raw foods and took on the last name Africa, often clashed with neighbors over how the group lived out its back-to-nature lifestyle, and complained about the smell of feces, rats and of potential neglect, as the children were not sent to school and wore few clothes, even in the winter.
Still, many residents who also remember how firefighters let the resulting flames destroy 61 homes in West Philly's Cobbs Creek section agree the bombing was an extreme example of overly aggressive policing.
One of those people is Michael Wilson, with Philly for REAL Justice and The Black Philly Radical Collective, which helped organize the protest and has 10 more demonstrations planned — each event representing one of the collective's demands.
Wilson said he believes there are people much more worthy of the honor of a street sign — educators come to mind.
He has nothing against Goode, per se. The two have crossed paths three or four times, Wilson said — encounters that left him with the sense Goode was a "nice person."
"But I think he made some critical errors on a critical day and it cost a lot of people their lives and a lot of people their freedom," Wilson said.
"And he was the leader, he was the mayor, that is his legacy. He doesn't deserve this. He doesn't deserve this on his leadership alone."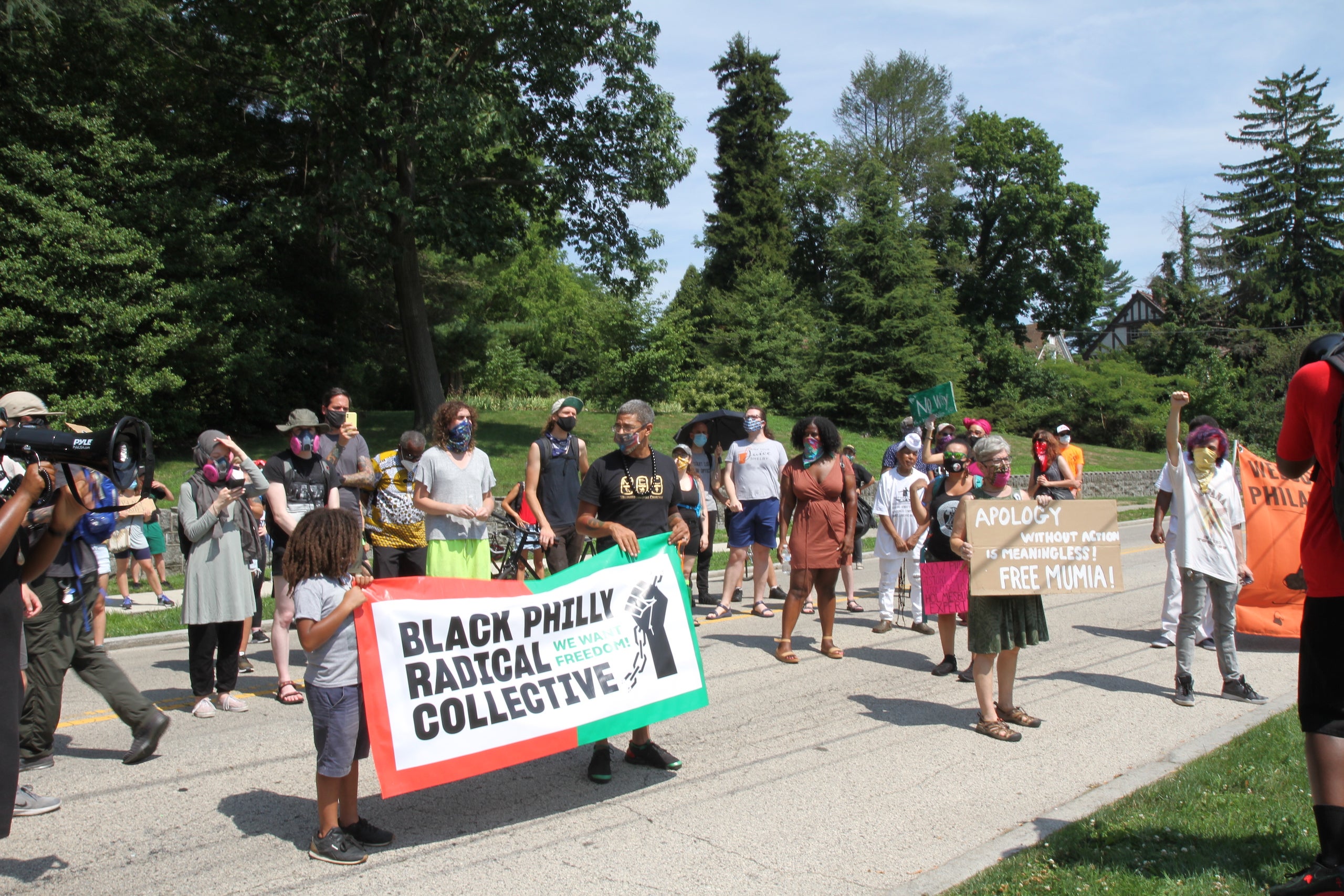 Organizers of Sunday's demonstration noted that community members were not consulted before the street sign went up in the Wynnefield neighborhood in September 2018, and that the city ignored those who showed up to protest Goode's street naming ceremony, demanding it be taken down.
The group marched from the corner of 59th Street where the street sign was erected to Goode's house about a block away, where they chanted the names of the 11 people killed.
— Ximena Conde (@RadioXimena) July 19, 2020
From there, the group moved outside the home of Councilmember Curtis Jones Jr., who is Black and helped introduce the legislation for the street sign.
"Who is Curtis Jones to raise up this man?" an impassioned Wilson said to the crowd as he pointed to the sign.
Speakers like Megan Malachi with Philly for REAL Justice and the collective said Jones was one of the "Black misleaders" voting against Black residents' interests.
"These are just white supremacists in Blackface," she said.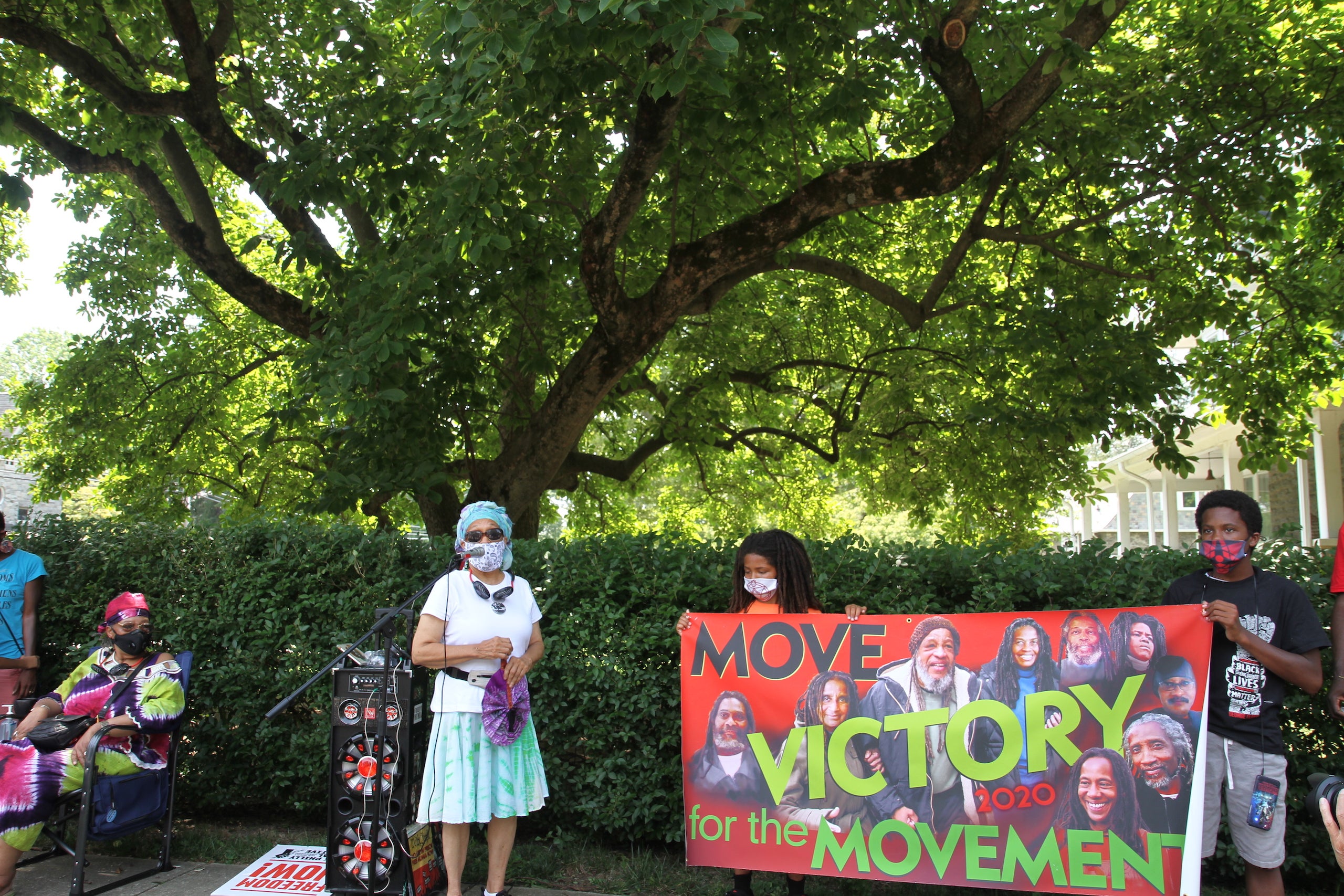 Jones told residents at a community meeting just before the street naming that he proposed dedicating the street to Goode, who had been a mentor to him, and apologized for not talking to residents about the decision, according to The Philadelphia Tribune.
Goode testified before an investigating commission in 1985 that he gave his permission to drop the bomb, but did not know it would be dropped from a helicopter. Leo A. Brooks, the city's managing director at the time, said he had informed Goode of the police department's plan before it happened.
The former mayor, who has himself apologized four times for the role he played, recently called on the city to issue a formal apology.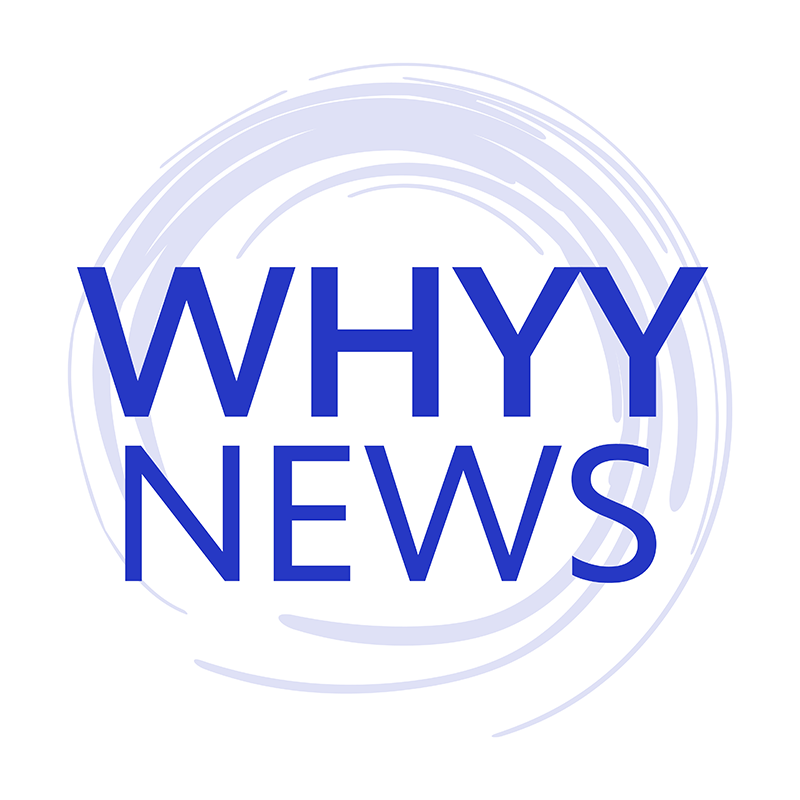 Get daily updates from WHYY News!
WHYY is your source for fact-based, in-depth journalism and information. As a nonprofit organization, we rely on financial support from readers like you. Please give today.