Points of LEVERAGE: How Community Design Collaborative and Office of Housing and Community Development work together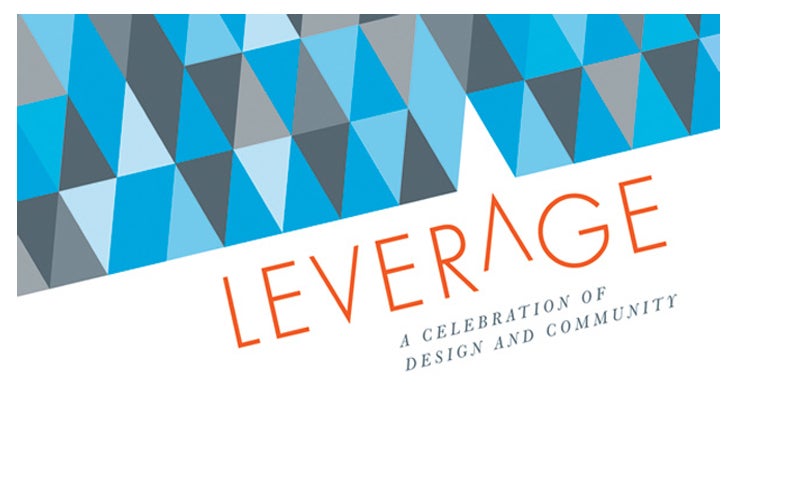 Design as process. Design as product. They're equally important and both will be in the spotlight this evening at LEVERAGE, a benefit for the Community Design Collaborative at the University of the Arts.
Since 1991 the Collaborative has worked with community groups to fund early-stage design work that takes neighborhood improvement projects from vision to plan. From there groups can fundraise, cultivate support, and eventually build.
LEVERAGE is an opportunity for the Collaborative to showcase its recent work, get its volunteers and supporters in the same room, and raise money for design service grants. At the festivities the city's Office of Housing and Community Development (OHCD), a longtime partner for the Collaborative, will be honored with the first LEVERAGE award.
It may seem that OHCD, a city agency, and the Collaborative, a design group started by "anarchist architects", occupy different parts of the community development spectrum, but that's just what makes them excellent partners. While the Collaborative can be a proving ground, OHCD helps break ground. It's the very concept of "leverage" that makes OHCD and the Collaborative work well together.
The Collaborative is able to help community organizations carry good ideas forward and helps OHCD explore interesting new design directions. OHCD in turn helps fund the Collaborative's work in ways that engages design professionals in different kinds of projects, helps empower community groups, and pushes design as a tool for neighborhood improvement. The Collaborative takes on work that OHCD can't.
Since the early days of the Collaborative, OHCD has provided financial support for design service grants. These days that amounts to about $50,000 annually, which enables the Collaborative to take on five design service grant projects. That may not sound like a lot but it's critical support for the Collaborative's projects in the low- and moderate-income neighborhoods where OHCD works.
"Funding for preliminary design is very rare," the Community Design Collaborative's Director Beth Miller said, explaining the value of both the Collaborative's work and OHCD's grants. "We're able to connect this community of design professionals that are really smart and interested with a group of nonprofits eager to improve some of the 40,000 vacant lots or some of the underutilized buildings that we have in this city. Over time that makes a big difference."
OHCD's support goes toward Collaborative service grant projects that commonly focus on housing, recreation, parks, or schools, all in areas eligible for Community Development Block Grants (CDBG) funding, which is administered by OHCD. OHCD has put millions of development dollars toward projects that are rooted in work with Community Design Collaborative.
"We can support the collaborative to really work with organizations that are just at the beginning stages of development, with just an idea," said OHCD's Director Deborah McColloch. "We don't have the resources to really invest in that, because we have to wait until its more fully germinated."
Collaborative service grants provide a platform for new ideas – from greening a schoolyard or building affordable housing for seniors – its volunteers facilitate community conversations around design issues, and produce a plan that the organizations can then carry forward. At that point OHCD can consider funding to bring some of those concepts to life.
"Many of the projects we've worked on aren't quite ready for prime time yet. So the hope is that by working with us they're much more primed and ready," Miller said.
The Community Design Collaborative is offers organizations the intellectual room to experiment, plant the seeds for big ideas, and dream a bit. Their design grants are also opportunities for community groups to build capacity.
"The Design Collaborative helps level the playing field," said McColloch, particularly for smaller neighborhood groups that may not have professional staff. "That's part of the reason why we support it."
The Collaborative's tight focus on design rooted in community values is also important to OHCD. Particularly, McColloch said, when it comes to designing affordable housing, which "gets a bad rap about being ugly or doesn't have amenities that people want. We want to have good design."
Design challenges and charrettes hosted by the Collaborative help to test out fresh ideas in public design while considering real world development opportunities in the city. Often OHCD is a partner in these efforts too.
McColloch points to the Collaborative's 2013 design charrette about the large city-owned vacant lot at 8th and Berks, an area of Eastern North Philadelphia where OHCD has invested for decades. It's the last lot of its type in this area.
"This is a gem. We can't let this go by without making conscious choices about what we should do here," McColloch said, adding that the charrette helped focus OHCD's thinking about the site.
The Collaborative's 2005 Affordable Infill Housing Design Challenge, another partnership with OHCD, resulted in Sheridan Street Housing. The design challenge resulted in Asociación Puertorriqueños en Marcha (APM) and OCHD working together to build an affordable, sustainably-designed housing project, which was an atypical model a decade ago.
"Working with APM, and allowing them access to some pro bono design services, helped them test some ideas that they might not have otherwise undertaken. Today you see Paseo Verde. So I'd like to think that that early kind of prep helped them be early adapters of LEED, and green housing and sustainability," Miller reflected.
It's that kind of testing that she says has proven valuable time and again.
Renderings of the new Sheridan Street Green Homes.

(Community Design Collaborative )

(Rendering of Lovett Memorial Library park. | Community Design Collaborative)

Plazas at 4th and Bainbridge present green infrastructure opportunities | Community Design Collaborative