Philly's plastic bag ban is finally here — with enforcement still to come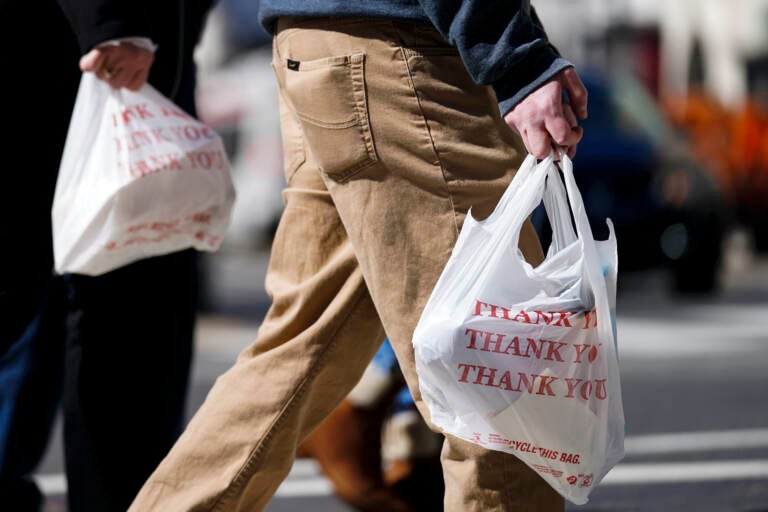 After a period of pandemic-related delays, Philly's ban on giving plastic bags to customers will take effect Friday, Oct. 1.
City Council first passed the ban in late 2019, requiring businesses to stop using plastic bags and any paper bags that don't use at least 40% recycled material.
Enforcement of the ban won't begin until April 2022. City officials have referred to the six-month period in between as a time for "awareness, education, and warning" before the prohibition comes with real consequences.
The City of Philadelphia's plastic bag ban starts October 1, 2021.

Be sure to bring your reusable bags with you when you shop!🛍️

Learn more about the plastic bag ban at https://t.co/9RDBvjlKIc #BYOBagPHL pic.twitter.com/rpQ9Y20iT9

— City of Philadelphia (@PhiladelphiaGov) September 29, 2021
Since the start of August, Philly businesses have been required to hang signs letting customers know about the bag ban.
Between October and April 2022, the city will only issue warnings to businesses not in compliance. After April 1, businesses that continue using plastic bags could be fined, with a minimum penalty of $75. Repeat offenders may be taken to court by the city.
Mayor Jim Kenney said that, even as the city continues to combat the ongoing pandemic, "the climate crisis and plastic pollution remain two very serious threats to our planet and society," calling the plastic bag ban an important step toward achieving the city's environmental goals.
City officials cite the volume of bags the city uses — an estimated 1 billion per year — and the role they play in littering streets and waterways. The city also estimates it has wasted about 10,000 hours at recycling facilities retrieving bags, which are not recyclable but often end up mixed with recyclables, and untangling them from equipment.
What businesses are impacted?
The plastic bag ban will affect all Philadelphia businesses that make bags available for carryout or delivery. That includes, but is not limited to:
Supermarkets
Convenience stores
Shops
Service stations
Department stores
Clothing stores
Restaurants
Food trucks
Farmers' markets
Delivery services
What bags are banned?
The legislation prohibits retail establishments from providing for checkout or delivery:
All single-use plastic bags
Bags made from PLA (polylactic acid) created through a blown film extrusion process
Paper bags that don't use at least 40% recycled material
What bags are exempt?
The following bags are exempt:
Dry cleaner bags
Bags sold in packages containing multiple bags intended for use as garbage bags or to contain pet waste or yard waste
Bags used to deliver perishable items like meat, fish, vegetables, and plants
Bags provided by pharmacists to contain prescription drugs
Newspaper bags
WHYY's Katie Meyer contributed reporting.