Philly encampment organizers say they've reached a tentative deal with the city
Organizers behind Philly's homeless encampments say they've struck a tentative deal with officials to relocate those living in tents to 50 vacant properties.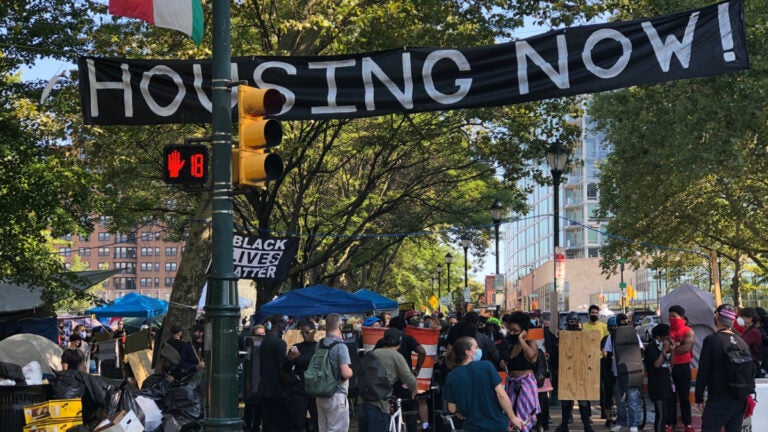 Updated: 6 p.m.
___
After months of public pressure to disband two homeless encampments in Philadelphia, housing activists say they have struck a tentative deal with city officials to relocate those living in tents to 50 vacant, city-owned properties.
According to Philadelphia Housing Action, a coalition of affordable housing activists who have experienced homelessness, the city has tentatively agreed to place the properties in a community land trust. The coalition will manage the trust and reserve the properties for those with extremely low incomes, people making $25,000 or less.
"It's a big step," said encampment organizer Jennifer Bennetch, "especially since up until last week both the city and [the Philadelphia Housing Authority] were totally against giving any homes whatsoever … It's really important to us because people can be moved out of the encampments into homes."
City spokesman Mike Dunn did not confirm the coalition's announcement, but said in a statement that officials are still negotiating with protest camp representatives and "many details remain to be worked out."
"Any agreement will require a date certain by which the protest camps will be resolved," Dunn said.
Deal could end three-month standoff with city
The encampments — located along the Benjamin Franklin Parkway, behind the Philadelphia Museum of Art and the Philadelphia Housing Authority's Ridge Avenue headquarters — appeared in June as a way to draw the city's attention to the lack of affordable housing options.
As a sign of good faith while the specifics of the deal are being worked out, housing activists agreed to take down barricades blocking traffic at 22nd Street and the Parkway, as well as at 22nd Street and Pennsylvania Avenue on Friday. Traffic has been flowing freely since.
As a sign of good faith and while specifics are worked out, housing activists agreed to take down barricades blocking traffic at 22nd and the parkway and 22nd and pennsylvania Ave on Friday. Traffic has been flowing freely since pic.twitter.com/K4wouv5Xh1

— Ximena Conde (@RadioXimena) September 27, 2020
At its peak, more than 200 people experiencing homelessness moved into tents. Many of them said the encampments were an upgrade compared to sleeping under bridges or other outdoor spaces, and even in the city's shelters. Here, they said, they felt safe and had access to food and hand sanitizer during the pandemic.
Residents around the encampments, however, have painted a different picture, complaining of piling trash, open-air drug use and concerns about safety.
Last week a 28-year-old man living in one of the camps was stabbed multiple times in the legs, back and head. Bennetch maintains the violence in the encampment has been minimal and pales in comparison to the surge in shootings taking place in surrounding neighborhoods.
The stabbing was the second known incident in the space and prompted the city to resume negotiations with protesters, which had reached a standstill after three failed attempts to evict those living in the tents.
Encampment residents welcomed the news of the potential deal Sunday afternoon.
"It's a start to help some of us," said Barry McCleod, who has been housing insecure for two years. "It could possibly help a lot more if we had more houses, but 50 houses is a start. I'll take the start."
McCleod says you can't be an emotional guy when living on the margins, but he can't help but get excited over the possibility he could be placed in one of the 50 homes. He says he'd be able to invite his three children over pic.twitter.com/0At72aRg9D

— Ximena Conde (@RadioXimena) September 27, 2020

Before the encampment on the Parkway popped up, McCleod slept on the floor of Suburban Station where he had to be ready to be kicked out at a moment's notice. Here, he and his two brothers have tents of their own and a guaranteed meal each day.
McCleod said he hopes the deal can be finalized quickly.
While Anthony Lloyd was pleased by the news, he was skeptical that the 50 homes would be enough for everyone living in the encampments. 
As Lloyd and I talk, a woman walks around mumbling to herself. Lloyd says the woman has some mental health issues and she doesn't want to take her medications. It's the camps job to keep her safe

— Ximena Conde (@RadioXimena) September 27, 2020
"I would appreciate if they did better and gave us some move-in ready homes so we could just start filtering people off the Parkway before it gets too cold," he said.
Lloyd wants the most vulnerable members of the camps, such as those struggling with mental health issues and addiction, to be housed first.
Deal includes 15 vacant homes currently being squatted
From the start, housing activists have argued offers made by the city, such as space in shelters and residential recovery treatment centers, are not adequate solutions to homelessness, which some 5,500 residents experience each year.
Housing activists have long disputed the officials' claims that the vacant, city-owned properties were not habitable and needed many repairs.
The coalition made their point by taking matters into their own hands. The group took over 15 vacant properties overseen by the Philadelphia Housing Authority, properties the coalition said were in need of few repairs, and moved mothers and children experiencing homelessness in.
Those 15 properties, which currently house 50 people, are now part of the tentative deal with the city, according to Philadelphia Housing Action. While these mothers and children may be moved to other properties, they'll be housed in one of the 50 homes that are part of the deal.
Up until this point, the city has argued placing residents in these properties wouldn't be fair to the more than 40,000 Philadelphians sitting on the waiting list for subsidized PHA housing, which closed in 2013. The city said federal housing regulations limited what it could do with these properties.
The 50 homes now tentatively slated to go into the community land trust were going for auction or sale to developers, per the housing coalition.
"This will be more affordable housing on top of the already existing public housing. It's not taking away from anybody on the list," said Bennetch. "The units that we would be putting into a community land trust would have been auctioned to private developers at PHA auctions."
'Way more work to be done'
Bennetch, who has been involved in housing issues since 2017, said she keeps a running list of all the vacant properties PHA has up for sale or auction.
She said she could see the encampments clearing out in a matter of weeks — should the city compromise and let the coalition include some of the auctioned properties that require few repairs in the stock of 50 homes they'll receive for the trust.
No matter the timeline, the tentative agreement is setting a precedent, said Bennetch.
"It's not hundreds or thousands, but these are 50 homes that will remain affordable housing for people from these neighborhoods that won't be auctioned off to developers," said Bennetch, who noted there is "way more work to be done."
"If it's done properly on both ends, it could lead to this being a thing that instead of PHA auctioning houses to developers, they go to community groups that preserve affordability and the aesthetic values of neighborhoods," she said.

WHYY is one of over 20 news organizations producing Broke in Philly, a collaborative reporting project on solutions to poverty and the city's push towards economic justice. Follow us at @BrokeInPhilly.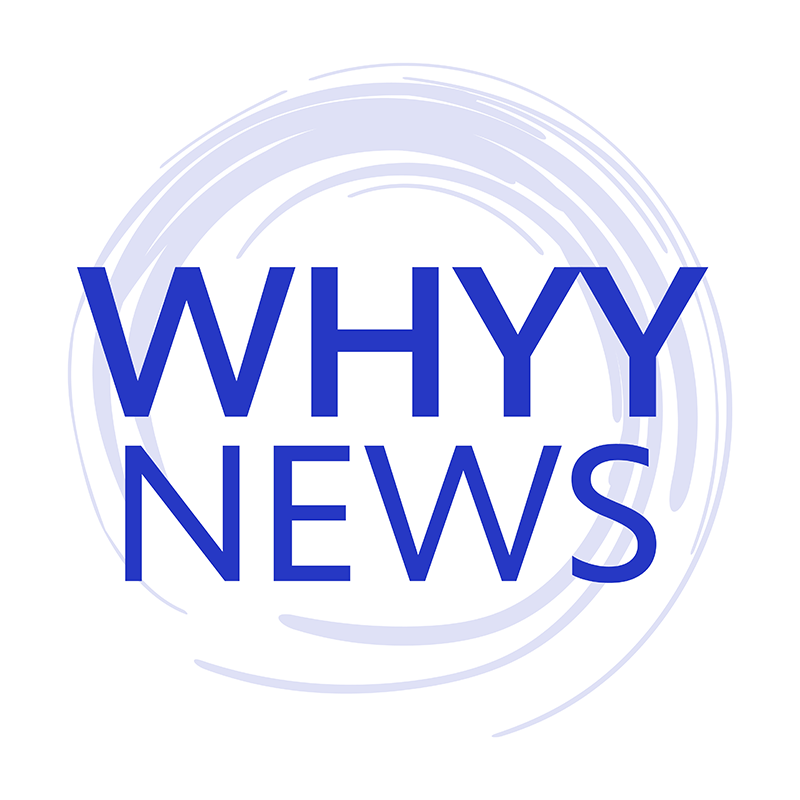 Get daily updates from WHYY News!
WHYY is your source for fact-based, in-depth journalism and information. As a nonprofit organization, we rely on financial support from readers like you. Please give today.