Philly's suburban municipalities embrace electric vehicle revolution with open arms
Townships and boroughs across Montgomery, Bucks, Chester, and Delaware counties are transitioning their vehicle fleets to electric and investing in charging stations.
Transportation is the largest contributor of greenhouse gas emissions in the United States driving the climate crisis. As prices continue to skyrocket at the pump, many people are turning to electric vehicles (EVs) as the solution to both problems.
And it's not just individuals.
A growing number of municipalities across the suburbs of Philadelphia are transitioning their gas-powered municipal vehicle fleets and investing in the infrastructure to support EVs.
Montgomery County now has three hybrid sheriff vehicles. While the county doesn't keep an authoritative list on townships and boroughs using EVs, a spokesperson for the county said that Montco is aware of a number of municipalities with charging stations.
Upper Merion Township is currently transitioning to EVs and it will continue to phase out gas-powered cars as they age. Narberth Borough, Royersford Borough, and Whitemarsh Township have recently installed electric charging stations, as have the Jenkintown Police and the Springfield Library. Lower Merion Public Safety is in the process of soliciting bids for charging stations.
Lansdale makes the shift to electric
The list doesn't end there. Lansdale Borough is also embracing the electric vehicle revolution head on. The borough is densely populated with more than 18,000 residents living in the roughly three-square-mile municipality.
"We felt that having a couple of fleet vehicles that were electric-powered would be perfect for our needs here in the borough," Borough Manager John Ernst said.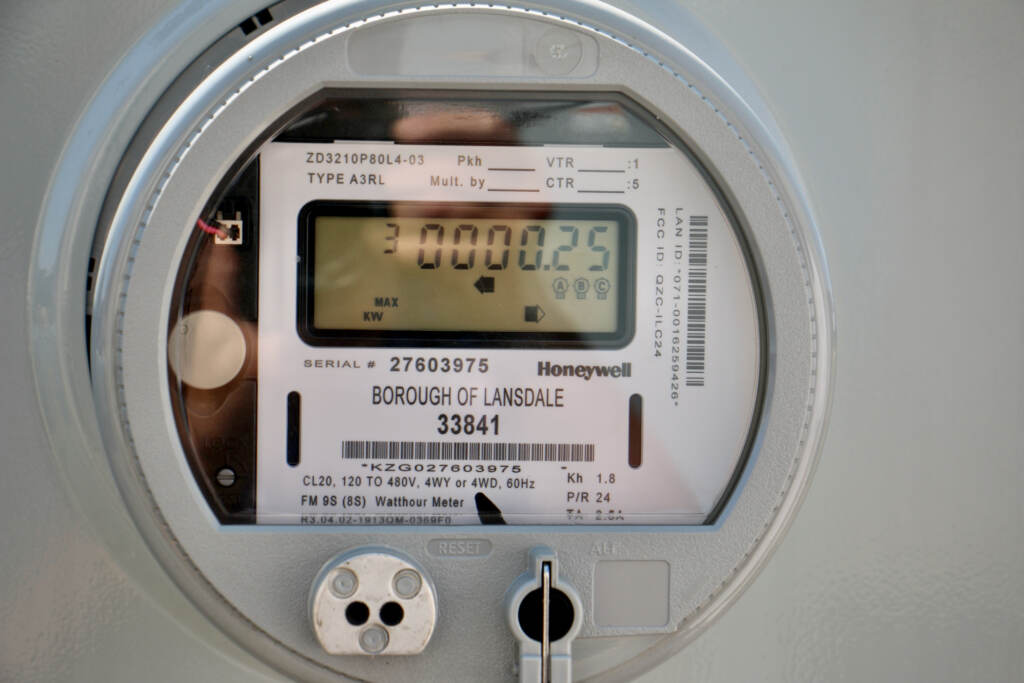 Lansdale was due to buy new vehicles anyway. But with the help of grant funds tied to the settlement in the Volkswagen diesel engine lawsuit, Lansdale was able to cover the cost difference between gas-powered and electric vehicles.
Since 2019, the borough has been operating three electric cars.
"We've been able to turn the Volkswagen diesel engine settlement disaster into a positive piece of initiative for the borough," Ernst said.
As the electric cars have hit the roads in Lansdale, so have the charging stations. Several have been installed at strategic points throughout the borough such as the municipal building and along biking trails.
Andy Krauss is the electric superintendent for the borough. He said that they approached the installation process with a simple question.
Where are the stations going to get the most use?
"We've identified those chargers and put them strategically around rail locations, around that walking and biking trail, around sports field facilities, so folks can come to the electric services building, we have little league fields right here. So parents come to a little league practice or a tournament where it's a whole day Saturday, and you can charge your electric car," Krauss said.
Charging electric cars with solar power?
Lansdale is one of just 35 communities in Pennsylvania — and roughly 2,000 across the country — that runs its own electric utility. Krauss said that the department "owned by the people" also took significant strides in 2021 to make the charging stations more sustainable.
"We actually just installed two chargers in-house at the electric services building that runs directly off the solar system. So during the day, when the sun's out, the cars are actually being charged off the solar energy," Krauss said.
He said that even his Zoom interview with WHYY News was being conducted off the normal electric grid.
"I don't know if you find anybody else around that's actually charging the electric cars with a solar system as a municipal electric company. We're pretty proud of that," Krauss said.
The 19446 zip code, which contains several municipalities including Lansdale, had roughly 260 registered EVs, according to Krauss. He said that there is a growing need for EV infrastructure.
Ernst believes that the borough is motivated by more than just rising gas prices. He said that they have a responsibility to be conscious about spending money. And with new sustainability opportunities and grants available, Ernst wants Lansdale to be at the "forefront."
"We wanted to set a standard and let the communities and the public see that we're doing our part to become sustainable and saving money and saving fuel," Ernst said.
Phoenixville to install 50 EV charging stations end of 2023
In Chester County, Phoenixville Borough is attempting a similar endeavor. As one of the first municipalities in the state to commit to 100% renewable energy by 2035, Phoenixville has been jumpstarting projects that take advantage of alternative energy in its various municipal buildings.
The next step is transportation.
The borough has installed 16 EV charging stations. Borough Manager Jean Krack believes that is the largest amount for any municipality in the region outside of Philadelphia.
"We've got six more coming within the next week or so. And then with all of our new buildings that are coming out of the ground — our recreation center, our fire station — we've put the conduit in place, and we'll get ready to order heads for those locations," Krack said.
The borough has a goal of installing 50 charging stations by the end of 2023.
Krack said that collaboration and cooperation between elected officials, business leaders, and the borough's staff is what has made the process happen so quickly.
Phoenixville even made changes to its zoning and land development ordinances that call for EV "make-ready" standards for new parking structures.
"We've changed information in our parking ordinances to make this adaption to electric vehicle charging stations so that when people come here to Phoenixville, they have the ability to enjoy what we have to offer, but they also have the ability and comfort to know that when they get here, they have a place to charge their vehicles," Krack said.
Phoenixville is currently looking into how it might eventually allow homes which have no driveways but park on the streets to have the ability to connect to a station.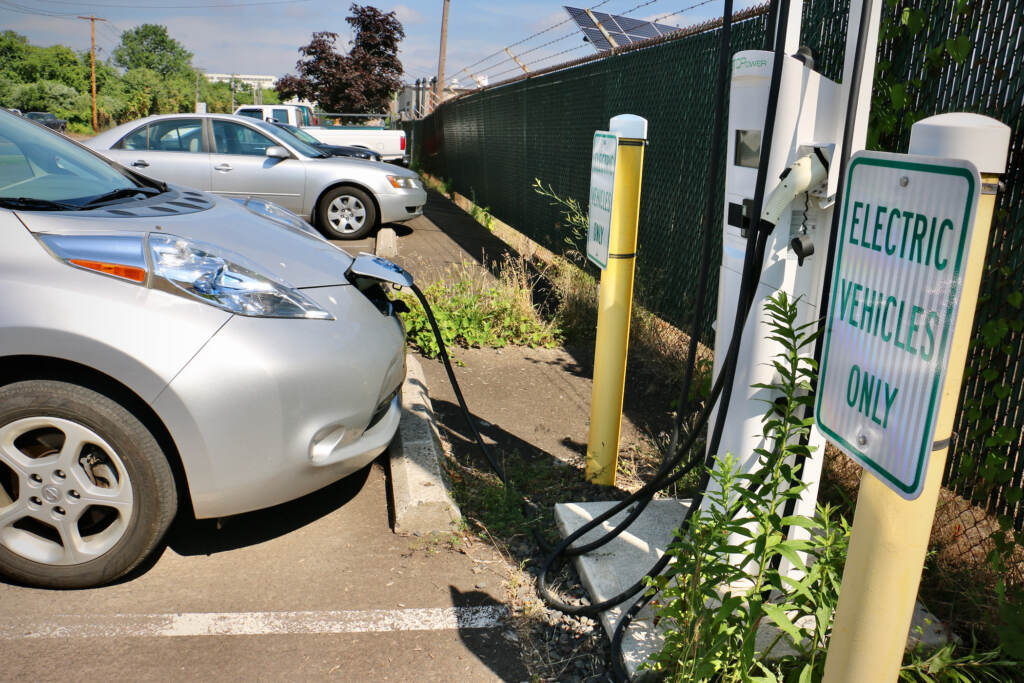 Delco to reduce annual greenhouse gas emission with EV fleet by 400,000 pounds
A spokesperson for the Pennsylvania Department of Environmental Protection told WHYY News that in southeastern Pennsylvania, the agency has already supported electrification and charging projects with grant funds — and more applications from municipalities are starting to come in.
To date, the state DEP has awarded Delaware County Alternative Fuel Incentive Grant funds totaling $412,500 to help pay for 84 EVs and $335,740 for 28 chargers.
"The annual greenhouse gas emission reduction that Delaware County's 84 EVs will contribute is about 406,000 pounds, or 184 metric tons," a DEP spokesperson said.
Additionally, the Delaware County Geographical Information Systems Department has created a map for residents to locate EV charging stations throughout Delco.
DEP also gave $215,000 in AFIG funds to Middletown Township in Bucks County for four fast charging stations at their municipal building for public use.
Middletown officials see the township as a leader in municipal sustainability. Recently, it became the first municipality in Bucks County to establish a local climate action plan.
"We're able to get data from PECO, and all of the different emission sources, and analyze that to kind of benchmark where we are today. And then referencing that information to establish goals for where we want to be in the future. And so you'll see in our climate action plan that we have a series of projects and activities that we are aspiring to do," said Nick Valla, the assistant township manager.
The plan is driving the township's initiatives in the EV space. While Middletown currently doesn't have any municipal-owned EVs, the charging stations are just a sign of things to come.
Bucks County Commissioner: 'You can save the planet and you can save money'
On Wednesday, Middletown received platinum level sustainability certification, which is the highest mark. The criteria isn't just focused on the environment, but also on the management structure.
Valla will be giving a presentation in the fall to the Bucks County Consortium of Communities, a group of township and borough officials, showcasing Middletown's sustainability efforts and ways other communities can follow suit.
He said that township officials have even shared their work with their counterparts across the state. However, he emphasized that most of the exchanging of ideas has happened close to home.
"Every once in a while I get an email or a phone call, even just our neighboring community Bensalem which borders [us]. The day that that AFIG grant was announced, I got a call from their manager, and he said, 'Oh, I want to hear more about how you guys got that because we're trying to do the same thing,'" Valla said.
Bucks County has taken its own steps to join in on the transition away from internal combustion engines to electric. Last year, the county bought its first two electric vehicles. It is also piloting charging stations at different county properties.
County Commissioner Bob Harvie is seeing a trend in the region.
"What we've seen with technology getting better is people realizing that you can do both things that are important — you can save the planet and you can save money," Harvie said.
Once gas prices eventually fall, Harvie is curious to see if this shift will be permanent.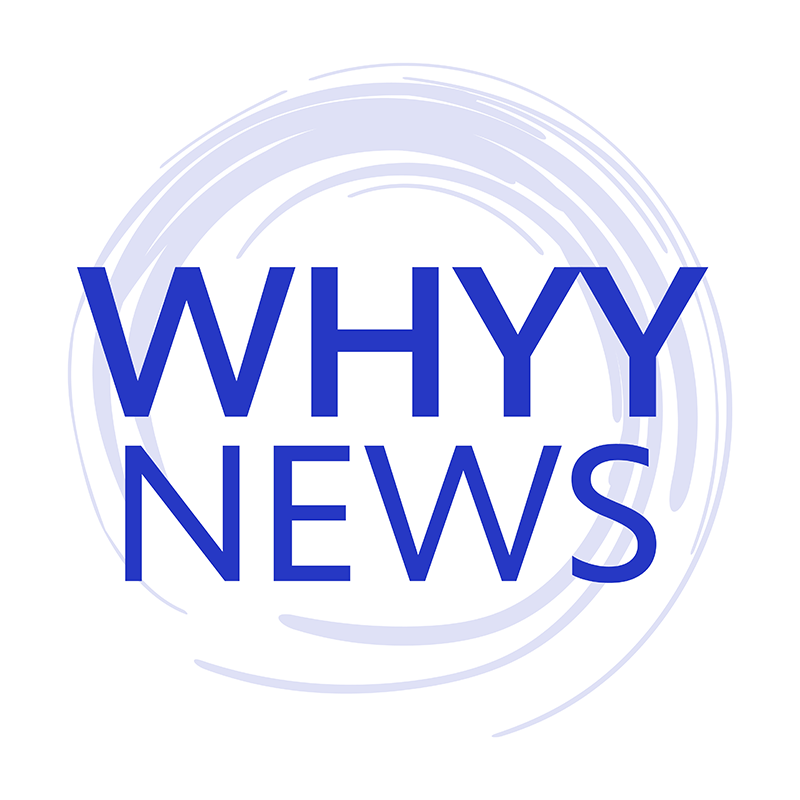 Get daily updates from WHYY News!
WHYY is your source for fact-based, in-depth journalism and information. As a nonprofit organization, we rely on financial support from readers like you. Please give today.