7 arrested at 'people's decommissioning' of oil tank farm in Southwest Philly
Residents want the tank farm associated with the former PES refinery permanently shut down, but the new owner has left the door open to restarting it.
Seven activists were arrested at an oil tank farm in Southwest Philadelphia Thursday. They and dozens of others called for the facility associated with the former PES refinery to be permanently decommissioned, citing concerns about the health of nearby residents and the role fossil fuels play in driving climate change.
"They want to keep a tank farm? We're here to say no," said Jeanette Miller, a longtime resident of the nearby Grays Ferry neighborhood and a member of the activist group Philly Thrive. "It's never, ever going to be a problem for residents of Philadelphia again."
The Schuylkill River Tank Farm — where petroleum products can be stored in giant tanks, sent out by pipeline, or loaded onto trucks and barges — is located across the river from the site of the former PES refinery, which shut down after a massive fire and explosion in 2019.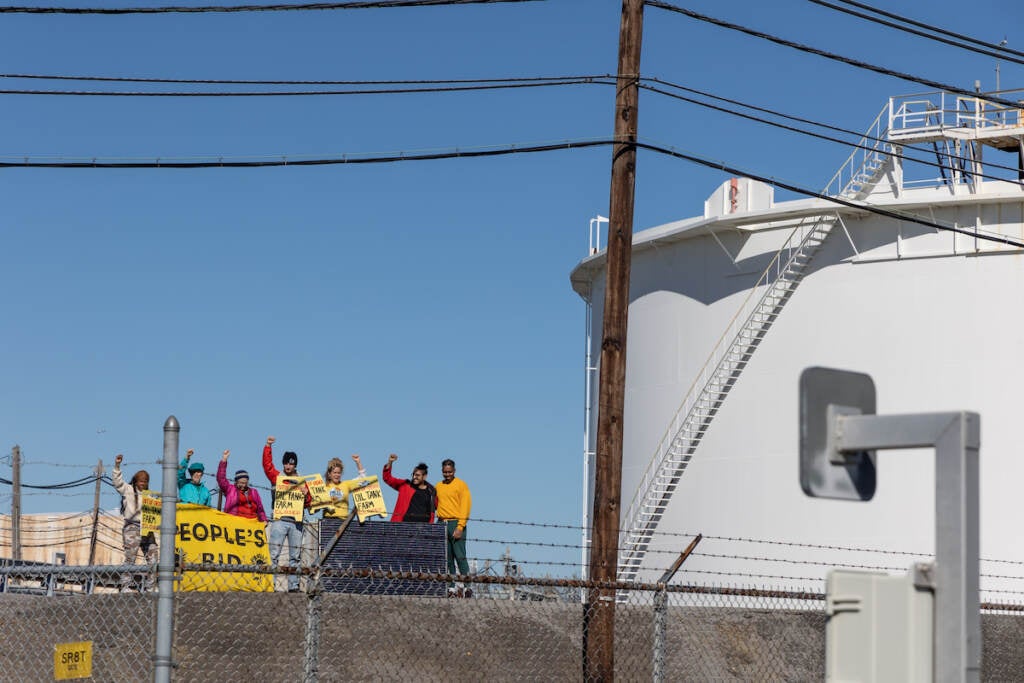 Hilco Redevelopment Partners owns both properties. The company has demolished 80% of the former refinery and is redeveloping the site into a warehousing and life sciences hub. The company stopped operating the tank farm in the summer of 2021 and emptied most of the petroleum from its tanks, but is leaving open the possibility of restarting it.
The Philadelphia Department of Public Health's Air Management Services issued the tank farm an updated operating permit earlier this month, including a variety of multi-million gallon tanks and truck and barge loading equipment. A memo the agency sent out with the new permit said the tank farm is "currently in a non-operational state; it is possible that the [Schuylkill River Tank Farm] may be returned to active operations at a future time."
But some nearby residents and members of advocacy organizations want it to remain closed. Several testified against the permit early this year.
In addition to wanting the tank farm permanently decommissioned, the people who staged Thursday's sit-in called for any redevelopment on the tank farm and former refinery sites to be powered without planet-warming fossil fuels, and for flood mitigation plans that prevent water from flowing into surrounding communities.
"There's a lot of contamination over there that hasn't been cleaned up," said Shawmar Pitts, a Grays Ferry resident and organizer with Philly Thrive. "If you have a flood and we're flooded, that stuff is going to wash right into our communities and we'll be exposed to it."
Benzene, a cancer-causing chemical found in crude oil and gasoline has been detected at the former refinery site years after its shutdown.
Miller, who said her parents moved to Grays Ferry because they were unable to move to another community due to redlining, said several of her family members have had tumors and other serious health problems. She wants to see the tank farm cleaned up and redeveloped as a place for environmental education or recreation.
"I'm here to let the rest of us live," she said.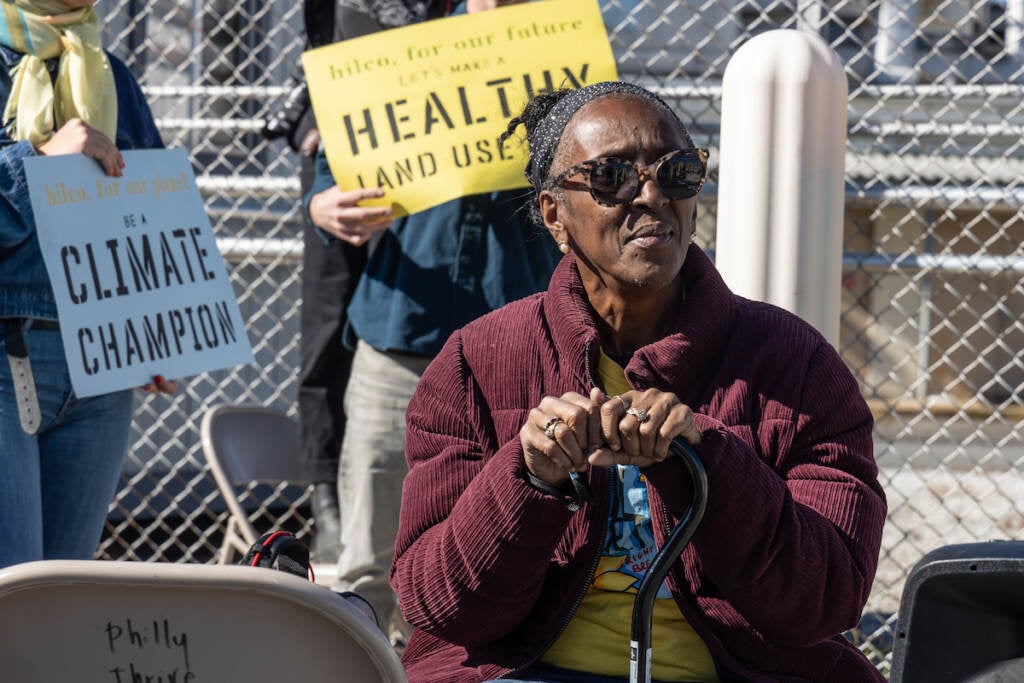 Tarik Aougab, one of the people arrested after carrying a solar panel into a restricted area of the property near the tanks, said he thinks of how climate change is impacting North Africa, where his family is from.
"That region has already gone through so many of the ravages of the climate crisis," he said. "I'm thinking of them when I'm standing over here."
Philly Thrive organized the protest, but people joined from other groups, like Sunrise Movement Philadelphia, Physicians for Social Responsibility Pennsylvania, POWER Interfaith, and even Chester Residents Concerned for Quality Living.
Several of the organizations are supporters of the United South/Southwest Coalition for Healthy Communities, which formed last year to negotiate a community benefits agreement with Hilco Redevelopment Partners. Carbon-free development is among the commitments the coalition is trying to secure from the company, but current plans are for a truck-intensive operation. The refinery accounted for nearly 16% of the city's carbon footprint when it was operating.
Hilco Redevelopment Partners formally committed to negotiating a community benefits agreement at a virtual public meeting last month. Company representatives said they plan to use the company's community advisory panel for negotiations, but are inviting the United South/Southwest Coalition for Healthy Communities to join.
"We should have a seat at the table," said Sonya Sanders, a Grays Ferry resident with Philly Thrive who was arrested Thursday. "We have brung the table to y'all."
A spokesperson for Hilco Redevelopment Partners responded in a statement Thursday saying the company has and will continue to prioritize listening to and working with community members to build a "sustainable economic engine" for the city.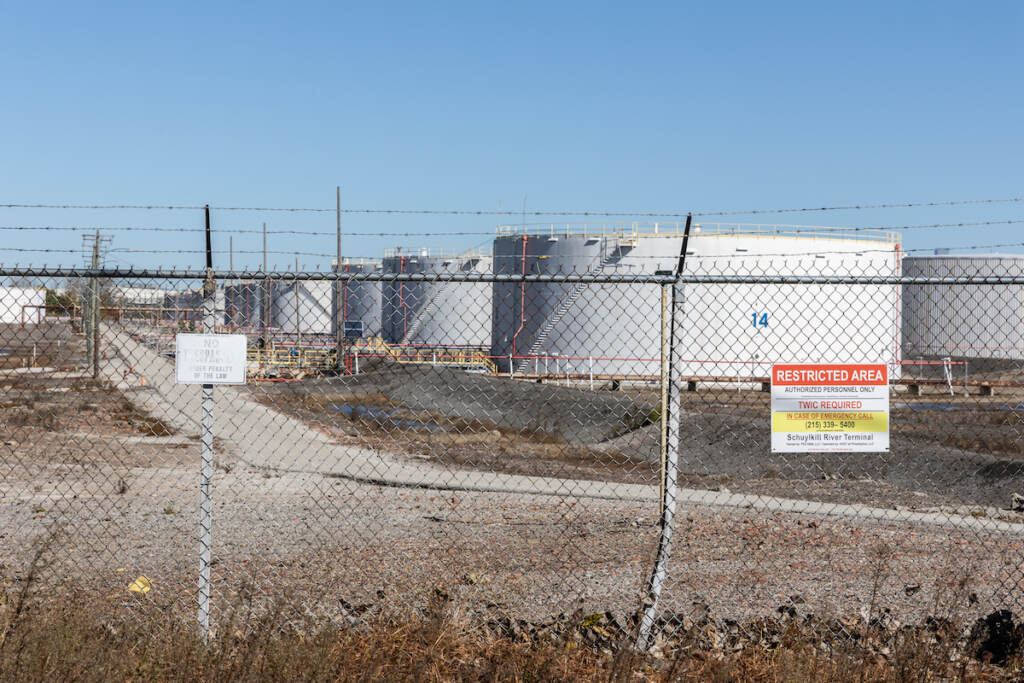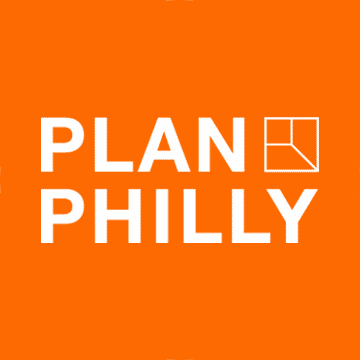 WHYY is your source for fact-based, in-depth journalism and information. As a nonprofit organization, we rely on financial support from readers like you. Please give today.