Penn State study says most of Pa. lacks access to high-speed broadband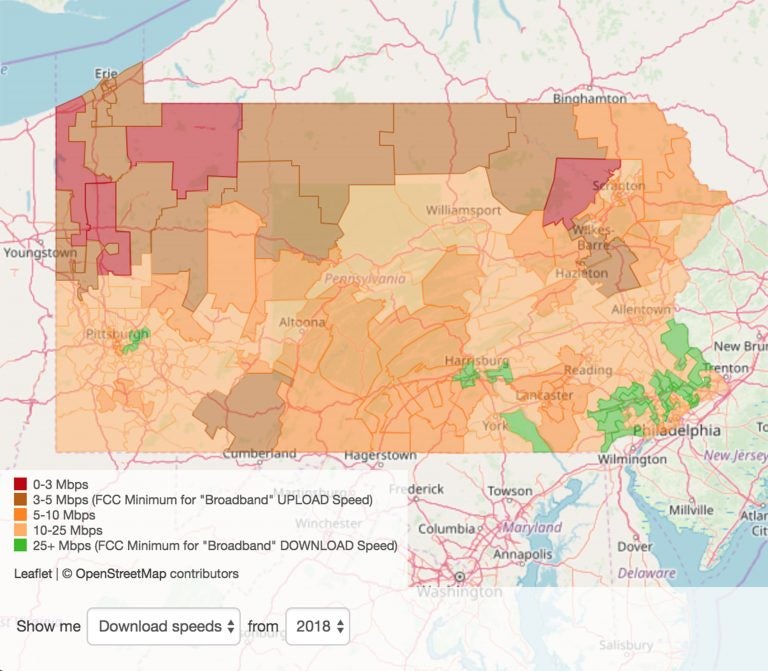 Statewide research from Pennsylvania State University finds that there's a severe lack of connectivity to high-speed broadband internet for much of Pennsylvania. The preliminary results of the study suggest that the problem is far worse than experts initially estimated.
Using data self-reported from internet providers, the Federal Communications Commission estimates about 800,000 Pennsylvanians lack access to broadband, which is about six percent of the state's population.
But Penn State researcher Sascha Meinrath said, in reality, the actual figure nears 11 million people across the state without high-speed broadband — which the F.C.C. defines as download speeds of 25 Mbps and upload speeds of 3 Mbps.
The previous figure from the F.C.C. dramatically understates the issue because private internet providers tend to skew numbers to make themselves look good, Meinrath said.
The preliminary results of the research indicate that in nearly 95 percent of Pennsylvania's land area, less than half the population receives high speed broadband.
"What we've found is actually disconcerting, but probably not shocking to rural constituents, which is to say that a very tiny fraction of the state actually meets the F.C.C. definition of broadband connectivity," Meinrath said.  
Meinrath's numbers come from nearly three million historic data points dating back to 2009, combined with about one million new samples collected in 2018.
State Senator Eugene Yaw, R-Lycoming, chairs the Center for Rural Pennsylvania says the new finding took him by surprise.
"There had been suspicion that maybe some of the data being kept was really not accurate," Yaw said. "The bottom line is that we don't have the broadband coverage as good as we thought it was — and that was bad at that time. So, it really is something that we need more work probably than what we anticipated."
Yaw said the federal government has been providing help on the issue. He points to the Tri-County Rural Electric Cooperative, which serves seven rural counties in the northern part of the state. The non-profit company is in line to get grants from the federal Connect America Fund, which will provide about $3.2 million each year for the next decade for the company to build infrastructure in its service areas.
"Unfortunately, the answer is money," said Yaw, who hopes the Penn State researchers will offer additional suggestions for the General Assembly to consider when their study publishes.
While the researchers will continue to collect new data, Meinrath said his team will release a report early next year. He said what was originally thought to be a mostly rural problem is now clearly a statewide issue.
WHYY is your source for fact-based, in-depth journalism and information. As a nonprofit organization, we rely on financial support from readers like you. Please give today.