Parking logic: Three reasons ZBA should say no to garage-fronted rowhouses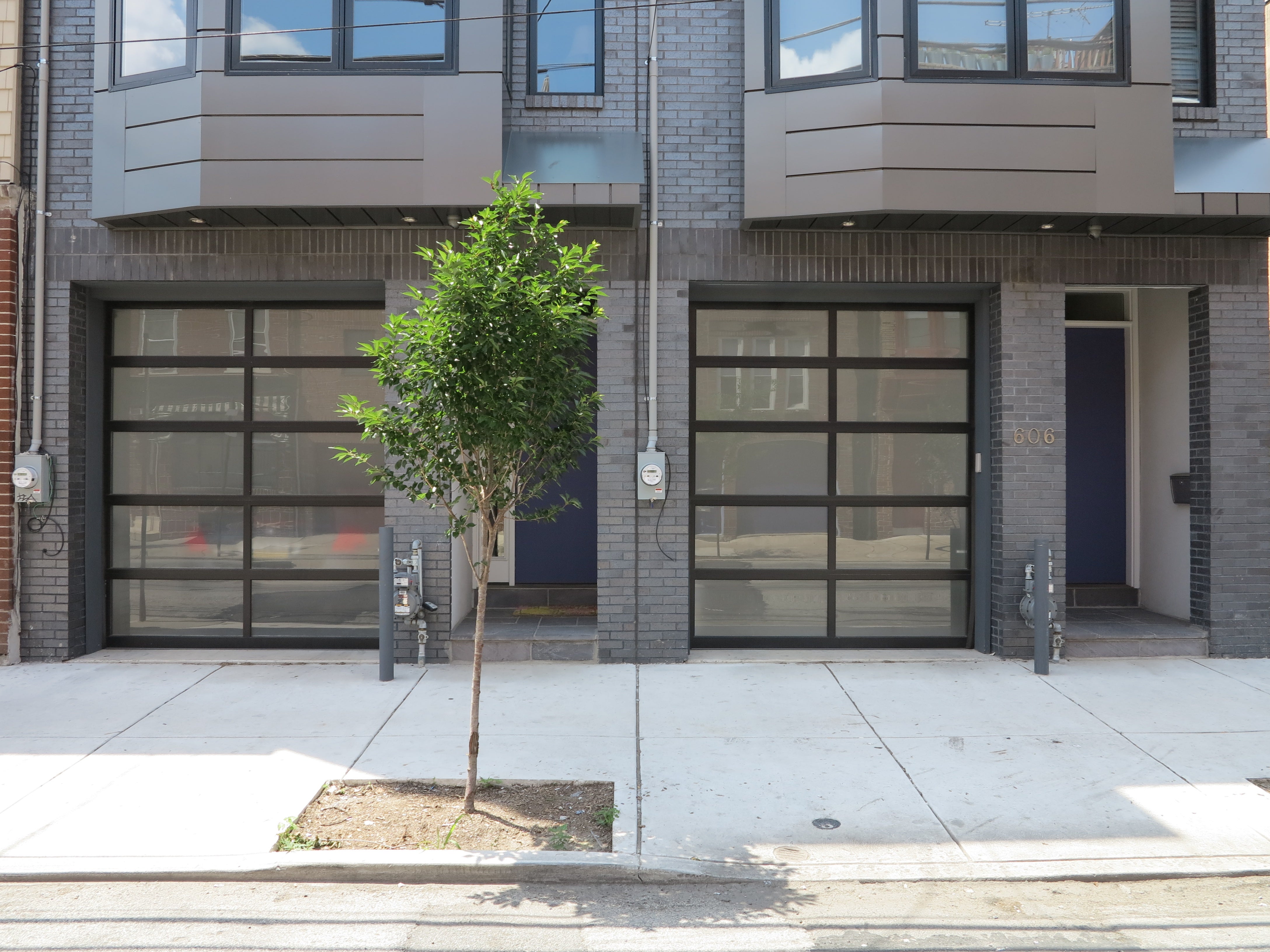 Say zoning and eyes glaze over. But really zoning is code for capturing the kind of city we want to live in.
Zoning is where planning gets personal. For me that's meant more than a year's worth of conversations about developers perpetually seeking, and routinely winning, zoning variances to build new garage-fronted rowhouses in my Bella Vista neighborhood.
These dead-eyed ground floors are not permitted in mixed-use and residential streets like those in Bella Vista, but developers keep getting permits to build them from the Zoning Board of Adjustment (ZBA). The result: more curb cuts that reduce the number of in-street parking spaces and a public environment that prioritizes private parking over people. And there's no end in sight.
In the last year four development projects within a one-block radius of my house have won permission to build first floor garages, in direct opposition to a key piece of the new zoning code. Based on a review of zoning decisions published online and a review using our License to Inspect app, about 30 variances for garages have been issued since January in zoning districts where they are not buildable by right.
The new zoning code – built over five years with the input of many hundreds of Philadelphians – is solid. Restricting off-street parking is one of its most forward thinking and sensible objectives. When developers ask to waive that their projects should receive deeper scrutiny.
Since February near neighbors (myself included) have been debating the relative merits of a two-part, seven house development proposed for either side of the 700 block of Bainbridge Street (along with two on Kater Street) to replace a carpet showroom and warehouse. (Hidden City Daily explains this project ably.) Some neighbors don't oppose the projects, while others have concerns about open space and parking. Lily Development requested variances for off-street parking, larger than permitted lot coverage, and conversion of commercial mixed-use sites to residential uses.
Developers are inclined to build what they know, aiming to create the luxuries they think affluent buyers want. The ZBA exists to provide relief when zoning is too burdensome. But too often the ZBA is treated as a permit vending machine for developers who don't want to design their projects to meet zoning requirements. Some requests are just old habits dying hard. But ZBA is supposed to provide zoning relief when there is a hardship, not to rubber stamp what developers want.
My neighbors and I went before the Zoning Board of Adjustment on June 4 to ask the developers to build to the code instead. The parking variance requested for four houses (two fronting Kater and two fronting Bainbridge) each with their own garage is the biggest stretch – one that ZBA should not have permitted. Here's why:
GARAGE-FRONTED ROWHOUSES DON'T SOLVE A NEIGHBORHOOD'S PARKING PROBLEMS.
In-street spaces can be used by many cars cycling through while a curb cut privatizes that public space for just one car. As I've written before, parking is a problem that cities cannot build their way out of.
Even before the new zoning code there was a special overlay that required developers to get a variance for off-street parking. This type of development has been discouraged for years and yet the parade of garages on our streets marches on.
GARAGES PRIVATIZE PUBLIC GOODS.
Garages only benefit homeowners. In the case of the development at Bainbridge and Kater, that's a lost opportunity for shared in-street parking and safe pedestrian space on an unbroken sidewalk.
At stake are the quality of our pedestrian-friendly streets, small delights at the ground floor like window boxes or peeks at life inside, diversified streetscapes, public safety promoted by putting an actual room instead of a garage on the ground floor, and basic neighborliness that is diminished when folks drive out of their house instead of stopping on the stoop. This is death by a thousand curb cuts, as my neighbor Nathaniel Popkin lamented last year, prompted by a similar project by the same developer.
GARAGES SEEM TO BEGET MORE GARAGES.
The streetscape surrounding these seven houses on Bainbridge and Kater is drowning in parking lots and garages. Some are old, but the number of garages on these streets has increased in recent years. The Zoning Board of Adjustment seems to think that because there are already garages and curb cuts it's not so bad to add more. The Planning Commission actually recommended approval of this latest round of garage-fronted rowhouses because curb cuts already exist there.
That very condition is exacerbated by ZBA's willingness to permit ever more garages. Because ZBA permits more garages, we can expect more to come since the street already has them? That's circular logic that ignores the principles of smart planning embedded in our new zoning code.
In the last year projects completed on three surrounding blocks feature five new garages, these would bring four more. It's a damaging pattern of behavior seemingly without end.
If the Zoning Board of Adjustment can't do right by the new code, neighbors are left no option but to appeal their decision to the Board of L&I Review. Lawyering-up feels like an absurd proposition, but that's what some neighbors are considering. Do we want to go there? Can we afford not to?
Buyers may be willing to spend more for the luxury of a garage, but we're the ones paying the price.
Cleared lots on 700 block of Bainbridge looking north toward Kater, slated for garage-fronted rowhouses

Cleared lot slated for garage-fronted rowhouses, 700 block of Kater looking toward Bainbridge

New rowhouse on 700 block of Bainbridge, completed 2013

New rowhouses on the 600 block of Kater, completed in 2013
WHYY is your source for fact-based, in-depth journalism and information. As a nonprofit organization, we rely on financial support from readers like you. Please give today.