Washington Avenue restriping plan aims for balance, offers minimal improvement for bikers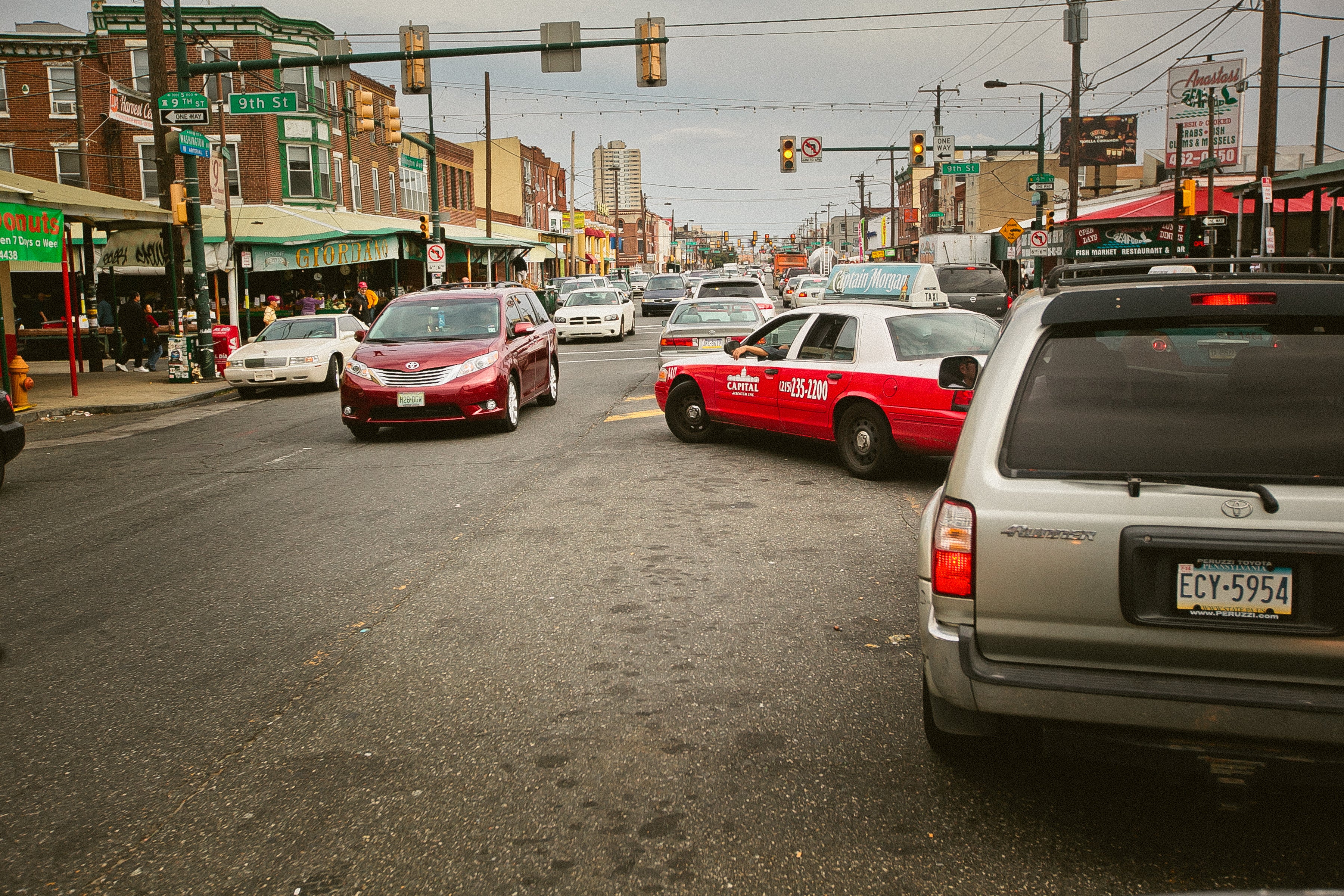 Washington Avenue is a rough street. Cars tango with trucks loading, people park in the median, pedestrians skirt forklifts, and cyclists have to weave through the chaos. Add to that badly faded lines and street markings across five lanes of traffic, and Washington Avenue practically invites danger.
According to city data, Washington Avenue has seen more than 900 crashes in three years. On average there are 6 collisions per week and once every 10 days a pedestrian or cyclist is involved in a crash. Some have tragic endings.
Realizing that these are unacceptably poor numbers, the city has taken the occasion of Washington Avenue's restriping as a chance to reorganize the arterial's lanes, from Columbus Boulevard to Grays Ferry Avenue. As PlanPhilly has reported, the goals of the restriping project are to increase curbside parking, rationalize loading zones, reduce crashes, and make the road safer for cyclists.
After a study involving two independent consultants and the City Planning Commission, the concept for Washington Avenue is this: road diet where possible. Washington Avenue will predominantly have three lanes – one travel lane in each direction and a center turning lane – everywhere except for the stretches from 16th to 13th streets and 4th Street to Columbus Boulevard. These areas will have two lanes in each direction with a center turning lane due to higher congestion.
Under the new plan, Washington Avenue's bike lane segments will be unified into a continuous lane. Pedestrians will benefit from the feeling of a narrowed street, better visibility thanks to stop bars being moved back from crosswalks, and longer crossing signals.
In exchange for removing two travel lanes, back-in angled parking will replace parallel parking, boosting capacity. Loading zones will also be expanded to accommodate varied commercial needs, from produce vendors to stone yards. These changes are geared at reducing the amount of parking in the center median and double-parking in travel lanes.
For the travel lanes to be removed, Councilmen Mark Squilla and Kenyatta Johnson each have to introduce legislation approving the changes in their respective districts. The areas where five lanes are going to remain have already been restriped, but for the reorganization to happen elsewhere Council has to approve.
Both councilmen are actively talking to neighbors about the restriping plan, in large part because they want to ensure business owners and residents are fully aware of and supportive of these changes. (Councilman Johnson is holding a public meeting for neighbors west of Broad on Wednesday, October 15 at Bryan Baptist Church, 1140 S. 19th St, at 6pm.)
A little paint will go a long way toward making Washington Avenue a safer street for everyone. But it's not nearly enough – particularly for cyclists.
To be sure, a real bike lane in each direction on Washington Avenue is a significant improvement, supported by the Bicycle Coalition for Greater Philadelphia. Unfortunately the bike lane proposed will not be buffered, according to current conceptual drawings. Due to road width there are areas where the lane will likely be sharrowed instead, such as between 3rd and 4th streets on the south side.
"Is it as good as it should be, no, but it's really a lot better than what we have now. And given how difficult it is to change pavement markings and road patterns and parking, it's an important step in the right direction," said Bicycle Coalition Deputy Director Sarah Clark Stuart.
I generally avoid Washington Avenue as a cyclist or pedestrian because it's such a mess. In late summer I did take a bike trip end-to-end before the restriping. (See a time lapse showing a typical bike loop of Washington Avenue, above) I noted interactions with a produce truck, beer truck, contractor vehicles, palettes of lumber, a tow truck, people double-parked, a SEPTA bus, and a guy installing a car stereo. It's bedlam, but the street isn't all that congested, which is why a road diet makes sense in most places.
Traffic studies reveal that on average 9,000 vehicles traverse Washington Avenue daily. By comparison Passyunk Avenue has an average of 12,000 vehicles daily and Oregon Avenue sees 15,000.
What Washington Avenue has going for it is what most South Philly streets do not: It's really wide. From that standpoint alone it is a prime candidate for a separated bike lane. But the demands placed on that width are too diverse and sensitive at this point, and that's why cyclists don't get a better shake in this reorganization plan.
The project consultants didn't see a way to install a cycle track in the middle of Washington Avenue, given the desire to keep a center left-turn lane and increase parking, or on the curbline because that would have led to a net loss of parking in order to create safe intersections.
What about creating a buffered bike lane, like we have on Spruce and Pine streets?
"It's a matter of fitting everything in really," explained Jeannette Brugger, a transportation planner at the Philadelphia City Planning Commission who has worked on the Washington Avenue project. "There's a lot of competition for space. We had to keep the 10-foot [wide] lanes, keep back-in, angled parking, two travel lanes and left turn lane."
Bike lanes must be at least five feet wide and buffers require three additional feet of width. So adding buffers would require an additional six feet that would have to come somewhere like the median or angled parking.
Angled parking means there's about 18 feet between the bike lane and curb, Brugger said, accommodating increased parking as well as loading and site access that would otherwise spill into the bike lane. Getting rid of the median would have consequences for left turn traffic as well as driveway access to Washington Avenue's businesses.
So if there's not enough room for a buffer, why not at least paint the lanes green on Washington Avenue to send a loud visual message about bike traffic that could be a boost for safety?
"Green paint is a budget issue," Brugger explained. Right now painting green bike zones costs roughly $9 per square foot, which adds up over roughly four miles of bike lane.
The city is busy painting bike-car conflict zones green right now. It should paint the entirety of Washington Avenue's bike lane once it's (hopefully) approved. Between back-in, angled parking, active driveways and loading zones, bikes and cars are still going to have to be on high alert.
Still, Stuart thinks the conversation about Washington Avenue as a more balanced street has been productive.
"Just by going through this planning and outreach process a good public conversation has been initiated. There's a lot of voices saying why can't it be better? We need better [bike infrastructure] than just a five-foot bike lane. That's important for councilmen to hear," Stuart said. "Now there's a richer conversation about what can we do to make it safer and make it better?"
The hope is that Washington Avenue will have to be repaved in the coming years, which will open up the possibility of a much larger improvement plan. The street's business mix is shifting, higher-density residential development is possible, and that will shift the demand for in-street loading and parking, and probably increase calls for improved pedestrian and bike infrastructure. Until then the city should consider painting the lane green or putting bike lanes on Christian Street.
WHYY is your source for fact-based, in-depth journalism and information. As a nonprofit organization, we rely on financial support from readers like you. Please give today.