Plan to elect Pa. judges by regional district has less precedent than suggested by Senate GOP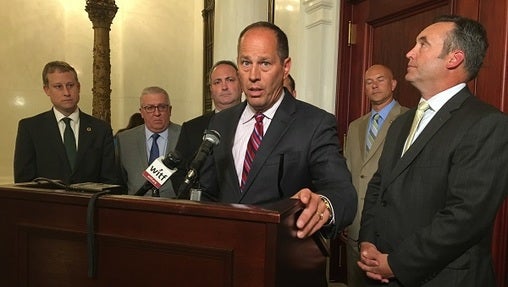 When senators passed a proposal this week aimed at creating a citizens commission to draw Pennsylvania's congressional maps, they tacked on an amendment that would fundamentally change the state's appellate courts by electing judges based on regional district, instead of statewide.
It's not a unique concept for state courts to be arranged that way.
However, this specific proposal is significantly less common than supporters have indicated.
Under the amendment proposed by Sen. Ryan Aument (R-Lancaster), judges on Pennsylvania's Commonwealth, Superior, and Supreme Courts would get to the bench via partisan election in a specific district. That is, they would campaign as either Democrats, Republicans, or some other political affiliation.
Once elected, they could run for retention — a yes-or-no decision by voters in each district to keep or reject them.
GOP supporters of the measure say it would make courts fairer by evening out regional representation.
"Confidence in our system of government is closely associated with the principle of 'one person, one vote,' " Aument said on the Senate floor. "I do not believe this principle should only apply to the legislative branch of state government."
In explaining the bill, he touted precedents in other states.
"This is certainly not a radical suggestion — 11 other states, including ones similarly sized to us, have done similar things," he said. "Illinois, Arkansas, Kentucky, Louisiana, Michigan, Minnesota, Mississippi, Ohio, Texas, Washington [and] Wisconsin selected justices and judges for some or all of their appellate courts through the use of regional judicial district elections," said Aument.
According to National Center for State Courts analyst William Raftery, there are actually 10 states in which appellate judges are tied to a district in some way, and they're not the same ones Aument named.
And there is significant variation in how those districts operate.
In Tennessee, South Dakota, Oklahoma and Florida, judges are appointed from a district, but voters statewide decide whether to retain them.
Nebraska and Maryland appoint judges by district too, and also allow voters a yes-or-no retention decision based on that district.
Four states elect judges by district.
However, Mississippi and Kentucky hold nonpartisan contests. Only Illinois and Louisiana hold partisan elections by district — though unlike the Pennsylvania proposal, Louisiana then re-elects judges in the same way, instead of a yes-or-no retention question.
Aument was not available to comment on the discrepancies.
Having passed the state Senate, Pennsylvania's congressional map-drawing bill — with Aument's judicial district amendment attached — now goes to the House.
It's still unclear how that Republican-majority chamber will handle it.
If the bill passes with the same language two legislative sessions in a row, the questions of whether to create a citizens commission on redistricting — and to elect judges by district — will go to voters as two separate ballot measures.
WHYY is your source for fact-based, in-depth journalism and information. As a nonprofit organization, we rely on financial support from readers like you. Please give today.