Next to arrive on all SEPTA platforms: real time ETA data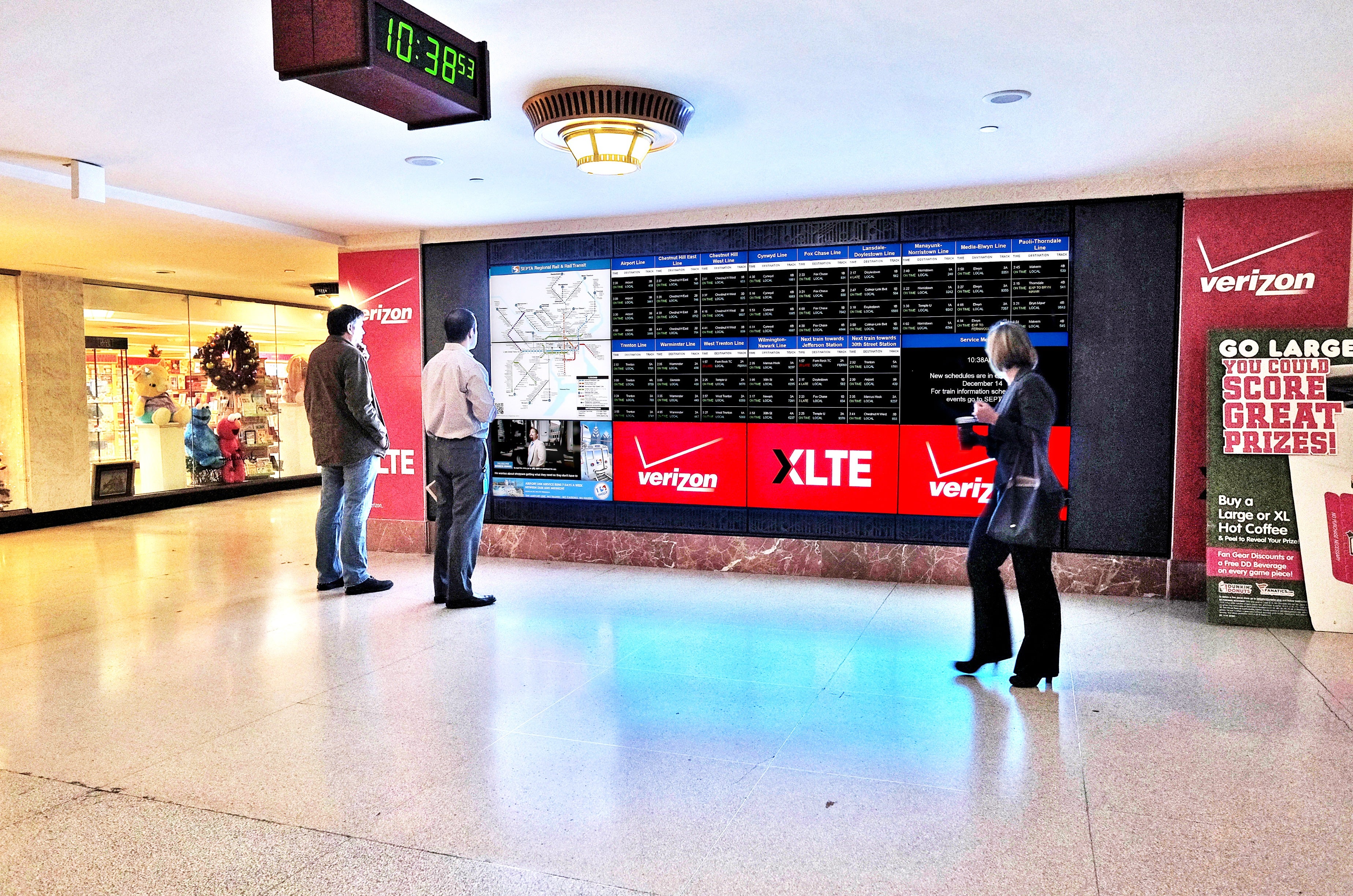 If all goes according to plan, riders will barely recognize SEPTA in two years. Like the protagonist of a 90's teen movie, SEPTA is in the midst of transforming itself from the woefully unfashionable outcast awkwardly fumbling with tokens and oblivious to what the cool kids are doing into a real head-turner dressed in a sexy new fare card system and an avant-garde real time arrival notification system.
Of course, long-time SEPTA observers know it'll take more than a sweet makeover montage for this to happen – SEPTA Key is already a year behind schedule. But improvements to SEPTA's next vehicle arrival technology appear to be befittingly on time.
By the end of this year, all SEPTA vehicles should have cellular modems on them. Like any car with a Garmin or a smartphone, this will mean that all SEPTA vehicles – buses, trolleys, subways and regional rail trains – will have accurate GPS location capabilities.
Over the course of 2016, SEPTA will develop systems using the modems to pinpoint the vehicles' locations and estimate next arrivals, and then send that data to its website, mobile apps and station schedule boards. Once the data systems are in place, new next arrival clocks will be installed on subway, trolley and regional rail platforms.
The wireless modems were already being installed as part of the SEPTA Key rollout. The authority's engineers realized that the wireless technology provided an opportunity to improve on the current next arrival notification system, too.
Accurate arrival estimates and fare cards are just the start, says SEPTA's Deputy General Manager Jeff Knueppel. "Eventually, we'll be able to see things like the engine overheating. There are a lot of things we can do."
SEPTA expects to test the next-arrival system on the Norristown High Speed Line first, before rolling it out system-wide.
Currently, SEPTA bus and trolley riders can get a decent idea of when their next chariot awaits: SEPTA TransitView (available online and as an app) updates bus and trolley positions every three minutes. That system relies on SEPTA's Computer Aided Radio Dispatch – a system somewhere between walkie-talkies and dial up modems in its technological capabilities. "With 1,400 some-odd buses, some rail vehicles and other vehicles [on the CARD system], we had a lot of data and only so many channels, so the ability to poll buses and determine location" was limited to every few minutes, said Knueppel.
Regional Rail status updates are also available via its TrainView (also available online and as an app) and at some stations, but SEPTA engineers hesitate to call that system "real time". Those estimates are based on a conventional signal block system. Even though Suburban Station may have a shiny new schedule billboard, the arrival clocks are really only as good as the data fed into them. Block signal systems give rough estimates of arrival, not pinpoint precision.
SEPTA never bothered developing a signal block-based arrival estimation system for its subway lines and the NHSL because the costs of doing so would been extremely high for what would have been an inaccurate and unreliable system.
With block signal systems, the train must trip a signal wire to "check in". If the train slows down or stops between signals, that information can only be relayed to the arrival system manually – by the engineer calling a problem in, for example. Besides these signal systems were "built for safety, not position accuracy", says SEPTA's Chief Engineer, Mike Monastero. Signal blocks, like the traffic lights at an intersection, tell a train's engineer whether they need to stop or not. A signal block – the area between signals – usually run between 3,000 and 5,000 feet long.
SEPTA's relative delay in getting with the times – DC's Metro and San Francisco's BART were among the first authorities to deploy train-arrival clocks on platforms back in the late 90s – was a byproduct of its long-running capital budget problems.
"Until Act 89," Knueppel said, "our capital program was pretty much at $300 million a year." That may sound like a lot, but "other agencies our size were spending anywhere from $800 million to a billion a year."
The current status update systems were "done on the cheap," because the capital budget was exhausted on necessary repairs alone. "We focused on making the system safe to run," said Knueppel.
But there's something to be said for being fashionably late. Early adopters of train arrival clocks developed systems that cull data from the fixed block signal systems.
By waiting this long, SEPTA will be one of the first commuter rail operators with real real-time information. Most other subway and commuter rail lines rely on the conventional signal block systems, which are prone to jarringly large jumps in arrival estimates. Even New York City, where next-arrival clocks weren't installed until 2010, uses the older signal block system. Like with the Key fare system, SEPTA expects to leapfrog its peers with this real-time technology.
Good things come to those who wait, and SEPTA riders have been waiting a long time. It's fair to say they can't hardly wait. If – if – everything goes to plan, though, our ugly duckling of a transportation agency will finally turn into a beautiful – well, at least decent-looking – swan.
WHYY is your source for fact-based, in-depth journalism and information. As a nonprofit organization, we rely on financial support from readers like you. Please give today.