Making bike share reflect Philly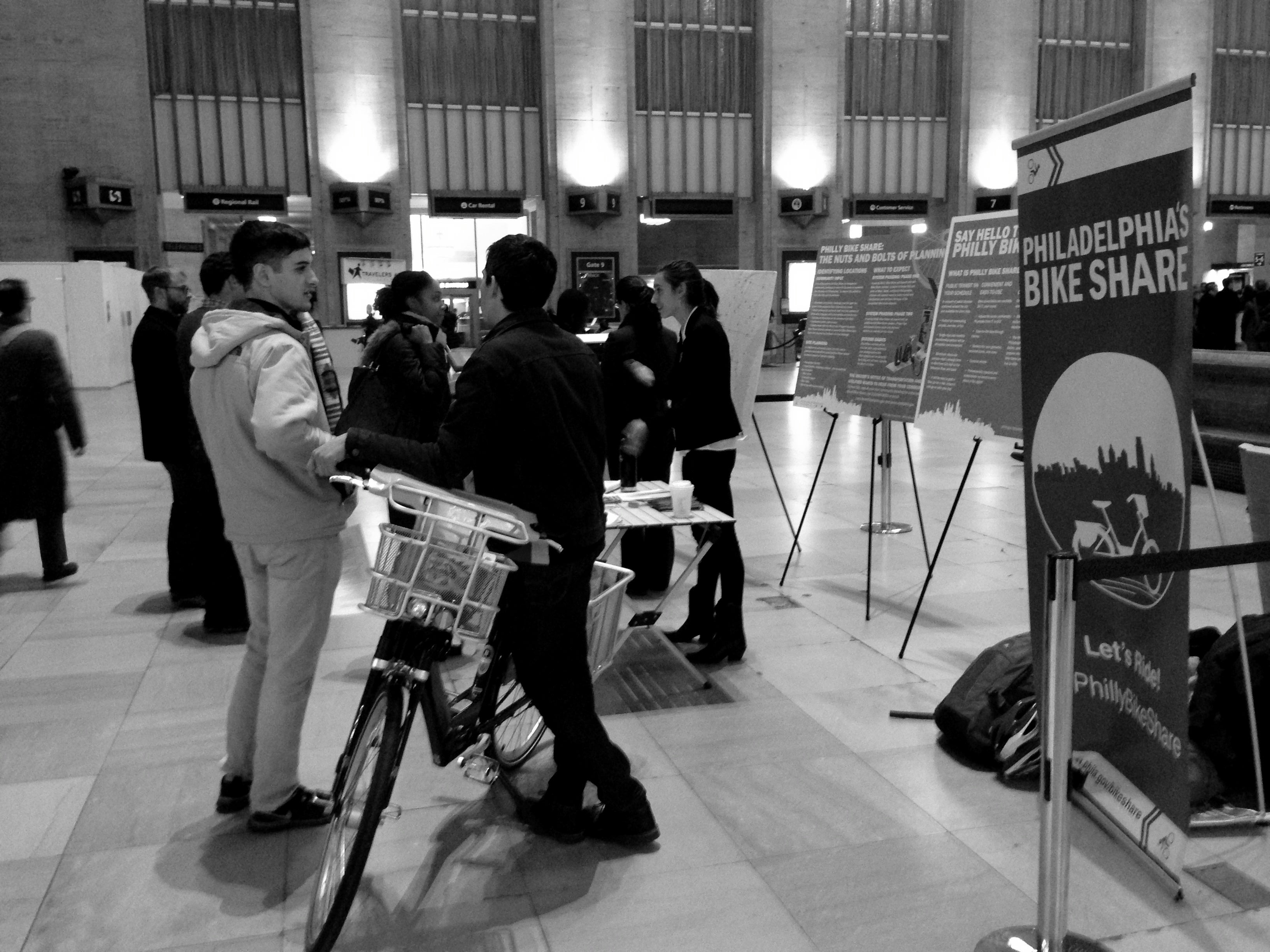 Will Philly Bike Share be the exclusive province of tourists, suits, and hipsters or will its users be as deeply diverse as the city itself?
The answer to that question will be a key measure of success after Philly Bike Share launches next spring, as the team behind it aspires to build the most socially equitable bike share system on the road.
While the brains behind Philly Bike Share have been busy designing a smart, scalable network of stations with reliable operations, they're also actively trying to make sure that Philly doesn't put up the same barriers to use found in other systems, especially those that deter low-income people.
That matters because good transportation choice is an equalizer. Bike share is poised to add a low-cost public transit option to Philly streets with wide-ranging potential gains in terms of better mobility, reduced commuting costs, and public health benefits. To make the most of this big opportunity, Philly is breaking the bike share mold to craft something that aims to be different that systems in peer cities like New York, Boston or Washington.
ABOUT PHILLY BIKE SHARE:
Philly Bike Share is a network of public bikes that will launch in spring 2015 with 60 stations across Center City and sections of Lower North, West, and South Philly. The following year 60 more stations are being planned.
Bikes and stations will be owned by the city, and maintained by Bicycle Transit Systems, the operator.
For more info check out these Bike share FAQs.
The Better Bike Share Partnership – a collaboration between the Mayor's Office of Transportation and Utilities (MOTU), operator Bicycle Transit Systems, Bicycle Coalition of Greater Philadelphia, and national groups like National Association of City Transportation Officials and People for Bikes – has the advantage of a multi-million dollar foundation grant, awarded specifically to help create a more inclusive bike share system. Grant funding is going toward researching obstacles and drivers of bike share use for low-income people, designing a system that is more responsive and connected to the diverse needs of potential users, and measuring the results.
Bike share "needs to be a program that on day one is serving Philadelphia neighborhoods with all levels of income," MOTU's Andrew Sober said. That can't be an afterthought. So the barriers to use for low-income members – like station locations, payment systems, membership models, and perceptions about who bike share is designed to serve – are all up for reconsideration.
Other cities have found that the biggest barrier for bike share use is where stations are put. To diminish that issue here, 20 of the first 60 Philly Bike Share stations will be installed in low-income communities. (Those are defined as neighborhoods where 50% or more households live at or below 150% of the poverty line or areas with median household income at or below 80% of the citywide median income). The other 40 will be in greater Center City and University City.
"We're not the first to put bike share stations in low-income neighborhoods, but it's been built very much into the initial launch of our system," said Katie Monroe, the Bicycle Coalition's outreach manager for bike share. Where other cities have had to retrofit their systems to make sure they serve a broader spectrum of the public, Philly is baking that goal in now.
Those 20 stations will be installed in Mantua, Point Breeze, and Lower North Philly, where they will be complemented with community engagement and events. The costs for these stations and a three-year targeted neighborhood outreach program to boost use of these stations are being covered by the JPB Foundation grant.
Bike share will work best, the team believes, if you build a system that incorporates the opinions and needs of a diverse variety of users. In addition to neighborhood outreach, open houses, and online feedback about station locations, grant funding allowed the Better Bike Share Partnership to hire Temple University's Institute for Survey Research to convene focus groups in the low-income communities where bike share will launch. The six focus groups were geared at clarifying the perspectives of low-income communities when it comes to bike share, and deepening the bike share team's understanding about what would motivate or deter people from using the system. Some 60 participants gave feedback about biking in general, potential station locations, payment, pricing, and perceptions about bike share.
In terms of payment, Philly Bike Share has gotten a lot of attention for promising to be the first system designed to work for people who do not have credit cards, a given in other cities. Instead users will be able to pay for memberships at the same places one might buy a SEPTA pass, like a grocery store.
In addition to store transactions, a strong majority of focus group participants also said they would prefer online payment options using either a bankcard or a prepaid debit card.
"We now recognize there are many more low income Philadelphians with access to electronic payment mechanisms than we previously thought," Stober said, adding that feedback is shifting the conversation about payment accessibility.
Philly Bike Share is also moving away from the annual membership model found in other systems, a change that should better accommodate low-income users. Philly Bike Share will have a 30-day membership, costing $15-$20, a model that's more akin to a monthly transit pass than an annual commitment. Unlike other systems, there will also be a single-trip fare option.
"We do see this as a public transportation option and we want to reflect that" in pricing structure, Monroe said.
To Stober monthly membership will make good sense for all users. "It brings you into the system right away, it lowers the cost for entry, and it puts you in control of how much you're spending."
So far people have been receptive to that price point and the idea of a monthly plan. But focus group participants voiced concerns about unforeseen costs, such as the replacement cost of a damaged or stolen bicycle. In other systems replacement runs $800-$1200, a huge risk if your household has to watch every single dollar spent. That's a barrier that may not have an easy solution.
Matters of perception about bike share are also powerful drivers or deterrents to its use. Men in the focus groups, for example, "were not convinced that the bikes looked cool," Stober said. And most participants said they'd be more likely to try bike share if they saw people who look like them using the system.
While the design of the bikes won't change, Philly Bike Share will seek to reflect the diversity of the city in its marketing. Where other cities put the bike at the center of their promotions, people will be at the heart of Philly Bike Share's efforts. For starters, a cycling portrait project showcasing the variety of people who bike in Philly.
But community-based outreach does not end with focus groups. It will continue in the early years of bike share as the Better Bike Share Partnership works with groups active in North Philadelphia, Point Breeze, and Mantua – already including Asociación Puertorriqueños en Marcha, Diversified Community Services, and Mantua Civic Association. Neighborhood partners will help connect communities to bike share, raise awareness of the program, provide information about bike share, help people sign up as members, and promote neighborhood learn-to-ride and bike safety classes that will be held after bike share launches.
Even with hard and soft barriers broken down, membership and use will boil down to a few considerations for most folks: convenience and affordability.
"We want to create a system that works for people," Monroe said. That means "connecting people's needs with bike share, and making it make sense."
WHYY is your source for fact-based, in-depth journalism and information. As a nonprofit organization, we rely on financial support from readers like you. Please give today.