Labor 'militancy' is on the rise in Philly. Workers and experts explain #Striketober
"This is a spike in labor activity and labor militancy. Workers are asserting their power in ways that haven't been done in over a generation."
Another day, another strike authorization vote.
From the sidewalks of Old City, to the Philadelphia International Airport to the gates of a Kellogg Company Plant in Lancaster County and beyond, labor unions are threatening job actions or walking off as a part of a wave that's come to be known as #Striketober.
On Thursday, workers at the Wyndham Philadelphia Historic District joined that group, voting 31-0 to reject a contract proposal and authorize a strike.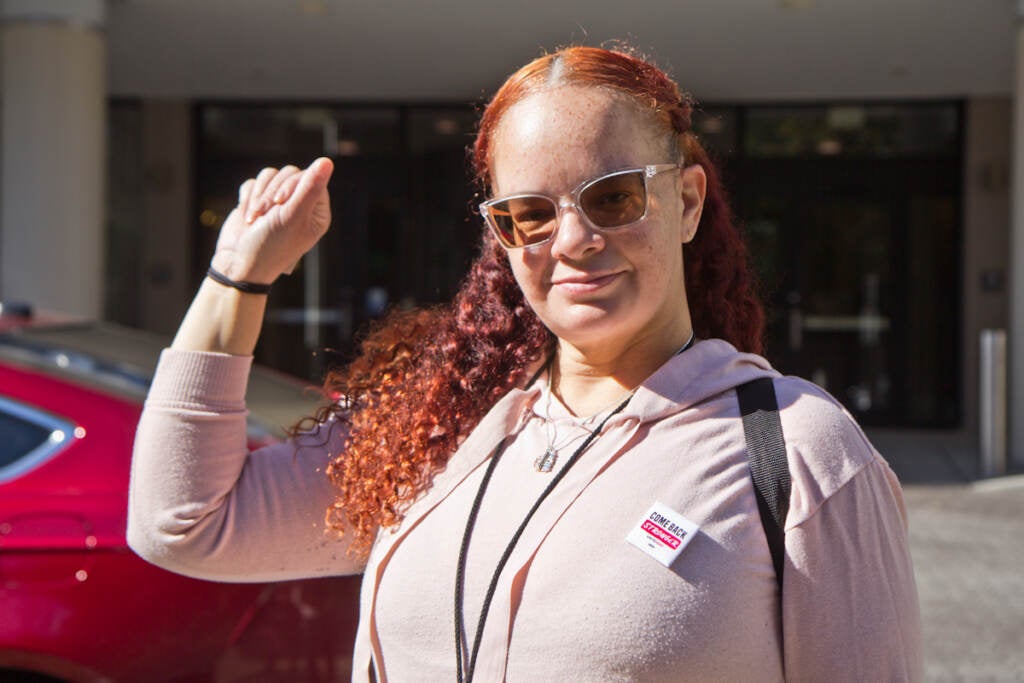 "We're putting our life at risk out here every day because COVID is real. We deserve better pay, a fair workload, and a better environment," said housekeeper Evelyn Rivera, who currently supports herself, two adult children who are in school, and two grandchildren, on $15.61/hour.
Before the coronavirus pandemic, the Philadelphia region saw an uptick in labor organizing, particularly cultural, professional, and service workers. When the economy turned upside down in 2020, thousands in the region lost jobs. As the economy recovers, the number of positions posted far outstrips the number of unemployed people, and workers are flexing.
"This is a spike in labor activity and labor militancy," said Rutgers University labor historian Francis Ryan. "Workers are asserting their power in ways that haven't been done in over a generation," he continued.
Ryan is from Philadelphia and has studied the city's labor unions. Strike activity was high in the 1930s and 40s, but has waned and was far less common by the 1980s and 90s when he was growing up, he said.
Workers at the Wyndham, the majority of whom are Black, Latino and/or immigrants, have never voted to strike before, according to representatives from UNITE HERE Philly Local 274. The union represents 4,000 workers across Philadelphia's stadiums, airport and hotels.
"We've got workers who have been here for 35 years," said organizer Earlene Bly. "These workers are tired."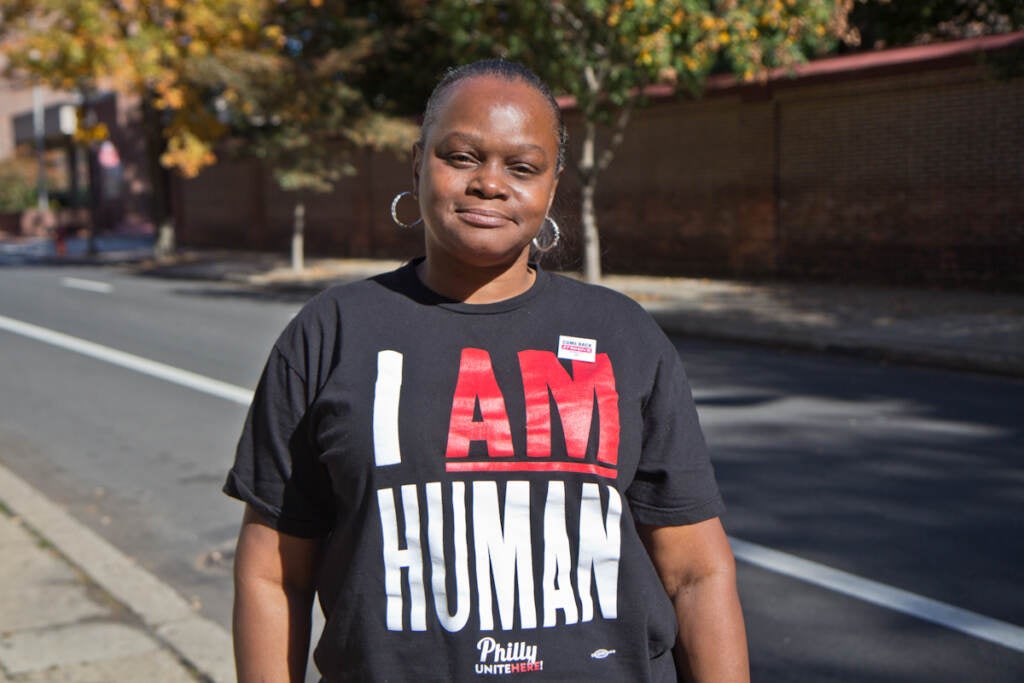 The hotel staff say a number of factors have pushed them to demand more. Jobs are getting harder, and pay is not keeping up. For one, the pandemic winnowed the staff at the hotel, from around 100 to 57. That has put more work on the backs of those who remain.
"They got rid of the greeters. They got rid of the hostess. So we were doing all of that," said restaurant server Monica Burks, who has worked at the hotel for 13 years.
Pandemic changes such as reduced room-cleaning and contactless check-in and check-out seem here to stay, and also contribute to the reduced workforce and more combination jobs.
The old contract for Wyndham workers expired in 2019. The proposal that workers just rejected would spread raises, including retroactive pay, over several years, per a fact sheet of details reviewed by WHYY. For example, a bartender would get a $0.15/hour raise retroactive to September 1, 2021, and another $0.10 on January 1, 2022, followed by $0.10 more every six months. Food servers would get the single largest boost: $1/hour more, followed by smaller incremental raises. Workers said they felt these increases are too small to make their wages fair and comparable to other unionized hotels.
If a contract agreement is not reached, the workers are planning a one-day strike in November. The date is not finalized, but it would be after pickets scheduled for Nov. 8 and 15.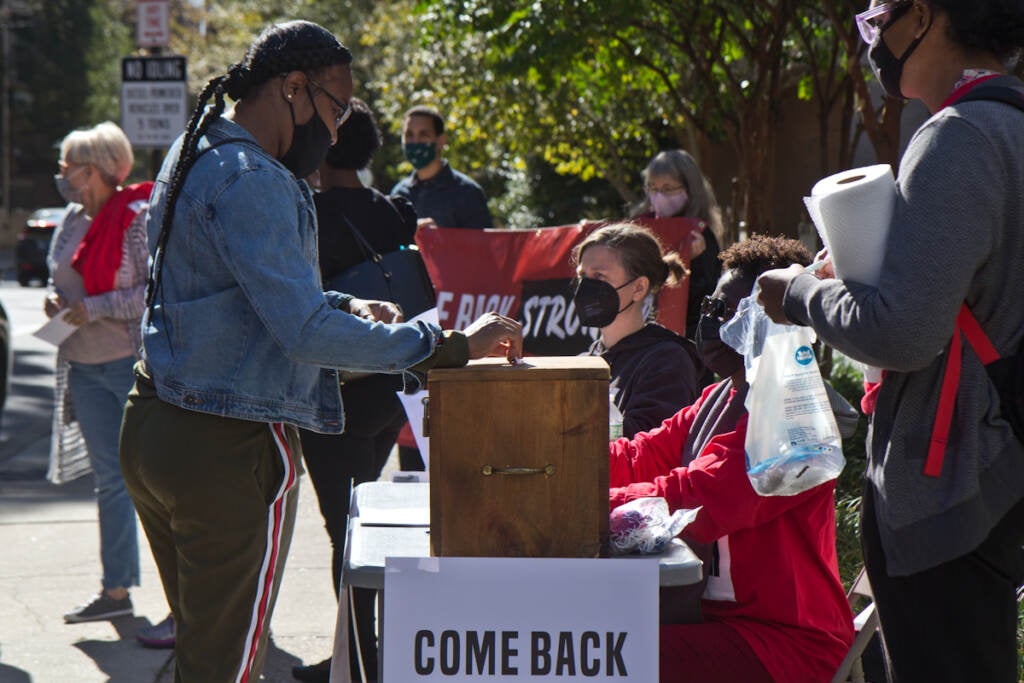 Wyndham Hotels & Resorts said the hotel will remain open during a potential strike without impact to guests.
"While we respect the right of employees to take a strike vote, we do not think a strike would be an effective way to resolve contract negotiations. We look forward to continuing to work with UNITE HERE towards reaching a fair and equitable contract," said Director of Communications Rob Myers.
'People are pissed'
If labor organizing was rising before 2020, the pandemic created a new, potent and ubiquitous phrase: the "essential worker."
Some analysts say this led to a difference in how workers in that class perceived their value.
"Part of the language about essential workers is about giving workers a sense that they have the right, that they deserve a better shake because they're essential … Everyone else depends on them," said Stephen Herzenberg with the Keystone Research Center, a left-leaning Harrisburg think tank. Those essential jobs were also often low-wage food service, agriculture or warehouse distribution jobs that had been overlooked before, according to Herzenberg.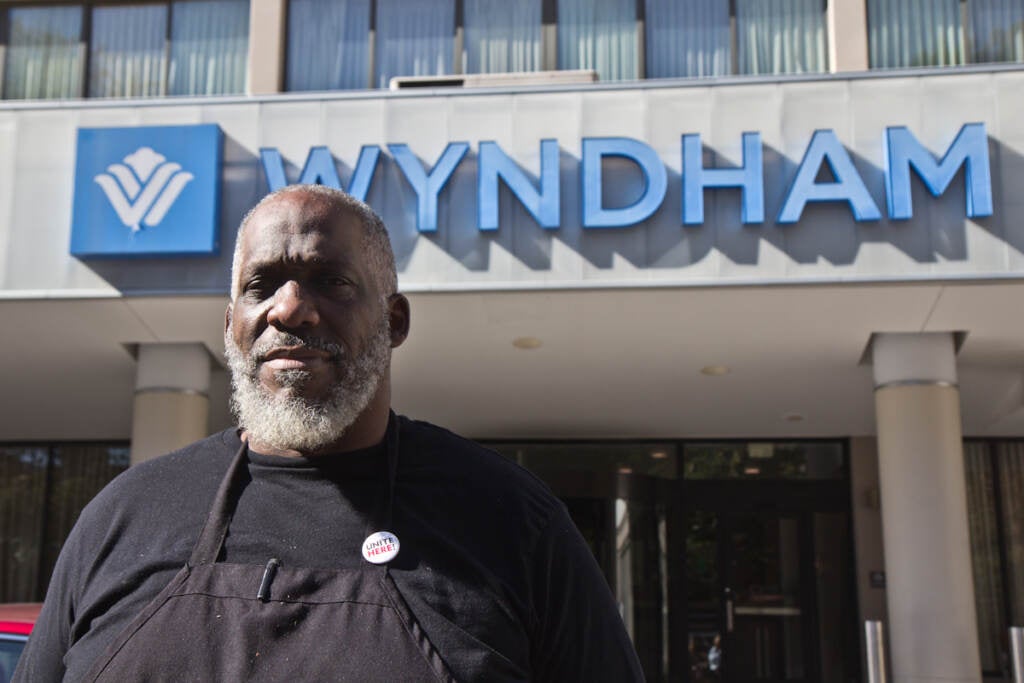 However, he said equally, if not more, important was the undercurrent of organizing that happened before 2020.
"The broader story before the pandemic is that you had a decades-long process of labor unions and workers figuring out how they might have the leverage to win decent wages and benefits," he said, as union membership declined during the second half of the 20th century. Herzenberg pointed to the unionization of airport workers at Philadelphia International Airport and contingent faculty at places like Temple University, as signs of a change in focus about who could be organized.
Changes in the labor market during the pandemic recovery also tipped the scales, said Larry Mishel, labor economist with the Economic Policy Institute.
"In both the union sector and nonunion sector, workers are pushing back. They can do so because we're experiencing a huge increase in demand and job openings," he said.
The underlying reality — that income inequality has been growing for decades — is not enough to spur action, said Herzenberg. "The missing ingredient has been confidence that that could change," he said.
Political winds have also played a role. President Joe Biden's administration supports legislation to make it easier to organize, known as the Protecting the Right to Organize or PRO Act. Secretary of Labor Marty Walsh recently showed support for striking workers from Kellogg in Lancaster County.
Ryan also attributes some of the resurgence of unions to another figure: Bernie Sanders. "Since 2016, [he] has made workers aware of the power imbalances that exist in the United States and around the world," he said.
Still, while 65% of workers nationally say they would join a union if they could, the actual percentage of organized employees is around 11%, according to the Bureau of Labor Statistics. The rate is slightly higher, 13.5%, in Pennsylvania.
How long conditions will favor workers is unknown, but Mishel said, historically, strikes and other forms of labor activity can be contagious. "Any worker who saw that there was a way to take action to make themselves better — that they see other people taking successfully — they will copy that," he said.

WHYY is one of over 20 news organizations producing Broke in Philly, a collaborative reporting project on solutions to poverty and the city's push towards economic justice. Follow us at @BrokeInPhilly.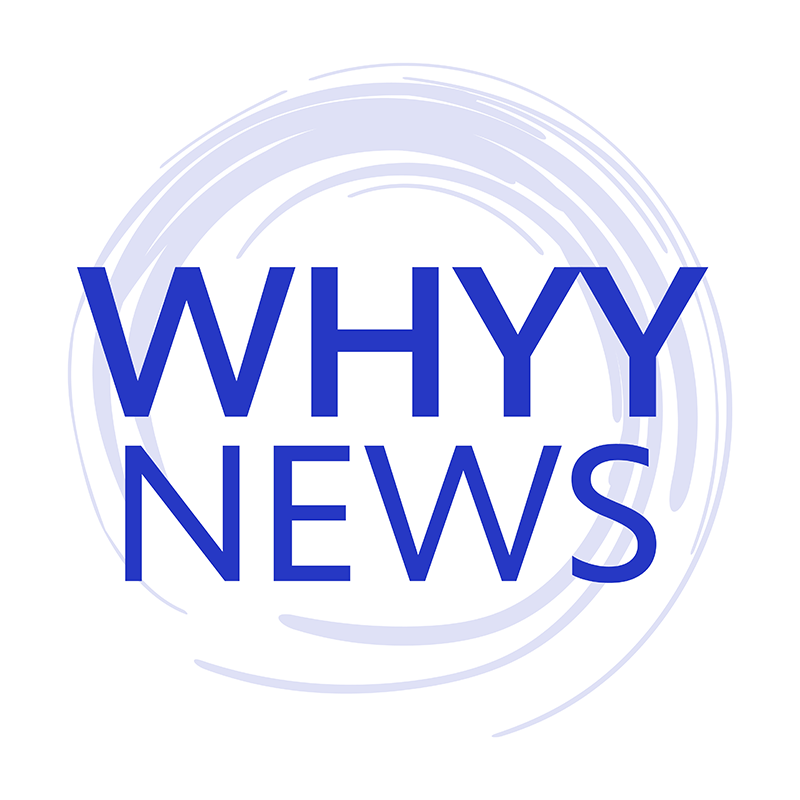 Get daily updates from WHYY News!
WHYY is your source for fact-based, in-depth journalism and information. As a nonprofit organization, we rely on financial support from readers like you. Please give today.