Kenney meets with advocates as Abolish ICE protests mark one week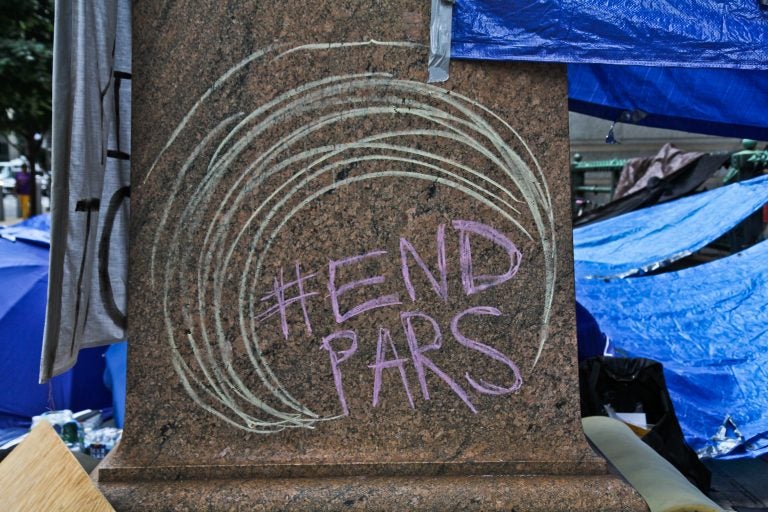 Philadelphia Mayor Jim Kenney met Monday evening with a group of immigrant advocates, as well as members of a protest encampment decrying the Trump administration's "zero tolerance" immigration policy and calling on the city to end its data-sharing contract with U.S. Immigration and Customs Enforcement.
The meeting came as the Abolish ICE demonstrators marked one week since the group first set up camp outside the ICE field office at Eighth and Cherry streets, and then — after police broke up the encampment Thursday — on the edges of City Hall.
Juntos, an immigrant rights organization, had planned the meeting several weeks in advance — before the protesters set up camp — and hosted it at their South Philadelphia headquarters.
For about 90 minutes, Kenney listened to the group air their grievances about ICE and the agency's alleged misuse of the Preliminary Arraignment Reporting System or PARS.
Residents shared accounts of ICE agents using PARS, a real-time arrest database, to track down and arrest undocumented immigrants without warning at their homes and urging them to identify other people living in the country illegally.
While a defendant's immigration status is not included in the database, since Philadelphia police aren't allowed to ask, it does include the person's name, address, place of birth, and upcoming court dates — enough information for ICE to draw conclusions about a person's citizenship.
These stories seemed to ignite the mayor's anger and sense of urgency in making a decision on whether to renew ICE's contract with the city giving the agency access to the PARS database.
"There's really a lot of stuff going on that is really upsetting and I have to hear it from people who are experiencing it in order for me to understand it," Kenney said. "And I understand it now better than I did."
While the mayor would not comment on what he will decide, Kenney said it would not be a lengthy process. The city's PARS contract with ICE expires on Aug. 31.
Juntos' executive director, Erika Almiron, said she was glad the mayor came out to listen to the community, but though "his heart is in the right place," she balked at his hesitation on whether to end the contract, calling it a show of bureaucracy. Kenney should "just do it," Almiron said.
"The longer we wait, the more people are going to disappear," she said. "And we want to keep our families here in Philadelphia."
WHYY is your source for fact-based, in-depth journalism and information. As a nonprofit organization, we rely on financial support from readers like you. Please give today.