'I've been convinced it is necessary': Getting the shot in parts of Wilmington with low vax rates
Wilmington residents waiting in line for free lunch were encouraged to get inoculated. It's part of a public health effort to reach the vaccine-hesitant.
Listen
2:14
Henry Duckery was waiting in line for lunch at the Emmanuel Dining Room in Wilmington Monday when a kitchen worker announced that everyone in line could get the COVID-19 vaccine around the corner.
Duckery got his first shot several weeks ago while briefly detained in prison for an unpaid fine. Now was a prime opportunity to get shot number two, and Duckery took it.
He had been reluctant to get inoculated for months, but decided to do it while incarcerated. "I've been convinced it is necessary,'' Duckery told WHYY News. "I was skeptical about it. I had my doubts. But I was encouraged by other people."
So before even getting his meal, Duckery walked around the corner to finally become fully vaccinated. The first step was to fill out paperwork at a table next to a white Division of Public Health mobile clinic parked outside the Wilmington police station.
"I guess we're going to find out if it works,'' he deadpanned.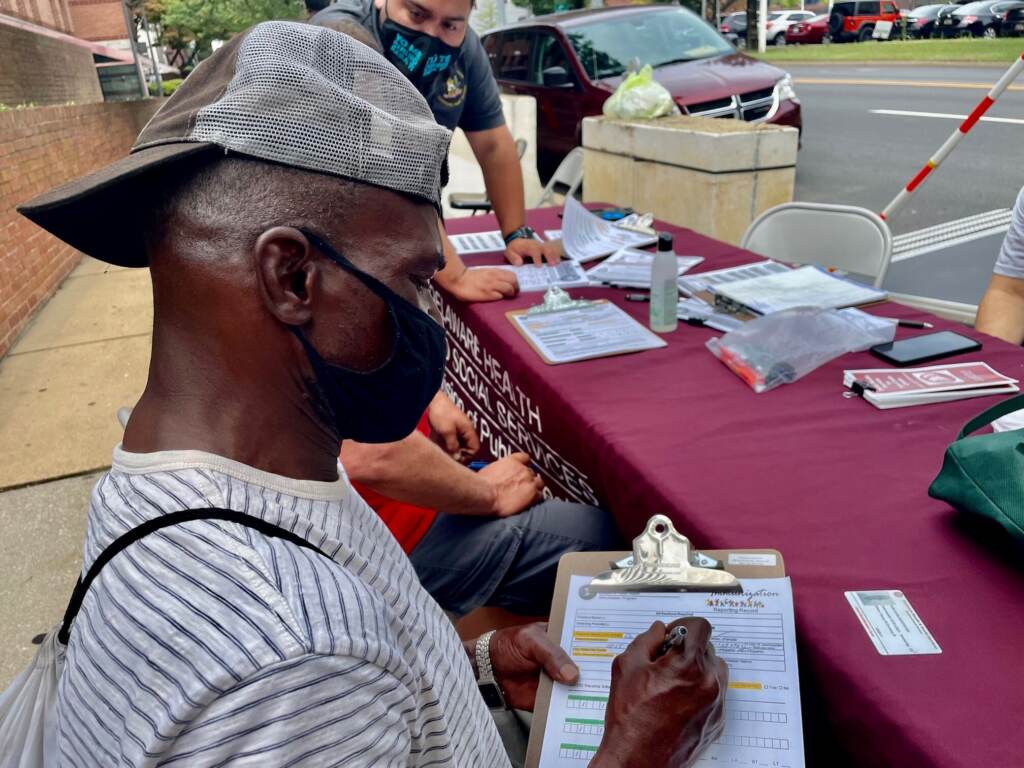 A few minutes later, Duckery was inside the air-conditioned cabin, getting the shot that is almost guaranteed to prevent him from getting infected with the coronavirus, as well as being hospitalized or dying if he becomes one of the rare breakthrough cases.
Duckery's experience illustrates exactly what public health officials are trying to do to improve the state's vaccine rates. One way is by reaching out to communities where rates are low and there is resistance to getting inoculated from a disease that continues to circulate in Delaware and is back on the rise this summer.
As of Tuesday, the state had recorded 68 new cases a day over the last week – more than triple the figure of a month ago. And 3.0 of tests were positive in the last week, also triple the rate of a month ago.
State data analyzed by WHYY News, however, shows just about every case since the beginning of the year – nearly eight months – has been an unvaccinated person.
Here are the facts from the Division of Public Health:
99.9% of fully vaccinated people in Delaware have not tested positive for COVID-19. Of 465,378 Delawareans fully vaccinated through Friday, there have been 518 breakthrough cases, That's just 0.1% — about 1 in 1,000.
Unvaccinated people account for 98.9% of the positive cases since the first Delawarean was fully vaccinated in early January.
"Breakthrough cases are extremely rare,'' public health spokesperson Mary Fenimore said. "And the science is clear: The best way to prevent serious illness from COVID-19 is to get vaccinated."
'That's what we should be doing'
That's why the mobile public health van trekked to Fourth and Walnut streets on Monday, in a section of the city where only 40.1% of people have received at least one dose. Statewide, the vaccination rate is 54.7%.
Among Delaware adults, 72% have been fully vaccinated in Delaware or another state, according to the U.S. Centers for Disease Control and Prevention.
Inside the van, a member of the Delaware National Guard chats briefly with Duckery, while outside, contract tracers give out pamphlets to the people walking past and urge them to get vaccinated immediately.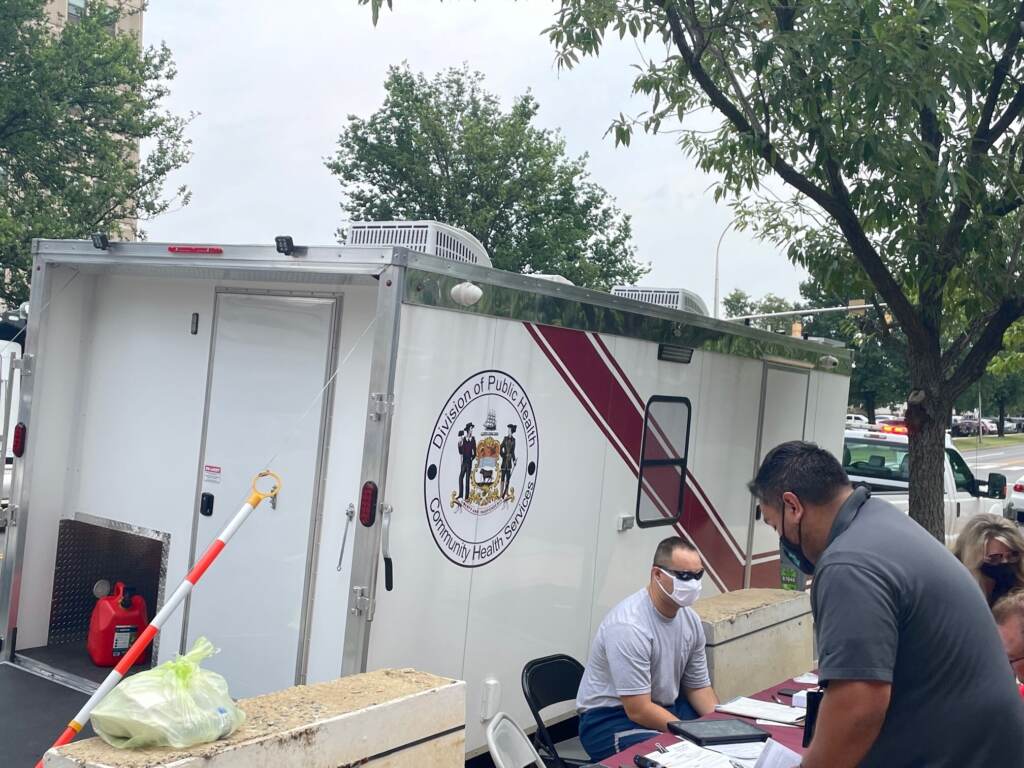 Duckery asks when he gets his card, and the guardsman asks, "Which card, the vaccination card?"
Duckery, who says he's an unemployed construction worker, wants something else, "the gift card."
It's a $10 gift card for Visa, Wawa or the Dollar Tree – another incentive the state is using to persuade the hesitant to get the shot.
Assured the gift card will be handed out after the shot is administered, Duckery is satisfied.
The medic, Senior Airman Motolani Bolarinwa, has Duckery roll up his sleeve. He makes the injection and Duckery grimaces – he is no fan of needles – and then it's over.
Outside the police station, retired mail carrier Sakeenah Salaam watches the action with approval.
"I think that's what we should be doing,'' she said. "I'm trying to get my daughters to get vaccinated."
Asked what their issues with inoculation are, Salaam starts to explain their "weird'' ideas but then stops, saying simply, "They have a different opinion about it than I do. I think we all need to get vaccinated because I won't even let them stay in my house when they come into town. Because I believe that it's serious."
Salaam's adult children are not alone. Outside the Emmanuel Dining Room, where free meals are dispensed daily so people don't go hungry, many are hesitant, or simply refuse.
One man waiting for food said he was going to wait "until I have symptoms" to get the vaccine. Another says he isn't ready yet.
A woman named Melissa is emphatic that she won't get vaccinated.
"Sure, I could get it,'' she said. "However, I don't believe that you should have to put something in your body that you don't want to, alright. And there's not enough information and our government has proven that they don't know exactly what these vaccines are going to do to anybody."
After being told that side effects have been rare and that 98.9% of cases are among the unvaccinated, Melissa changed the subject, saying that many deaths were attributed to coronavirus when the person also had another debilitating illness.
Then she voiced a different argument: "I think that this whole thing was started for political gain."
After Duckery got his second dose of the vaccine, he said he understood the reluctance of some while urging them to do the same.
"Well, my message is that I got it for my reasons and I guess they have to select theirs, leaving the door open,'' he said.
Emmanuel employee Joanne Matthews had spent much of the morning trying to convince those lined up for lunch to walk around the block. "Everybody needs to get vaccinated,'' she said.
Upon learning that Duckery had taken the plunge, she shrieked with joy.
"Yay!" she exclaimed. "I got one person to get one. Yeah, yeah, yeah!"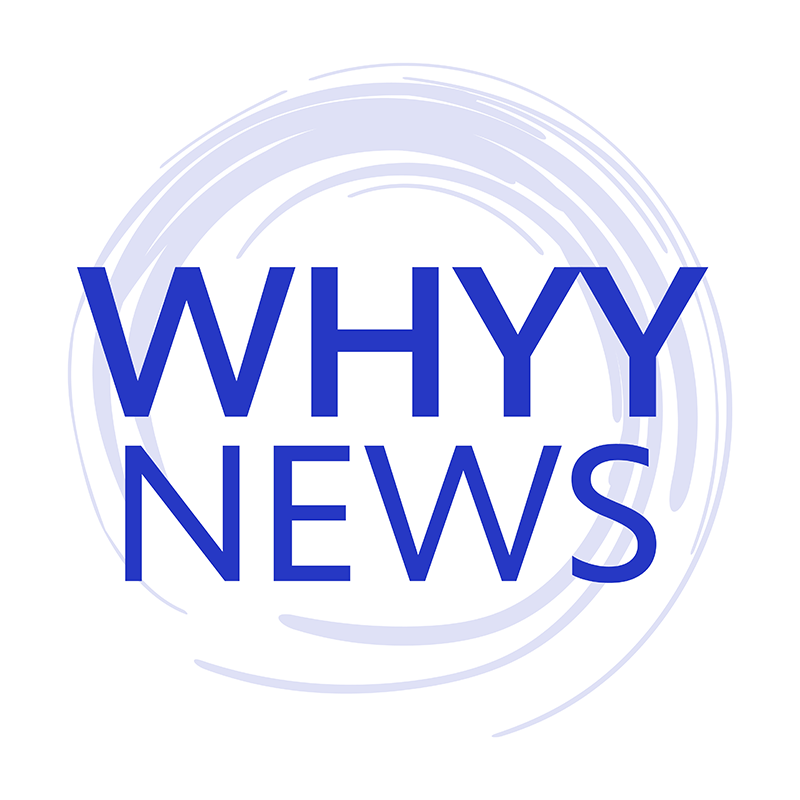 Get daily updates from WHYY News!
WHYY is your source for fact-based, in-depth journalism and information. As a nonprofit organization, we rely on financial support from readers like you. Please give today.