Hawthorne Park grows at MLK Plaza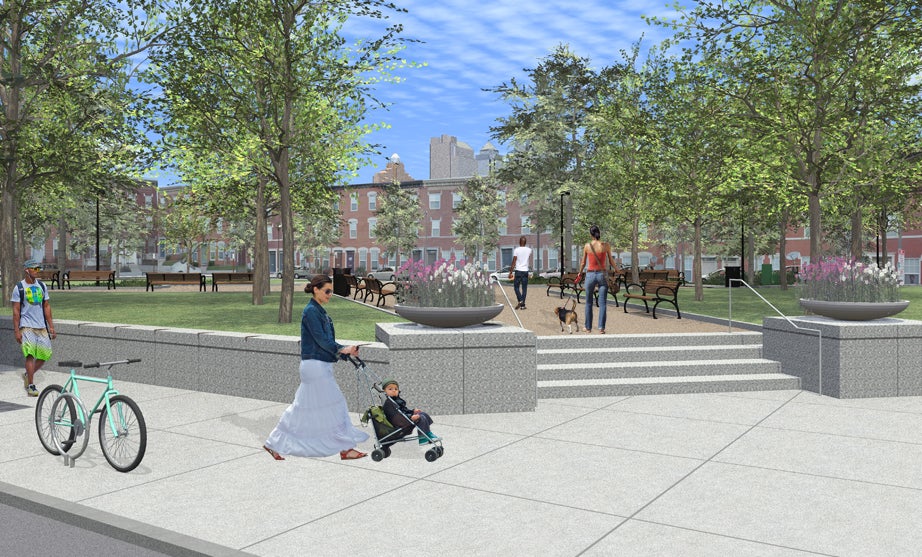 At 12th and Catharine Streets, the city is building one of its first new public parks in years. Hawthorne Park construction began in spring, and is well underway today. The future park is starting to take shape.
The new 1.5-acre park was designed by Lager Raabe Skafte to provide a new public square, flexible enough to accommodate neighborhood events and passive recreation. The park is designed to be low-maintenance, with hardy plants and durable building materials, as well as meet high sustainability standards.
Hawthorne Park was designed with sustainability and longevity in mind, and was chosen as a pilot project of the Sustainable Sites Initiatives, which will measure the park's sustainability performance. The new park will have 6,000 square feet of permeable paving and 23,00 square feet of planted green space. This green infrastructure design is in keeping with the Water Department's stormwater management goals in its Green City, Clean Waters plan. In addition, the park's irrigation and lighting systems will be highly efficient, and some of the furniture will be constructed from reused materials. More than 2,000 native plants were selected for the park's landscape design.
The park's $2.2 million construction cost is being financed through combination of public and foundation dollars. The City is putting up $300,000 in capital funding, the Pennsylvania Department of Community and Economic Development awarded a $300,000 grant, and the Pennsylvania Department of Conservation and Natural Resources gave a $1.1 million grant. The Pennsylvania Horticultural Society (via Pew Charitable Trusts) and the William Penn Foundation each put $250,000 toward the project.