Gilbert Lewis remembered as artist, mentor to Philly's gay '80s
"Only Tony" features 25 portraits that Gilbert Lewis painted of a single model during the height of the AIDS epidemic.
Last year, 2020, was supposed to be the year of Gilbert Lewis, a painter who had been steadily working in Philadelphia for a half-century painting portraits, botanicals, and landscapes with little mainstream recognition but a loyal set of admirers in the city's gay community, of which he was a part.
Lewis was also a fixture at a large downtown art supply store, Blick, where he worked for years. Even if they didn't know his work, many Philadelphia artists knew they could get a sympathetic ear and some solid advice from Lewis behind the counter at Blick.
Four Philadelphia museums and galleries had coordinated simultaneous exhibitions of work by Lewis, who still resides in the Philadelphia area. They include the Woodmere Museum, the William Way Center on Spruce Street, the Kapp Kapp gallery around the corner on 13th, and the Pennsylvania Academy of the Fine Arts.
"We had great plans to put them all together and have a citywide Gilbert Lewis moment," said PAFA curator Jodi Throckmorton. "But sadly, because of the pandemic, it didn't work out."
The Woodmere and Kapp Kapp went ahead with their exhibitions in July and September, respectively. The William Way Center pivoted to an online digital exhibition. PAFA pushed its show from September to November, but the pandemic's late-fall upswing shut it down before it opened.
Now, five months after originally planned, PAFA has finally opened Only Tony, an exhibition of portraits featuring one of Lewis' favorite models, Anthony Rullo. Lewis painted portraits of Rullo at least 60 times between 1986 and 1996.
"Gilbert painted models every night of the week, Monday through Friday," Rullo said from his home in Miami Beach, Florida. He recalled sitting for Lewis once or twice a week, every week, for 10 years. "For me, it was like a part-time job after work."
At the time, Rullo was in his early 20s studying retail fashion at the Art Institute of Philadelphia and working in a South Street boutique. Sitting for Lewis gave him an extra $20 or so a week.
"At the time, that was great, money, you know? It was my money for going out drinking on the weekends," he said. "This was in the '80s, when South Street was very cool, an artsy punk scene. You can see that in the models he chose. We're all kind of a starving-student look."
The PAFA exhibition features 25 portraits of Rullo: Some are head studies, some where the model is formally seated, some casually standing. Each painting would take weeks to complete, requiring the model to return to Lewis' studio several times. Sometimes, the artist would ask the model to leave behind a certain piece of clothing, so he could work on getting the color and fabric just right on his own time.
"I'm fascinated by the power dynamics between artist and model. That's always interesting in how that plays out, in exploitative ways and in mutually beneficial ways," said Throckmorton. "They had a close relationship and friendship. Tony talks about how Gilbert helped him see himself, and who he could become. I fell in love with telling this small, but big, story."
Lewis' studio was near Fourth and South streets, and he sourced his models from the neighborhood: He asked people on the street, in the shops and cafes if they would sit for him. Many models were referred to him by other models. That was how Rullo got involved: His roommate at the time had already done it.
Rullo had never modeled before. For his first session, he wore a turtleneck under a sweater, and was a nervous wreck.
"I'm all dressed up, and when I walk in I see nude paintings everywhere," he said. "A lot of the faces I would recognize, because Gilbert would just meet people in the street and in stores. I knew a lot of people in the paintings, and they were naked. That was shocking to me."
Lewis did not ask Rullo to take his clothes off. Instead, he told him what he told all his models: wear what you want, sit the way you want, pose however you wish.
"I loved clothes, he loved painting my clothes," he said. "If I got something new, it was like, 'I can't wait for Gilbert to paint me in this.' It became an excuse to buy expensive clothes that I couldn't afford."
They would talk. Lewis would talk about the music he liked — classical and opera — and Rullo would talk about pop and new wave music. Rullo can point to one particular painting when he introduced Lewis to "Tainted Love" by Soft Cell, playing the cassette on the studio boom box.
While working at Blick, Lewis also had a day job as an art therapist at a long-term senior care facility, a vocation that made him a good listener and conversationalist. Another of Lewis' models, Patrick Coué, wrote in TheArtBlog.com that Lewis showed exceptional empathy with all his models.
"Lewis' models have uniformly confirmed, and I am adding my voice to their chorus, that the artist was genuinely interested in what they had to say during sittings," wrote Coué.
Lewis and Rullo spent hundreds of hours together as the artist painted the subject over and over. Although nervous at first, Rullo said they become close friends.
"He was more like a mentor to me," he said. "When you're gay, you choose your family. That's how Gilbert was to me. He was an older guy, more mature."
The exhibitions at Woodmere, Kapp Kapp, and William Way show Lewis worked with many models, mostly young men and the elderly people he met through his art therapy work. Collectively, his body of work shows the development of what could be called a gay gaze: a way of rendering figures with a gay sensibility.
Lewis' models are often lanky, looking directly at the viewer with a slightly awkward, open-eyed vulnerability. He used a softer color palette, sometimes painting figures against a background of solid, bright, candy-like colors.
"It's the way he portrays masculinity. When you look at those early portraits, there is such innocence and such softness, it's a rethinking of masculinity and what it means to be a man," said Throckmorton.
Over the course of their sessions together, Rullo learned he had become HIV positive. For years, he didn't tell anybody.
"A lot of gay people didn't want to be tested. There was no reason to be tested," said Rullo. There was no cure for AIDS and no effective way to treat it at the time. Rullo said he and his boyfriend both chose to deny they had the disease and not seek any medical intervention.
"They just wanted to know who we are — they're going to round up all the gays and put us in a camp," he said. "That attitude was out there at the time.
"[Through] my relationship with Gilbert, I felt like I was being immortalized. I know I'm not going to be here forever, but Gilbert is going to do these great paintings of me and that's going to make me live forever. It was a very live-for-today attitude. I bought expensive clothes I couldn't afford. It was nightclubs and parties at that time in my life," said Rullo.
Rullo's boyfriend passed away from AIDS in 1990. He said friends and family were angry with Rullo for willfully ignoring the disease up to the end. That week, as usual, Rullo showed up at Lewis' studio for their weekly portrait session.
"I went to Gilbert. I had to break down and cry. He was part of my support system," Rullo recalled. "He asked if we should keep painting. I said yes. That was the constant in my life."
That night, Lewis painted "Untitled [Seated at wooden table, wearing a watch, wine glass]" In it, Rullo wears a wedding band, even though he and his boyfriend had not legally married.
"In most of Gilbert's paintings, you don't see a lot of emotion in the models. But in this painting, it looks like I'm crying — and I was," Rullo said. "He painted me while I was crying."
Rullo started to turn his life around. A doctor diagnosed him with "full-blown AIDS" as his white blood cell count was dangerously low. He went on an AZT treatment regimen. He got his finances straightened out, bought a house, and lost himself in renovation projects.
Through it all, he still came and sat for Lewis. Toward the end of their decade-long collaboration, he even started to take his clothes off.
"I never did nude paintings until the very end. I just wasn't comfortable doing that," said Rullo. "Once I did do the nude paintings, I realized this is so much easier. I don't have to worry about the clothes I wore, bringing clothes or leaving clothes."
"As time goes on in the paintings, you can see my poses get lazy. A lot of the paintings in the beginning, I'm standing or doing a pose. Then I realized, 'This is so hard to stand like this,' it takes weeks to do a painting."
The show at PAFA includes what is likely the last painting Lewis and Rullo did together, as a reclining nude.
"That is the epitome of my laziness. I'm completed nude and flat-out lying on the floor," he said.
Rullo ended their artistic relationship in 1996 — "I was in my 30s and started feeling that I'm way too old to be doing this," he said — but remained close to Lewis until 2008, when he moved to Florida.
Later, in 2017, Rullo got a call from a mutual friend that Lewis was succumbing to Alzheimer's disease and he should pay a visit. Rullo visited the artist in his Philadelphia apartment, hoping for one last portrait session for old times' sake.
"He didn't recognize me at all. He didn't know who I was," Rullo recalled. "There were paintings of me hanging on the wall right next to him in his apartment, and I said, 'Are sure you don't remember me?' I'm pointing at the paintings on the wall. And he's, like, 'No, have we met before?'"
Lewis did draw Rullo that day. Their final session resulted in a portrait that is now hanging in the PAFA show, a rough sketch of an older model that shows the artist's hand may have lost its skill, but his eye still had its empathy.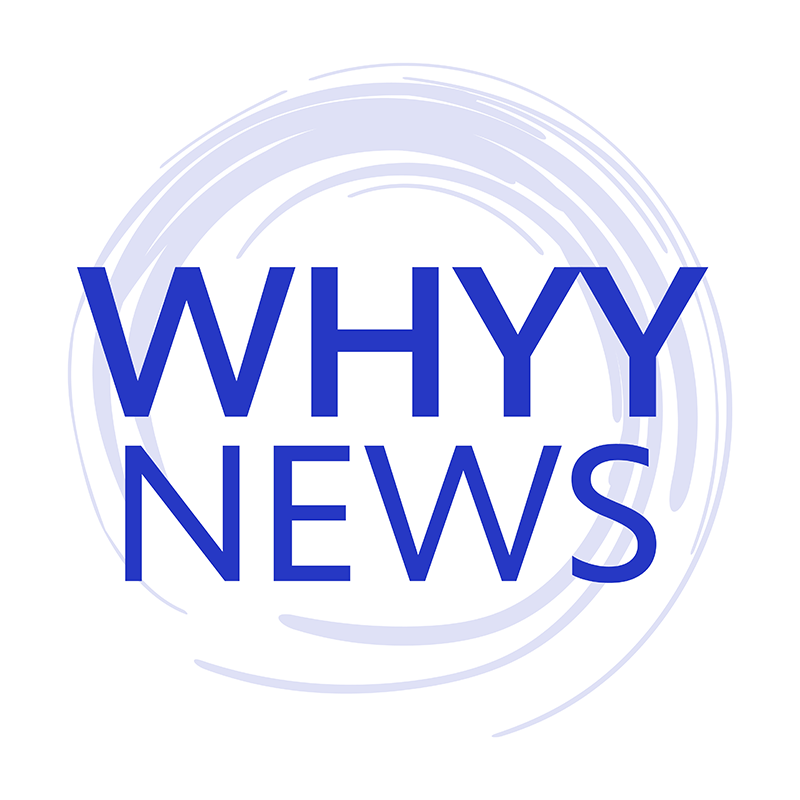 Get daily updates from WHYY News!
WHYY is your source for fact-based, in-depth journalism and information. As a nonprofit organization, we rely on financial support from readers like you. Please give today.