Queer and Black at the laundromat: Jonathan Lyndon Chase at the Fabric Workshop and Museum
Big Wash explores the laundromat as a site of queer domestic life where the private meets the public, and the idea of cleaning as both ritual and meditation.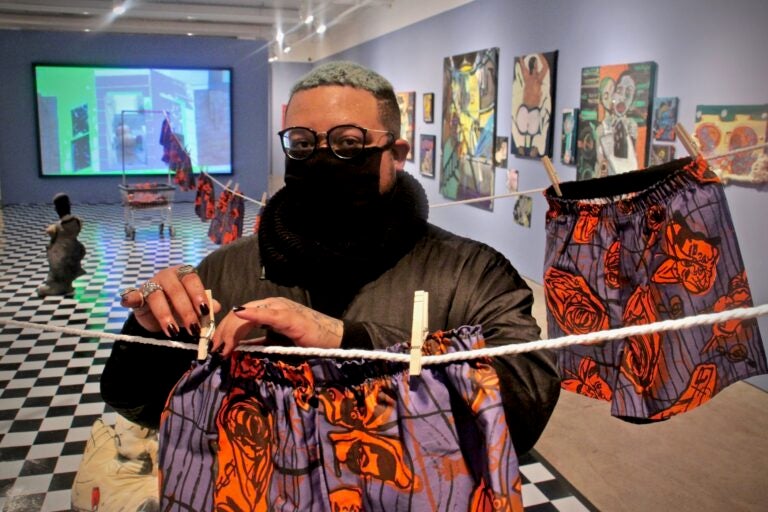 Jonathan Lyndon Chase is showing off their drawers.
The Philadelphia artist just opened "Big Wash" at the Fabric Workshop and Museum after five months of delays due to the pandemic. Chase transformed the second floor of the Center City museum into a laundromat, with black-and-white checkered flooring, rolling laundry carts, and a washing machine that generates soap bubbles. The walls have been painted a light milky blue, reminiscent of fabric softener.
A series of boxer shorts are hung on a length of twine which is strung down the middle of the space. The underwear was made from a customized pattern fabric Chase created with the Fabric Workshop staff.
The laundromat is Chase's happy place.
"I love people and people-watching," they said. "In my old neighborhood of Olney, we used to go to the 5th Street Laundromat. These rituals we do help ground us. It's meditative."
Since graduating from the Pennsylvania Academy of the Fine Arts in 2016, Chase has begun to make a name in the contemporary art world for his densely layered depictions of queer Black men. Their roughly outlined figures, that often blend into one another with a cubist sensibility, show men in repose, often relaxing together in domestic settings in poses that can be sensual, erotic, or mundane.
A collage of animation and live-action video is projected on one wall, featuring footage of a washing machine at work, then a shot of Chase kneeling over a bathtub cleaning the bed sheets they share with their husband, Will, by hand with a washboard.
"My mom taught me the importance of the living space as a representation, a reflection of your inner state," they said. "When she is sad or has a lot on her mind, cleaning is a way to address those feelings that is meditative. I've adopted that. We keep a clean house."
The 70 paintings, collages, sculptures, and video works were all made in the last 18 months, but are set in the early 2000s, the era of Chase's adolescence in North Philadelphia.
"Back when MTV used to play music early in the morning, you'd be getting ready for your day, you turn on VH1 or something and hear the very specific sound of the 2000s: Missy Elliot, Usher, crunk music, Little John, Alicia Keys, Mariah Carey," they said.
Chase's paintings allude to hip-hop videos of that era, sometimes featuring hyper-masculine men and scantily clad women. Their painting "Video Vixens" subverts gender expectations: It features someone twerking on the hood of a car, but unlike most video vixens, the twerker is a fat man in a thong.
Some of the canvases are fixed with clothing brand logos of the era, like Juicy Couture and Baby Phat. Some figures are holding Nokia flip phones. The exhibition is dressed in the cultural signposts of a formative time in Chase's life.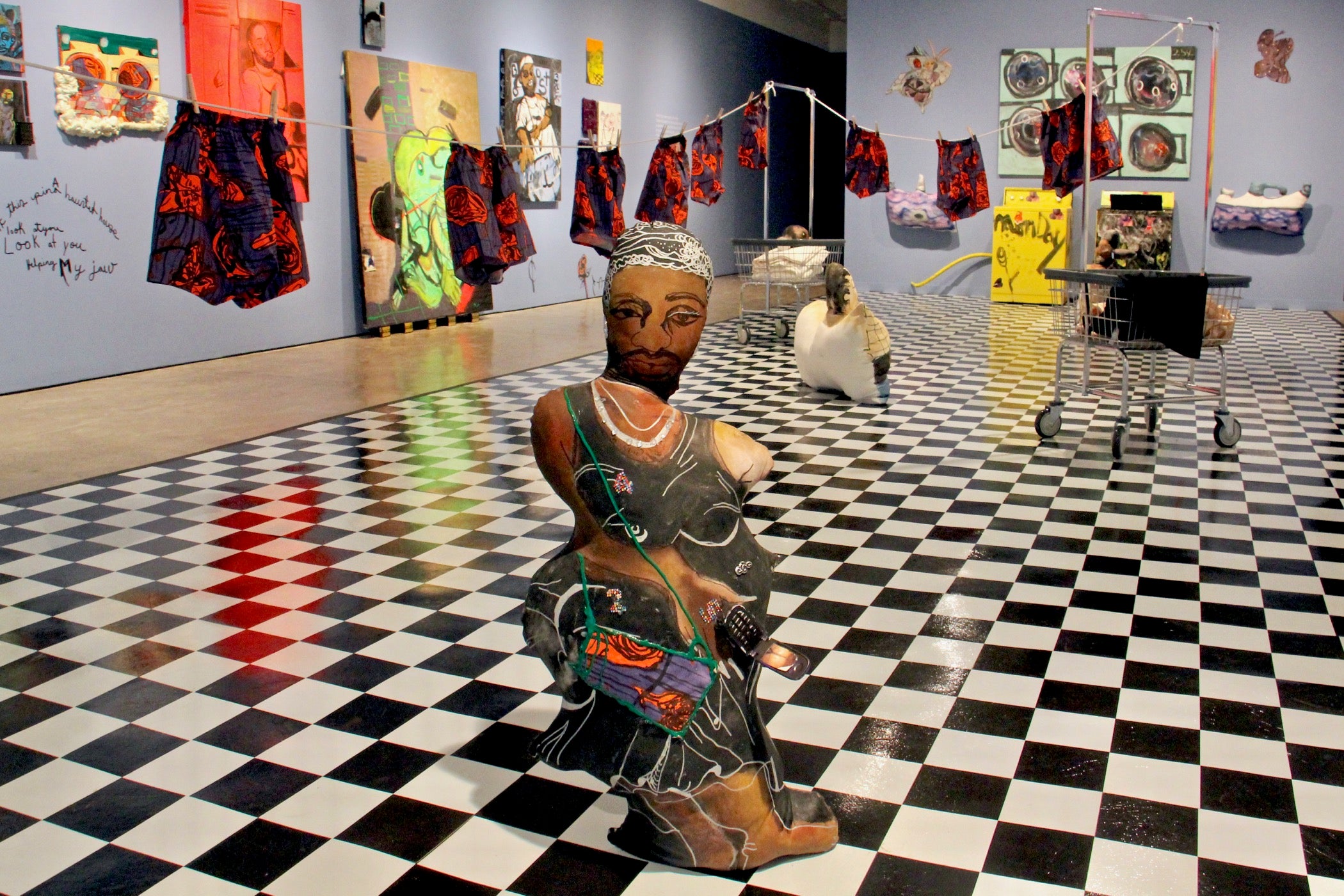 "I came out when I was 16. Like a lot of stories of coming out, it's hard. It's a major life experience," they said. "My concern is living in a queer Black body, but at the same time the emotional things I'm talking about — nostalgia — anyone can relate to."
Many of the works feature swatches of fabric Chase designed, a purple and orange pattern of roses and butterflies. They based that pattern on boxer shorts they saw in the 2000s when it was popular to let your pants sag in the back and show a bit of underwear. Chase is working with the "symbology of sagging culture."
Big Wash is, in part, a way for Chase to clean their mental, sexual, and spiritual laundry, rinse it out and hang it up to dry for everyone to see. The laundromat represents what they call a liminal space that blends public and private lives.
"You're standing next to someone you don't know, washing something very personal," said FWM curator Karen Patterson. "There's a huge amount of unspoken dynamics that happen in a laundromat."
Specifically, what personality or gender a person performs in public might contrast with the intimate clothing they pull out of the dryer and move to the folding table.
The laundromat occupies the middle of the room, and the walls are adorned with paintings of queer Black men in domestic settings. Some have come together to work on their hair, some are engaged in vaguely sexual activity, one shows a lone figure at a table set for dinner, waiting for guests.
"We all miss someone," Chase said. "I'm really interested in the poetics of the mundane. It's important to me to show Black queer bodies at rest, so we can talk about a more personal, intimate interiority."
Their paintings celebrate men being tender and emotionally vulnerable. "Sad Forecast" is a view from outside, looking into a curtained window. Its four glass panes divide the painting into quadrants, with figures inside lit by the glow of incandescent light. There are water droplets on the glass that might be rain on the outside, or tears on the inside.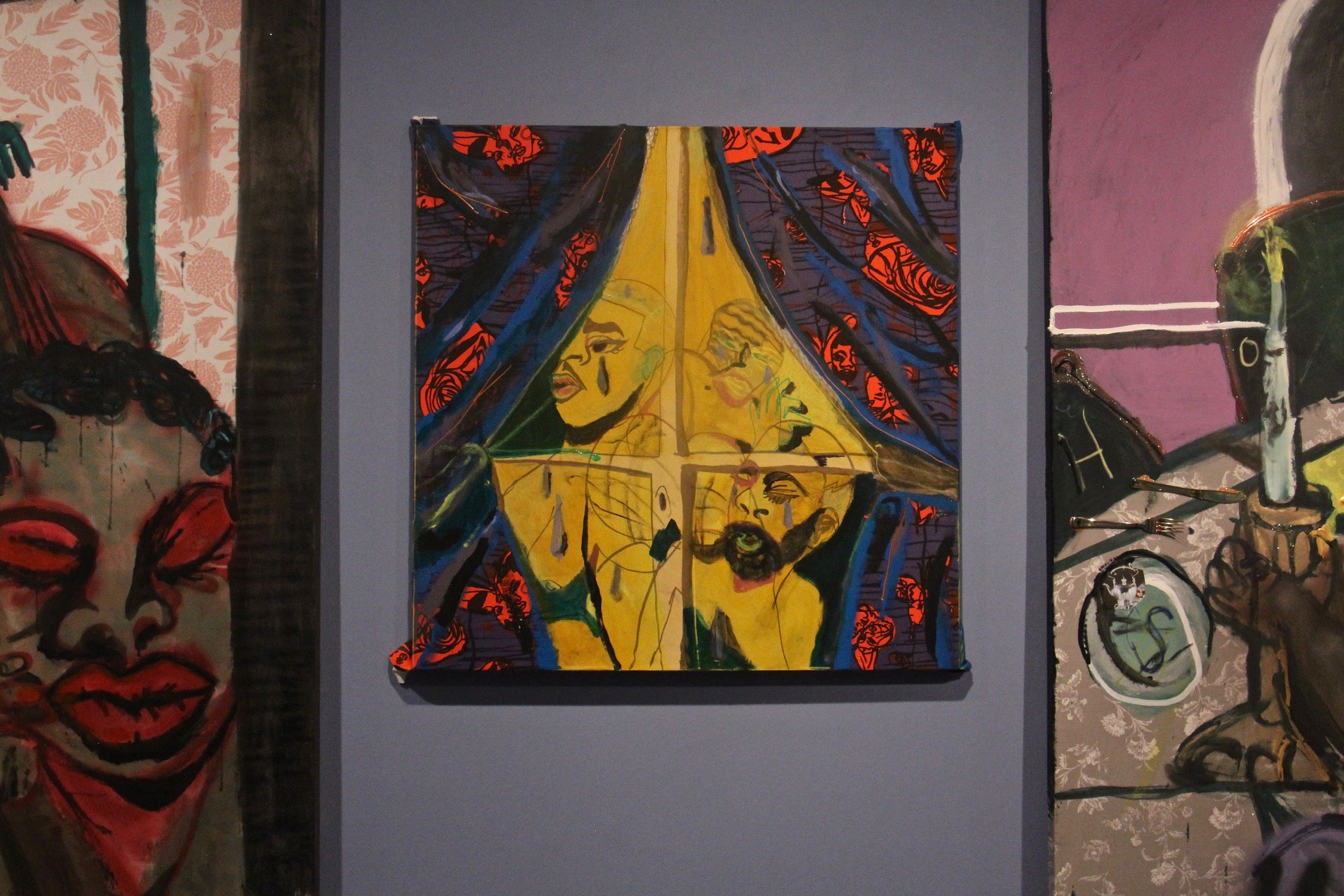 The glow of light is a very particular yellow. Chase selected the signature yellow Forman Mills uses on their Philly-area iconic discount clothing stores — another one of their happy places.
"I'm like obsessed, right? It's been a store we went to since I was little, like 5 or 6," they said. "I'm a fat-bodied person. One of the things I love about Forman Mills there are so many clothes and options to choose from. My body is not othered in that space. There is always something I can buy."
Chase sees their work in the tradition of pioneering gay artists like Robert Mapplethorpe, who celebrated very masculine bodies with a gay gaze – not that Mapplethorpe's photography is without problems.
"[Mapplethorpe is] very brilliant in their technique, but also hella problematic in the way they objectified Black bodies," they said. "There's work to be done with our straight counterparts, and our gay counterparts, in this idea of the binary not allowing for complex existence."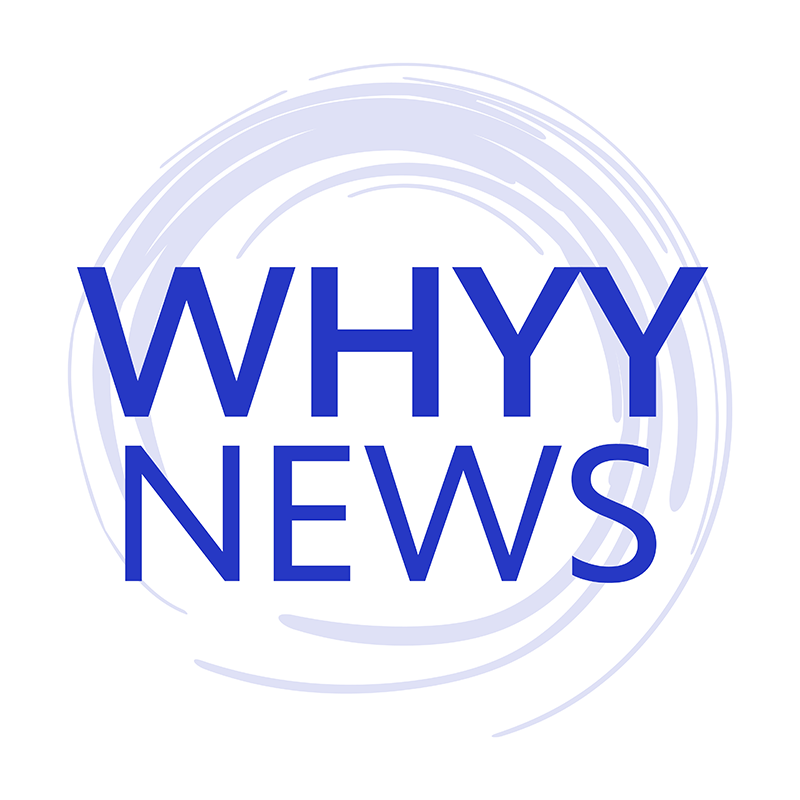 Get daily updates from WHYY News!
WHYY is your source for fact-based, in-depth journalism and information. As a nonprofit organization, we rely on financial support from readers like you. Please give today.