Francisville is booming. The community is feuding.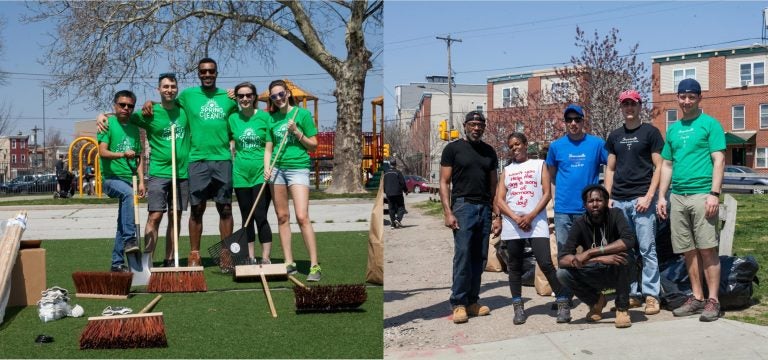 Francisville is under construction.Walk down almost any street in this North Philadelphia neighborhood, and there are houses—or multi-unit buildings—getting built. Fences and ladders jut out onto the sidewalk, annoying residents.  Community meetings get loud with complaints about everything from unwanted new neighbors to rising rents to cowboy contractors. The 28-block area just north of Fairmount and the Art Museum area is, in City Council President Darrell Clarke's words, at the "frontlines of gentrification." It is also the site of an emerging contest between two community organizations with very different visions for  the neighborhood's future. But in Francisville, the neighborhood drama isn't playing out along stereotypical battle lines. Instead of a clash between longtime residents opposed to development and newcomers eager see fresh amenities move in, it's the new kids on the block who want to see the pace of change slow down.
"There's been an influx of building and it hasn't been for home ownership," says Susan Stolting,  a community activist and Comcast program manager who bought her LEED-certified duplex in 2016. "People [are] very concerned that we [will]  be overrun by people who are renting and therefore don't have a stake in the community as a homeowner would."
Stolting is the force behind a new civic association, The United Francisville Civic Association. On Tuesday, her group experienced a win when a proposed remapping introduced by Clarke after months of advocacy from Stolting and her allies earned a favorable recommendation from the Philadelphia City Planning Commision.
"When I first started to look, some very nice looking new buildings were built which is why a lot of people wanted to stay," says Stolting, who moved to Francisville in 2013 because of its proximity to downtown. For several years, she was one of the renters in the neighborhood, watching new homes rise around her.
For a while, things seemed to be moving in the right direction, she recalls.  "It wasn't too overbuilt, you aren't talking about massive apartment or condo complexes. I didn't want one of those buildings," she recalls. At some point, though, the development hit a tipping point, she says. "Now its changed quite a bit."
On the other side of the debate over Francisville's growth and opposed to Clarke's proposed rezoning is Penelope Giles, the founder and executive director of the Francisville Neighborhood Development Corporation, a nonprofit formed in 2002 with a mission to improve the quality of life in the area bounded by Broad Street and Corinthian Avenue, and Fairmount and Girard Avenues through residential and commercial development. Born and raised in Francisville, Giles recalls the bustling neighborhood of her childhood, one with tall buildings, often carved into apartments and and thriving avenues lined with shops and businesses. As Francisville and the city as a whole lost residents and businesses in  1970s and '80s, vacancy took over Ridge Avenue.
"We can understand what happened, why Ridge Avenue became desolate and abandoned… and as we lost the density, we lost the economic diversity that was paramount for supporting a bustling commercial corridor," says Giles, whose group is both a recognized community organization (RCO) that coordinates zoning meetings and a development corporation devoted to the rejuvenation of Ridge Avenue.
She says that the development Stolting's group opposes is the exact kind of growth needed to regain the economic integration and density the neighborhood needs to thrive again.
"They are opposing development on these large parcels that, when I was a little girl, were these big huge brownstones with multiple families," says Giles.
The conflict spilled into City Hall earlier this month when Clarke introduced the bill to alter the neighborhood's zoning to make multi-family development harder on some blocks and push denser projects towards Ridge Avenue, Fairmount Avenue, and Broad Street. Many of the blocks west of 17th Street are being downzoned from allowing multi-family development to just single-family housing.  "Development in Francisville is extremely, extremely out of proportion as it relates to the old community," says Clarke. "That is probably ground zero as it relates to gentrification. So we are hoping this legislation will limit the ability to build large- scale developments on these traditionally residential blocks."
For Giles, the bill comes as an affront."[The remapping bill] feels like…something that was just thrown out there for the few residents who seem to be making a lot of noise," she says.
Lifelong Francisville resident Tyrone May agrees with her. The owner of a one-story brick rowhouse on Uber Street west of 18th Street, May has found himself thrust into the zoning battle out of economic necessity.
Clark's remapping would ban most multifamily and commercial in his section of Francisville  — blocks that reflect a different moment in the life of the neighborhood.
May's home and those that surround it were built by the Philadelphia Housing Authority in the 1970s and 1980s as rent-to-own properties. Back then, as the neighborhood lost population and saw median incomes decline, the PHA decided to knock down old, vacant, brownstones and replace them with housing of a size that would be affordable to own and maintain for the families in the neighborhood.
Two generations later, the dynamic has changed and some of these same families see an opportunity to sell their homes and build a nest egg that would have been unthinkable decades ago. Reluctantly, May plans to follow their lead. He says the neighborhood has simply become too expensive and that he struggles to afford the rising property taxes.
"We picked this neighborhood up, brought it up to where it it is at, and now a lot of us are moving out," says May. "They are building all these big buildings right next to our houses, so [ taxes are going up] and financial wise, [ the neighborhood] is being taken away. I mean, I grew up here. This neighborhood is my history. But now I'm 50-something and I'm having to start all over again."
A developer has plans for a four-unit apartment building next to May's home on the north end of his block of Uber Street, which will require the demolition of a one-story house. Stolting's group opposes the redevelopment on the basis of its multifamily scale and parking plan. May doesn't particularly like the idea of the large new building either, but knowing that he wants to sell too, he has been attending Zoning Board of Adjustment hearings in support of the developer.  Limiting development now, after property values have already risen and the neighborhood has begun to transform, just doesn't seem fair to him.
"This was just a ghetto neighborhood many years ago, and now its like Center City–we did that," says May.  "They've built so many of these big houses and now they want to stop? Now that it's holding back on some of us who want to get out? Why not let us get out? Why hold us back?"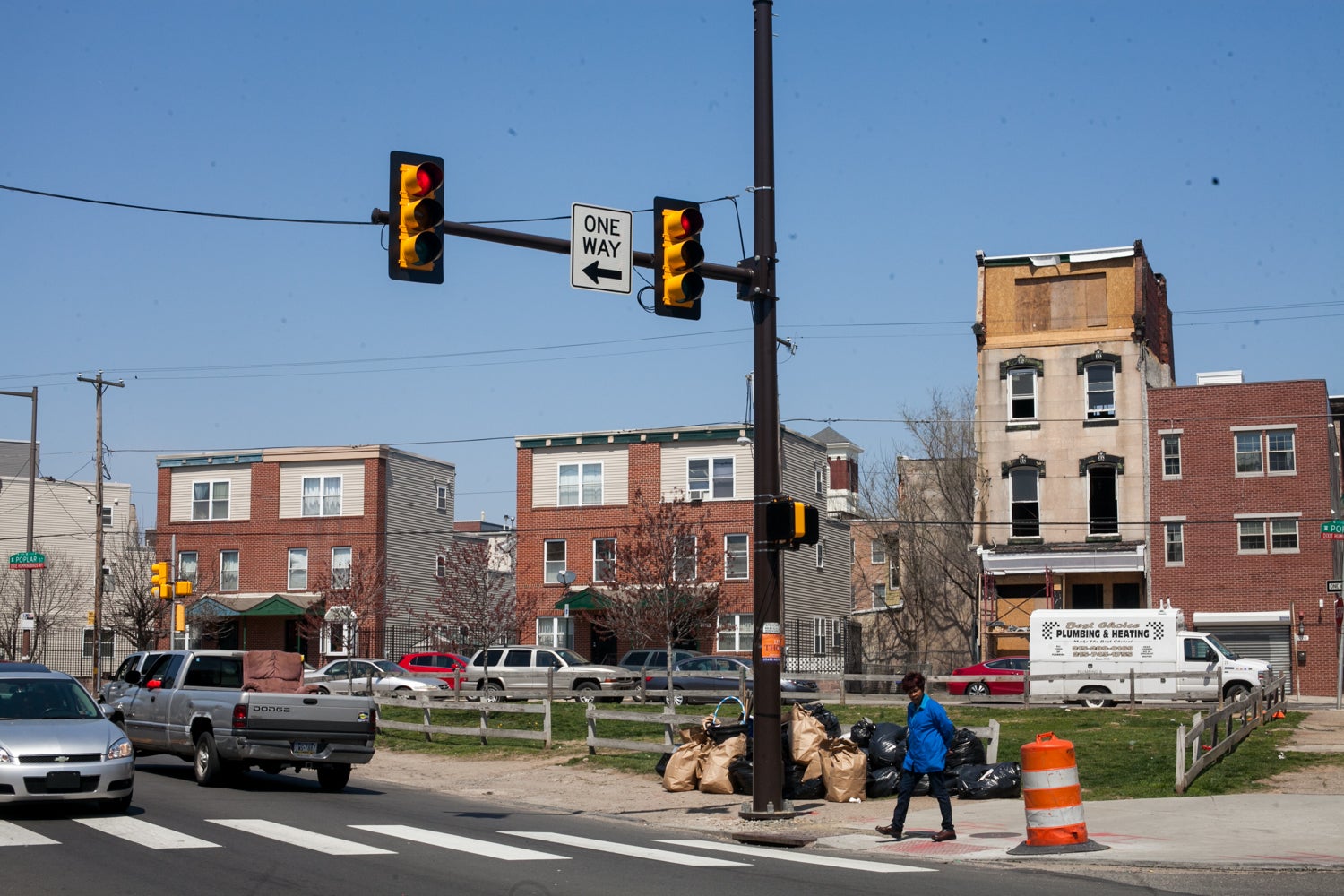 Clarke's bill is not as sweeping as some recent neighborhood remappings that have made it difficult for anything but single-family homes to exist in huge swathes of the city's rowhouse neighborhoods.
Instead, Clarke's legislation leaves much of the multi-family zoning intact in the sections of the neighborhood closer to Broad Street. It also scraps an antiquated industrial designation, and zones Fairmount Avenue for commercial uses on the ground floor and residential above. He hopes that limiting development on Uber Street and in the surrounding blocks will help maintain the area's affordability even as the area around it becomes more desirable — and expensive.
"20th Street [and neighboring blocks] was the original turnkey development sponsored by HUD many years ago, where low-income individuals had the ability to rent to own," says Clarke. "They were quite successful, but now somehow on that block you have properties that are way out of scope in terms of the cost. Literally a million-dollar home being built on a low-income block."
That dynamic raises questions for Miguel Ortiz, another longtime resident who has been attending zoning board hearings — on the opposite side as May. Oritz says that if the neighborhood had organized earlier to keep development under control maybe older residents wouldn't be feeling pressured to move out.
"We are like a lot of the old folks who have moved out," says Ortiz, who has lived in the neighborhood since the early 1990s and is an ally of Stolting. "The city never helped these people develop their own community. And the civic association didn't do it either. So we got run down by the process. It just breaks my heart."
Giles believes that those  seeking to downzone Francisville don't appreciate the area's potential to grow as a walkable, transit-accessible area.  Giles says much community opposition to development often seemed to focus on parking.
"Most folks say we don't have enough parking but I guess I'm just a weirdo, so forgive me, because I view it as we just have too many cars. We have a walkable community and nobody is getting that."
Stolting, meanwhile, hopes that her work will benefit all of Francisville, newcomers and longtime residents alike, many of whom claimed that they weren't being properly notified of new developments in the area seeking variances. (This is a common refrain at neighborhood zoning meetings, and one that City Council has repeatedly sought to rectify.)
"If you've purchased a property you want to make sure that what's going in next door is appropriate for the neighborhood," says Stolting. "I really thought especially that a lot of the long term residents who had been here, they are just very upset and feel that they've been kept in the dark."
Both Stolting and Giles deny that there is rivalry and factionalism at work. Stolting got to know the neighborhood through volunteering with Giles' organization and the two have collaborated over the years. This past Saturday, their respective organizations held parallel neighborhood cleaning days and even shared supplies. But tensions in the neighborhood have been readily apparent to observers for months, as neighbors have grown increasingly agitated about new development. (FNDC recently began requiring that attendees at zoning meetings have IDs if they are going to vote on recommending a project.)
And there is potential for more conflict because of the unique way that Philadelphia's zoning law encourages community involvement.
According to a recent analysis by the Planning Commission, many of Philadelphia's peer cities ban or discourage the entrance of numerous community groups into the development process. But in this city numerous groups can claim the same territory as the Registered Community Organization (RCO) (a technical term created during 2012's zoning reform to refer to a community organization developers must alert when they are seeking zoning variances).
Both Giles and Stolting's groups have the exact same territorial boundaries, although United Francisville is not an RCO yet. But registration begins in June and if Stolting's group successfully applies, Council President Clarke will have to choose which of the groups in Francisville will be the "coordinating RCO" that gets to facilitate meetings with developers.
So the contest for Francisville's future isn't over by a long shot.