Filling pantries, fridges of 2,500 families at Christiana Mall: 'I just can't believe so many people need food'
Listen
1:10
Are you on the front lines of the coronavirus? Help us report on the pandemic.
Grocery stores and supermarkets are open during the coronavirus crisis but some have a low inventory of milk, meats and other staples.
Many people are also out of work – and money – to purchase what is available. 
With these shortfalls in mind, the Food Bank of Delaware has stepped into the void and this week is holding a mass giveaway in each of Delaware's three counties.
Monday's event at the Christiana Mall near Newark, aimed at providing food to 2,500 struggling families, scheduled to start at 11 a.m.
But cars, trucks and SUVs began piling into the sprawling lot about 7 a.m, so officials opened at 9.
Dozens of National Guard soldiers and volunteers were stationed in five drive-thru lanes to hand out items such as milk, liquid eggs, dried fruit, chicken, ham, oranges, apples, mushroom soup and tomato paste. 
No one was handed food. Instead it was placed in their trunks.
One car was driven by Toni Newman of New Castle, who was accompanied by her daughter Shantel.
"We have food but your food runs out and it's so limited in the grocery store at what you can get that I don't know what we are going to do,'' Toni Newman said. "You can buy one pack of chicken. It's really hard."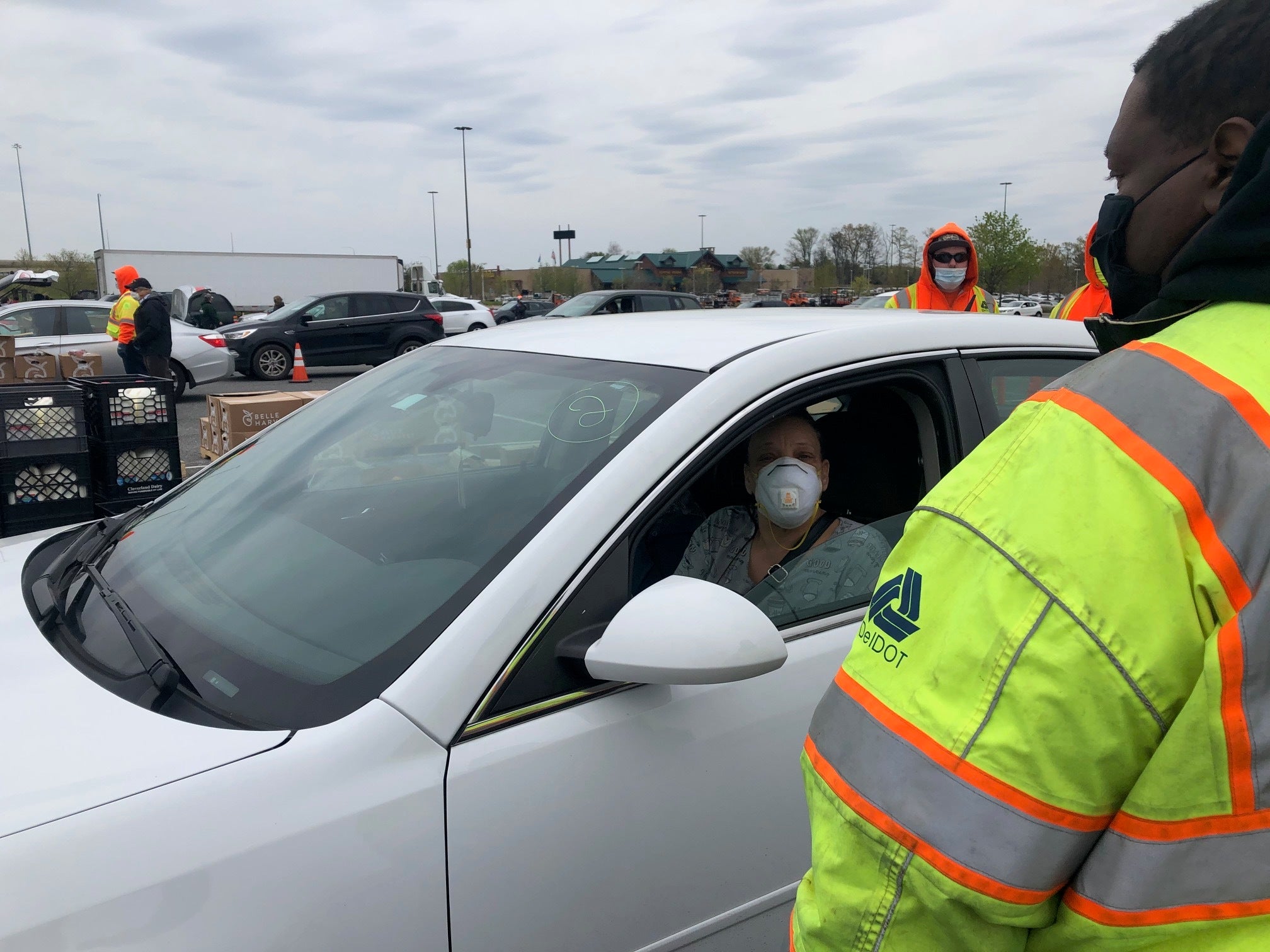 Volunteer Peggy Barker, who was running a corn flakes station, said she was inspired to help out after learning about the giveaway at church.
I am overwhelmed by it, the need,'' Barker said. " I just can't believe so many people need food."
A handful of Delaware politicians were on hand, including State Auditor Kathy McGuiness, who was handing out packages of mild cheddar.
"I'm the auditor of cheese,'' she quipped.
On a serious note, McGuiness called the food bank's initiatives "fantastic" and said she would be at the events later this week in Kent and Sussex counties.
"It's a good way to be able to give back to your community in these times where we have to be distanced and cover-up,'' she said.
Army National Guard Capt. Kevin Caneco said he and fellow soldiers are prepared to help out wherever needed, including handing out food to Delawareans.
"Some people might be immunocompromised,'' he said. "Some of these people who are coming through have been elderly, who are scared to go to the supermarket. So this is a great opportunity for them to come in cars in a safe environment and not have to interact with a lot of people and get the food they need."
Robin Ventura of DelDOT kept traffic moving in her line with a steady stream of jocular banter.
"To the left babe, to the left. Come on babe,'' she told one to one driver before telling a volunteer: "Throw those nuggets in as she's rolling. We can do two things at one time."
Wednesday's giveaway will be at Dover International Speedway and Friday's at Sussex Central High School. Both are supposed to start at 11 a.m., but if Monday was any indication, they could begin much earlier.
Food Bank spokeswoman Kim Turner said the organization can help in such a massive way because it has extra food from producers and sellers impacted by Trump administration tariffs. The milk was provided by the American Dairy Association, she said.
"We're just really getting basic household staples into people's' pantries today,'' Turner said. "The cars just keep coming and we're happy to be able to assist."
WHYY is your source for fact-based, in-depth journalism and information. As a nonprofit organization, we rely on financial support from readers like you. Please give today.