Fairmount's new bike lanes are painted, ready to ride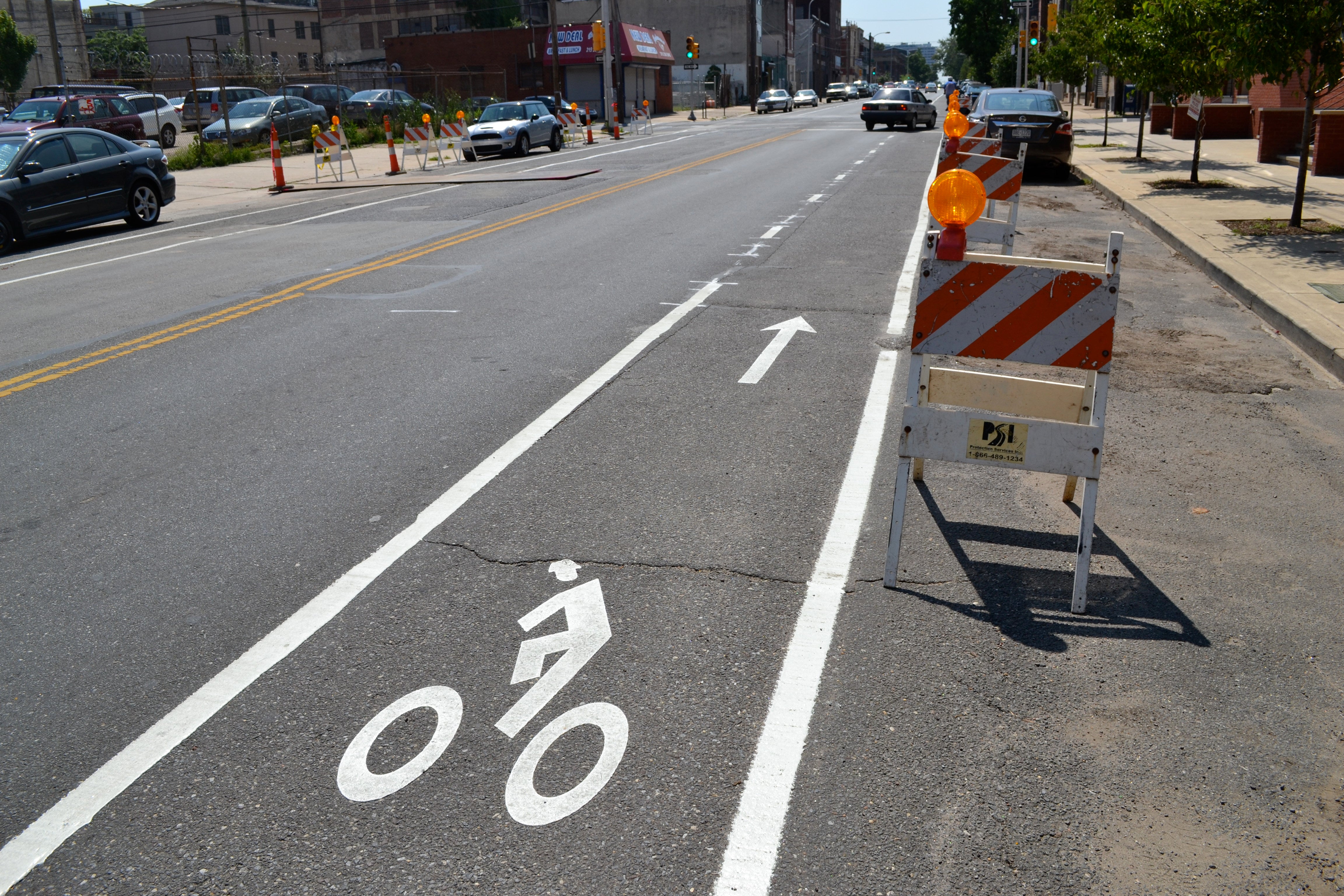 New bike lanes are in on Fairmount Ave, and they're already getting plenty of traffic. The lanes showed up last week and run the length of Fairmount from Ridge Avenue near the intersection of Broad Street to Pennsylvania Avenue near the Art Museum.
The lanes, which were striped by the Philadelphia Streets Department as part of its regular paving and lane striping program, are nearly complete. In some places the lane striping is only dashed, not a solid line. At the intersections of 19th Street & Fairmount Ave and 15th Street & Fairmount Ave ongoing construction is currently blocking portions of the road and thus the lanes were not painted there. According to Nicholas Mirra, communications coordinator at the Bicycle Coalition of Greater Philadelphia, a few bicyclist symbols and directional arrows are still missing.
Still, the lanes – and their near completion so early in the summer – can be seen as a victory.
"A busy commercial street like Fairmount, with substantial summer programming, will get much more benefit out of these lanes… going in in June rather than September," Mirra wrote in an email.
The lanes are the result of a tremendous effort by the Bicycle Coalition, which worked with the Mayor's Office of Transportation and Utilities (MOTU) to secure support from local businesses and residents. That work started last summer, when the Bicycle Coalition sent an online survey to neighborhood residents. In November, the Coalition canvassed area businesses, and this past winter, the Bicycle Coalition and MOTU met with three civic groups.
At these meetings, the Bicycle Coalition explained that Fairmount Ave is a prime street for bike lanes, largely due to the fact that it is so wide and already has significant bicycle traffic.
One concern that the public did raise was the issue of double parking, which is common because the street is so wide. Residents feared bike lanes might interfere with double parking and delivery trucks, but MOTU countered that double parking is illegal. In February, Sarah Clark Stuart, policy director at the Bicycle Coalition, said perhaps the bike lanes will cut down on double parking. At the moment, it appears some cars are still parking illegally regardless of the bike lanes, but it does take time to change such an ingrained behavior.
Fairmount Ave bike lanes

Fairmount Ave bike lanes

Fairmount Ave bike lanes

Fairmount Ave bike lanes

Fairmount Ave bike lanes

Fairmount Ave bike lanes

Fairmount Ave bike lanes

Fairmount Ave bike lanes

Fairmount Ave bike lanes

Fairmount Ave bike lanes

Fairmount Ave bike lanes