Elected officials, clergy applaud increased funding for violence prevention in Philly
City Council recently passed a budget for FY22 that includes $155 million for anti-violence efforts — believed to be the most Philly has ever spent on the issue.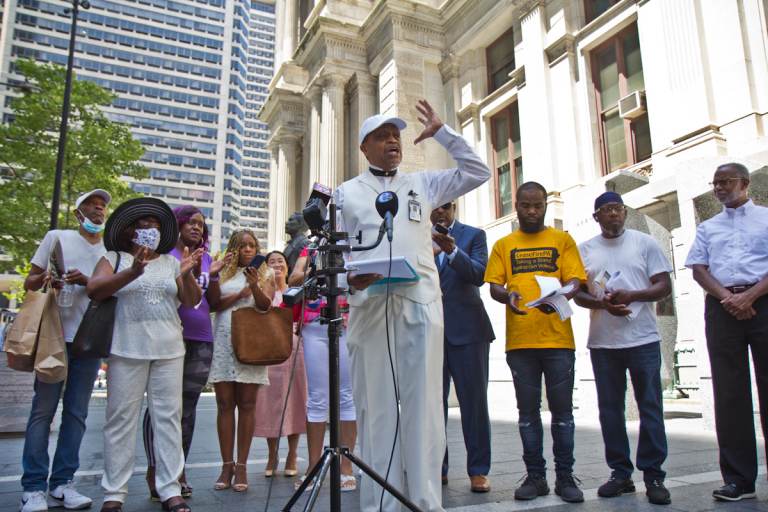 A day after another violent weekend in Philadelphia, elected officials and religious leaders gathered in Center City to applaud a funding deal that will see the city spend $155 million on anti-violence efforts during the fiscal year that starts July 1 — far more than the amount listed in Mayor Jim Kenney's initial budget proposal in April.
"Certainly, that shows some commitment to fund efforts to treat the second pandemic in Philadelphia, known as gun violence. A pandemic, I might add, that took the lives of 499 people in 2020, mostly our young Black and brown males," said Rev. Robert Collier, president of the Black Clergy of Philadelphia and Vicinity.
Hailed as "historic," the plan came together after groups, including Collier's, and city lawmakers urged the Kenney administration to spend more on violence prevention measures in the face of an unrelenting surge in shootings and homicides. It includes $87 million in existing funding and $68.3 million in new funds for FY22.
A total of $49 million will go to support grassroots anti-violence organizations, out-of-school programming, and targeted community investment grants.
Another $30 million will go to a pair of violence prevention programs run by the city, transitional jobs initiatives, and a mental health co-response program. Roughly $10 million of that total will be used to restore funding to the Department of Parks and Recreation and the Free Library of Philadelphia, which both saw budget cuts during the coronavirus pandemic.
There is also $7.1 million earmarked for workforce development and job training through the Commerce Department, as well as the creation of two "curfew centers" — places where unattended juveniles are brought until a parent or guardian can pick them up.
Standing outside City Hall, City Councilmember Jamie Gauthier celebrated the unprecedented investment, but also delivered a warning echoed by the anti-violence organizations now in line to receive those city dollars.
"As important as all of this funding is, whether or not we will look back on this as a turning point in our fight against gun violence depends on the way we put these dollars to work," said Gauthier.
A total of $20 million is now on the table specifically to support grassroots organizations, a far cry from the $100 million the Black Clergy and others wanted, but decidedly more than what Mayor Kenney initially proposed in April.
The Kenney administration and City Council recently committed to establishing a Violence Prevention Opportunity review committee, comprising appointees by the council and the administration, to review grant applications for violence prevention funding, according to City Council spokesperson Joe Grace.
It's unclear who will sit on the committee, how it will decide which groups should be funded, or how much money a given organization should receive.
"We look forward to collaborating with Council on the design of the community grant program, including tools for evaluating the effectiveness," mayoral spokesperson Deana Gamble told WHYY's Billy Penn last week.
More than 1,000 people have been injured or killed by gunfire so far this year, a 24% increase over the same time in 2020, the deadliest year Philadelphia has seen in three decades.  
The total includes the 20 people who were shot, three of them fatally, between 5 p.m. on Friday and 1 p.m. on Sunday, according to The Philadelphia Inquirer.
The victims included a 10-year-old boy who police believe accidentally shot himself in the head in the Tioga section of North Philadelphia. An 18-year-old man and a 24-year-old man were also fatally shot during that stretch.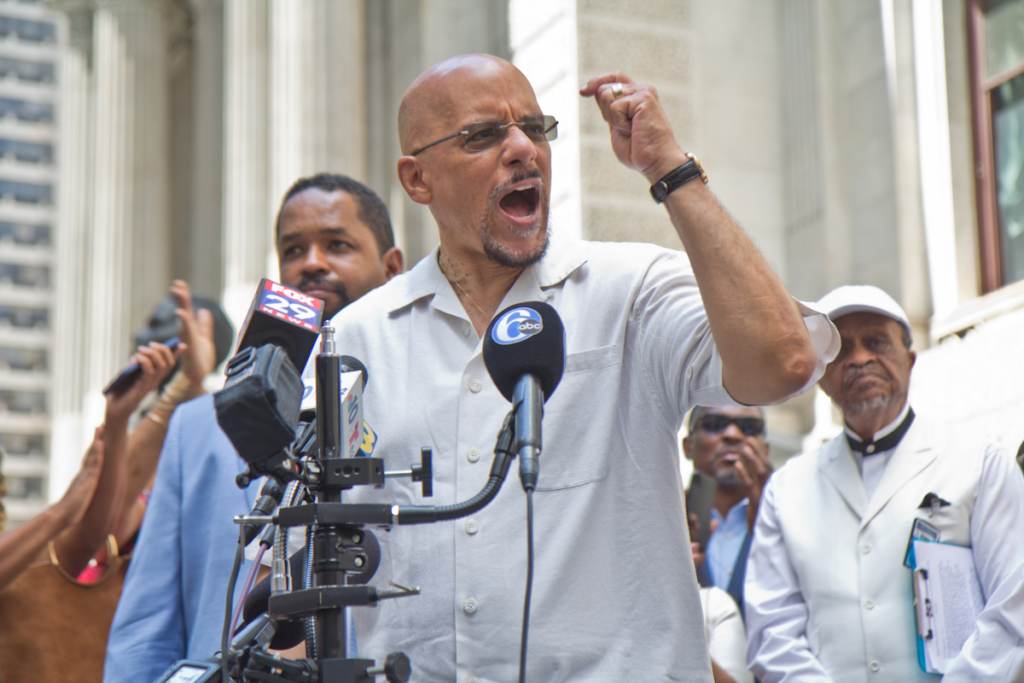 During Monday's news conference, speaker after speaker made it clear the $155 million plan was a victory, but not the end of the fight for more anti-violence funding for Philadelphia.
State Sen. Vincent Hughes, who represents parts of West and Northwest Philadelphia, lamented that the state budget lawmakers passed last week includes $7 billion in reserves — between federal stimulus dollars and excess revenue — money he said could be used to help reduce gun violence in the city and around the state.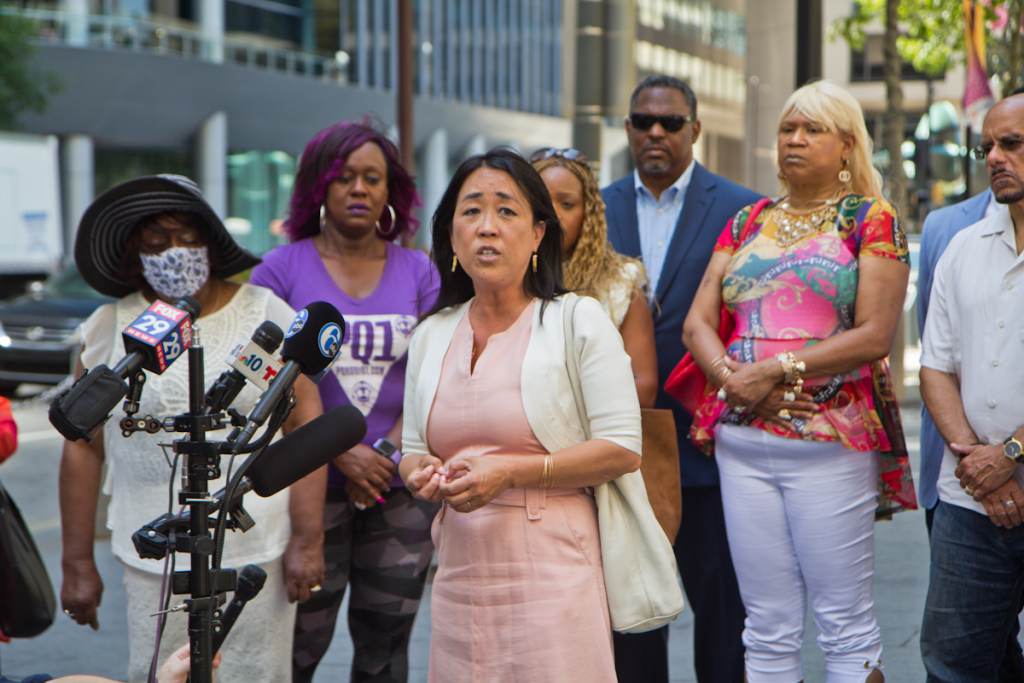 "It is a crime. It is as violent as any gunshot to allow those kinds of dollars to remain unspent when there's this kind of hell and this kind of pain that our people are going through," said Hughes.
The next state budget includes a total of $30 million for community-based, anti-violence organizations around Pennsylvania.
Philadelphia District Attorney Larry Krasner called on nonprofits like the University of Pennsylvania and the NFL, and for-profits like Comcast to step up and match the funds allocated in the city budget to fight gun violence in Philadelphia on June 28, 2021. (Kimberly Paynter/WHYY)

Kallel Edwards, with CeaseFirePA, applauded Philadelphia City Council for their allocations to fight gun violence budget, but said that the fight is not over. (Kimberly Paynter/WHYY)

Pa. State Sen. Sharif Street advocated for job creation programs to fight gun violence in the city of Philadelphia at a press conference at City Hall on June 28, 2021. (Kimberly Paynter/WHYY)

Councilmember at-Large Helen Gym spoke of disproportionate rate of gun violence in particular neighborhoods in Philadelphia, and also celebrated the allocation by City Council for new funds to fight gun violence at a press conference at City Hall on June 28, 2021. (Kimberly Paynter/WHYY)

State Sen. Art Haywood thanked members of the Pennsylvania State House for advocating for funds to reduce gun violence in Philadelphia on a press conference at City Hall on June 28, 2021. (Kimberly Paynter/WHYY)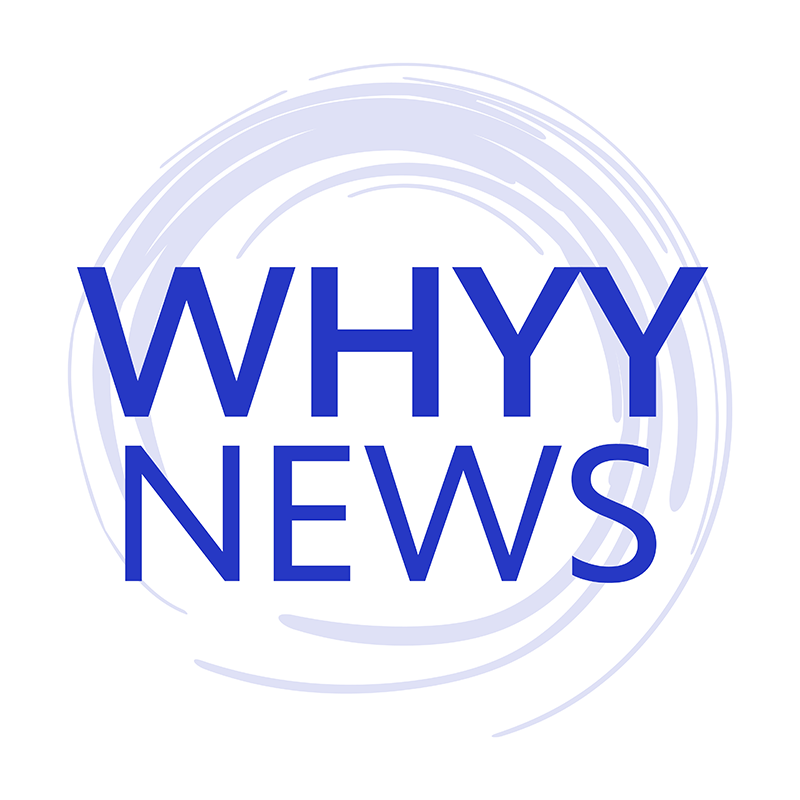 Get daily updates from WHYY News!
WHYY is your source for fact-based, in-depth journalism and information. As a nonprofit organization, we rely on financial support from readers like you. Please give today.