Eat Philly in a day: A guide to 24 hours of the city's most iconic eats
It's impossible to experience everything Philadelphia has to offer in a single day — or even a year.
It's impossible to experience everything Philadelphia has to offer in a single day — or even a year. But, if you know where to go, you can eat your way through an iconic cross-section. We've compiled a guide, so the next time friends or family come to town, demanding the city's best cheesesteak, you'll look like a pro.
Our rundown offers a few options for each meal (including a snack to get you through the afternoon and some late-night grub for after the bars have closed). And a chew-your-own-adventure showcases a broad swath of Philly's culinary and cultural identity.
Breakfast
The classics:
Morning Glory Diner: High quality, no frills. Try the scrapple for a singularly Philadelphian experience. For those not in the know, that's minced pork (sometimes including entrails and organs) combined with flour and cornmeal, and fried.
Famous 4th Street Deli: This classic Jewish deli has been running for almost a hundred years. The portions are great for sharing — or leftovers.
The newcomers:
Philly Style Bagels: This unassuming takeout spot is tucked away in a Fishtown corner shop, but you won't find a better bagel in Philadelphia. The twist? They're boiled in a mixture of beer and water for a malty taste.
Suraya: For a lighter touch, try Suraya, a newish Lebanese cafe offering Middle Eastern specialties of flatbreads, hummus, labneh and kafta kabab.
Lunch
The classics:
Reading Terminal Market: With more than 70 vendors inside hawking gyros and barbecue and roast pork and almost anything else you can think of, it's easy to get overwhelmed and very difficult to leave hungry.
Tacconelli's: Tomato pie isn't quite pizza — cheese is sparse if there's any, toppings are nil, and it's usually room temperature — but it's very Philadelphia. The actual pizza here is also pretty great.
Paesano's: It's hard to find a bad sandwich in Philadelphia, including countless variations on the cheesesteak, but there might not be a better one than Paesano's. The suckling pig Arista, fried beef liver Liveracce, and Porchetta sandwiches stand out.
The newcomer:
HipCityVeg: With a couple Center City locations and another in University City, this fully vegan takeout spot is the secret to a great picnic in Rittenhouse Square or any of Philly's verdant parklets. (Hip factor: James Franco was recently spotted in the Broad Street location.)
Afternoon Snack
The classics:
Frangelli's: This South Philly staple has been in business for more than 70 years. The "Franolli," a handmade doughnut-cannoli hybrid, is as decadent as it sounds.
Federal Donuts: The fancy doughnuts are almost a meal unto themselves, but no one will judge you if you want to push one down with a za'atar-spiced fried chicken thigh.
Pop's: There isn't much more refreshing on a between-two-rivers-humid summer afternoon than a cup of water ice (or "Italian ice" pretty much anywhere outside of Philly). The traditional treat can really hit the spot when the weather is hot — and you'll be able to grab a soft pretzel too.
The newcomer:
Magpie: These seasonal, made-from-scratch pies take the cake, in sweet and savory flavors ranging from lemon buttermilk to mac-and-cheese pot pie. You can even order a "flight" and sample a few of them in one sitting.
Dinner
The classics:
Dante & Luigi's: You can't talk about food in Philadelphia without mentioning an Italian joint. From the white tablecloths to the fresh pasta, this 120-year-old BYOB is as authentic as it gets.
Gojjo: Ethiopian cuisine may not spring to mind as essentially Philly. But, with a large African population settling in West Philadelphia since the 1960s and three great Ethiopian restaurants on West Philly's Baltimore Avenue alone, it's become a staple. Gojjo, with its outdoor patio and generous portions, is a local favorite.
Nam Phuong: There are a lot of great places on Washington Avenue to grab a savory bowl of phở, but few can match the breadth of Nam Phuong's offerings. Don't sleep on the bún bò Huế.
The newcomer:
DanDan: Sichuan peppercorns, which slightly numb the mouth and set the stage for spicy foods, is a hallmark of Sichuan cuisine. DanDan makes ample use of them, including in their namesake dish, dan dan noodles. Beware, it's hot.
Late Night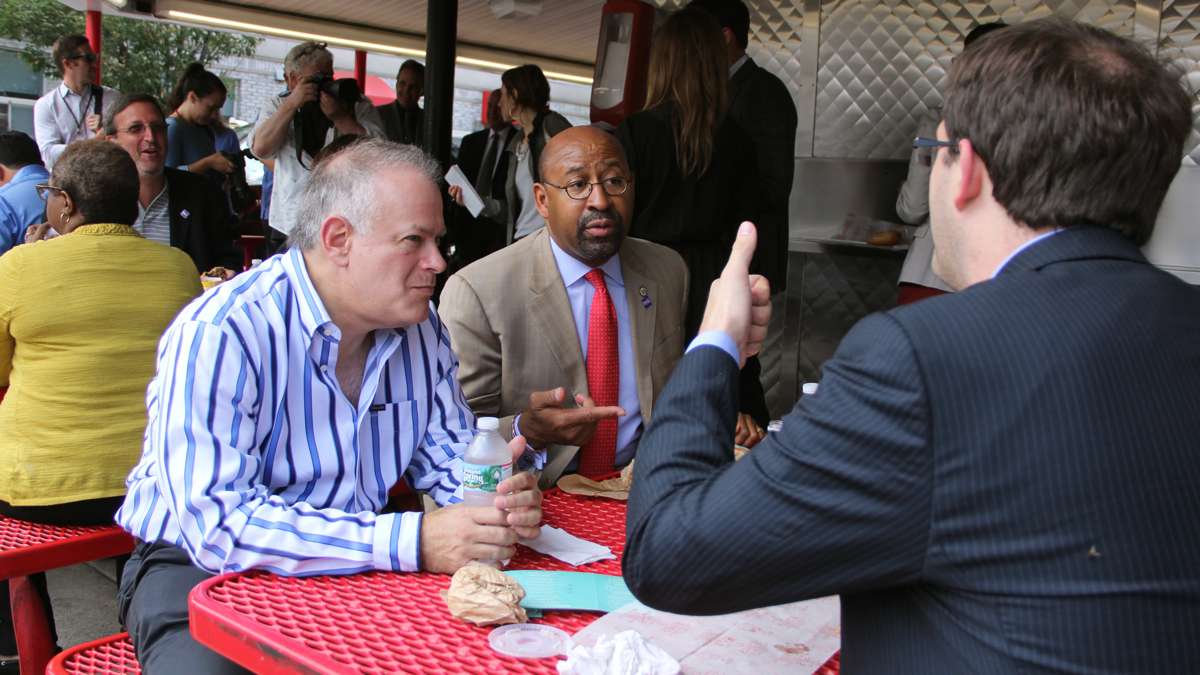 The classics:
Melrose Diner: Many of the city's diners have disappeared, but this South Philly institution still serves up a wide variety of diner staples 24 hours a day.
Pat's or Geno's: Fine. It's 2 a.m., and if you made it this late without indulging in a cheesesteak, you've earned the right to pop over to one of these touristy-but-still-iconic sandwich stands.
The newcomers:
Prima Pizza: Don't let the name or the Italian Market location fool you. This is one of the best taco spots in the city. The al pastor, beef tongue and stuffed pepper tacos are all off the charts.
David's Mai Lai Wah: The late closing time (3 a.m. during the week and 4 a.m. on weekends) is one of its best features at this Chinese comfort food spot. But the salt-and-pepper chicken wings are a show stopper any time of day.
---
Don't see your picks represented? Leave us a voicemail at 215-928-2408 or send us an email to let us know!
WHYY is your source for fact-based, in-depth journalism and information. As a nonprofit organization, we rely on financial support from readers like you. Please give today.