Design committee asks developers to rework proposal for 9th and Callowhill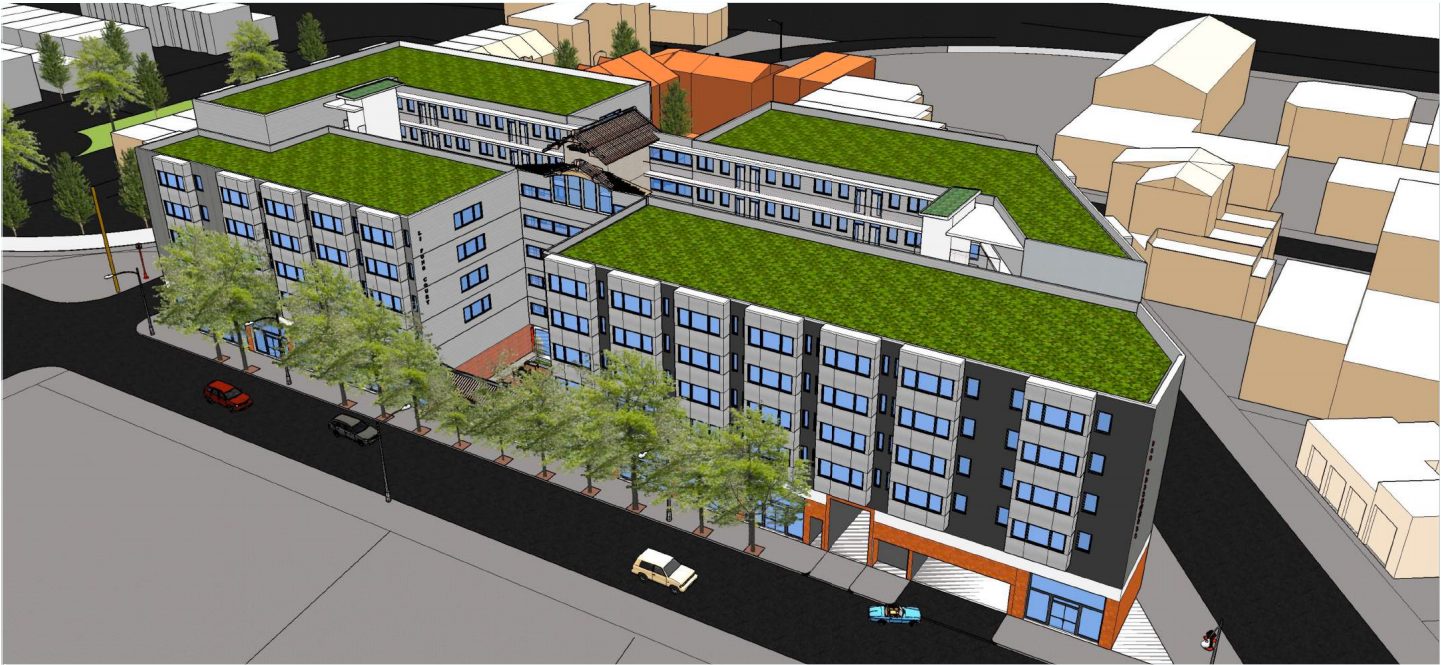 The Civic Design Review Committee has asked the developers of a proposed mixed-use apartment project on the mostly-vacant 900 block of Callowhill Street to take another look at their plans and present the proposal again next month.
"These plans scare me," said Cecil Baker, an architect and CDR Committee member, at a meeting on Tuesday. "To me, they're amateurish."
The plans come from Wing Lee Investment with a design by T.C. Lei & Associates. They call for a 146-unit apartment building with 12 commercial spaces facing Callowhill Street. 79 parking spaces would be buried underground, with the building rising to six stories along Callowhill and seven stories along Carlton Street.
In its review, Planning Commission staff observed that the project seemed to be designed to the minimum standards of the zoning code, and that its "central core function" was unclear. The staff said that there may be too many street trees in the plans, and that the sidewalks may be too narrow. Committee members said that the loading zone for the parking garage was akwardly located on Ridge Avenue. Baker also noted that the residential units seemed to be laid out inaccessibly, without consideration of the Americans with Disabilities Act. "Red flags" abound, Baker said.
The Committee, which is charged with reviewing the public impacts of major projects, asked the developers consider its comments and return with a new presentation. The Committee's comments are advisory and unenforceable, but they can delay the development process by asking for developers to return for a second presentation. The developers claim that this project can be built by right, but agreed to take comments under consideration before presenting again.
The Committee also reviewed a proposed residential project on North American Street in South Kensington called "Techadelphia," which would include workspace for startup companies. The Committee had positive comments for the project on Tuesday and voted to conclude the design-review process. (PhillyMag's Sandy Smith has more details on that project. Review the group's presentation to the CDR Committee here.)
The Committee also voted to conclude the process for 3675 Market Street, part of Wexford's proposed redevelopment of the former University City High School superblock. (For more on that project, review the developer's presentation and read Inga Saffron's recent column in the Inquirer.)
900-934 Callowhill Street | T.C. Lei & Associates

3675 Market Street | Zimmer Gunsul Frasca Architects

(HarmanDeutsch)

(Harman Deutsch)

(HarmanDeutsch)