Delaware oil spill cleanup inches closer to completion; source remains unknown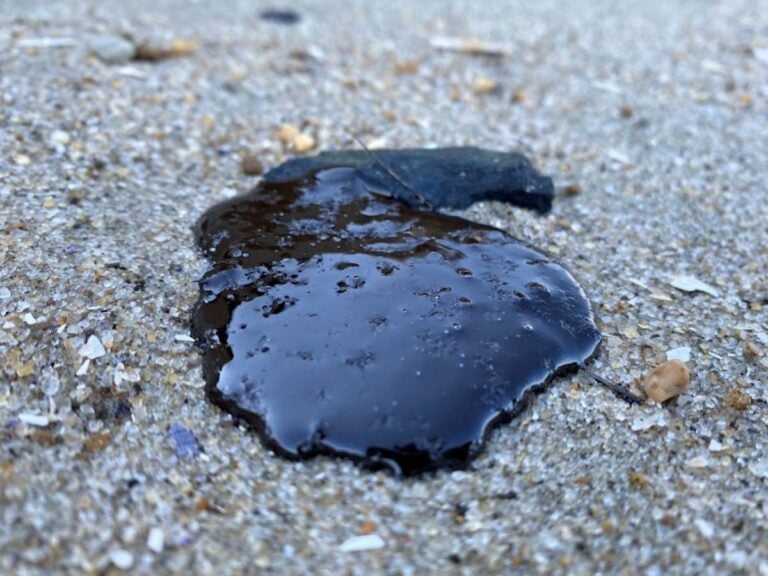 Cleanup crews have collected and disposed of more than 75 tons of oiled debris and tar balls from Delaware's coastline following an Oct. 19 oil spill. The Department of Natural Resources and Environmental Control announced Monday the cleanup effort is nearing completion.
An estimated 215 gallons, or five barrels, of oil from an unknown source washed ashore at Broadkill Beach two weeks ago. The spill affected about 60 miles of coastline, impacting Beach Plum Island, the Roosevelt Inlet and Lewes, as well as parts of the Maryland coastline.
There have been some sightings of oiled birds, but all were flighted, a DNREC spokesman said Monday.
DNREC Secretary Shawn Garvin said Monday that his department believes the cleanup of oily debris from the beaches is largely complete, but added that "people may continue to see small bits of oil or oily debris coming ashore here and there."
The Unified Command for the Delaware Bay and Atlantic will determine whether cleanup crews have been successful in their efforts or whether more work is required.
"At the end of the day, every person associated with this response effort is striving for the best possible outcome for affected areas and their residents," said USCG Lt. Cmdr. Fredrick Pugh in a statement. "With that in common, we will make intelligent determinations, zone by zone, that prioritize human safety, protection of wildlife and preservation of the environment."
The cause of the oil spill remains unknown, but an investigation by the U.S. Coast Guard is underway to determine the source, which officials initially believed was some type of ship. If a source is identified, the responsible party must reimburse the federal government for the cleanup operation.
The environmental organization Delaware Audubon Society is offering a $2,000 reward for information related to the cause of the oil spill, thanks to help from a donor.
While small spots of oil or isolated bits of debris may still be seen in the next several days, any large portions of oil or oily debris on the sand or in the water should be reported to DNREC.
Tips related to the cause of the oil spill can be relayed to the National Response Center at 800-424-8802. To make a report about the Delaware coastline, call DNREC's toll-free environmental hotline at 800-662-8802. For reports concerning the Maryland coastline, call the Maryland Department of the Environment at 866-633-4686.