Race to watch: Delaware's U.S. Rep. Lisa Blunt Rochester faces GOP challenger Lee Murphy, in rerun of 2020
Murphy, for the third time, is running to replace Lisa Blunt Rochester as Delaware's lone representative in the U.S. House.
Listen
1:36
Ask us: As Election Day draws near, what questions do you have?
Delaware voters will have a familiar choice at the top of the ballot this midterm election.
Republican Lee Murphy, for a third time, is running to replace Lisa Blunt Rochester as Delaware's lone representative in the U.S. House.
Blunt Rochester defeated Murphy two years ago with about 58% of the vote, and Murphy lost to the very unconventional candidate Scott Walker in the GOP primary in 2018.
Blunt Rochester, a Wilmington resident, has a long resume of government service, starting as an intern for then-Congressman Tom Carper, who is now Delaware's senior U.S. Senator. She was elected to Delaware's lone congressional seat in 2016, becoming the state's first Black representative in Congress and the first woman to represent Delaware in D.C.
Blunt Rochester says her focus in office has been on lowering the cost of health care and prescription drugs for the middle class, addressing racial disparities, and combatting the opioid epidemic.
Murphy, also from Wilmington, is a former teacher at Immaculate Heart of Mary, and has also coached at St. Elizabeth and St. Mark's high schools. He worked for Amtrak for 35 years, first as a conductor and then in management. Following his retirement, he pursued an acting career, appearing in television advertisements and films.
Last week, the pair shared the stage at the University of Delaware for a debate.
Ralph Begleiter, a former CNN journalist who founded the University of Delaware's Center for Political Communication, moderated the debate through a range of issues, starting with the economy and leading to abortion, gun violence, and other topics.
Asked about the Inflation Reduction Act, Blunt Rochester said it will benefit Delaware seniors and families without adding to the federal deficit. "It is actually paid for by really taxing those businesses and those individuals that are at that top-tier percent. Some businesses that have never paid taxes," she said.
A senior citizen's prescription medicine costs are limited under the Inflation Reduction Act to $2,000, while the cost of insulin is capped at $35.
"It doesn't take a lot to get inflation under control," argued Murphy, who added that the government is spending and printing money in a wasteful way and needs to be fiscally disciplined.
"Let's get the foot of government off the neck of small businesses [and] manufacturing. Create jobs, people pay taxes — the debt goes down," said Murphy. "And we have once again a healthy economy."
Asked about the U.S. Supreme Court decision overturning Roe v. Wade and Republican House Majority Leader Kevin McCarthy's proposal for a nationwide abortion ban, Blunt Rochester said "I believe there is no room in women's womb for politicians." She added, "What Republicans in Congress are proposing would actually nullify the will of the people here in Delaware."
She said rather than moving forward, Republicans are rolling back the freedom of all Americans. "I mean, your daughter had a choice," she directed to Murphy.
Murphy said the abortion decision should be a state decision. Begleiter followed up, asking if he would vote against Republican Kevin McCarthy's proposal of abortion limits.
"I support the Supreme Court's decision," said Murphy. "Handing it back to the states where it rightfully belongs, where people can get in touch with their legislators and do what's best for the interests of that particular state."
Although they had differing perspectives on many issues, the two found a few points of agreement, including support for Ukraine in its fight against Russia's invasion.
"This war, first of all, would not be happening if we were energy independent," he said, "Russia would not have the finances to finance this war."
"This was not a Joe Biden war, this was a Putin war," Blunt Rochester replied. She said, in her experience in Congress, that the war has been a bipartisan issue since there are "global consequences … consequences to democracy … to our safety and security" as a result of the war.
A recent University of Delaware poll shows Blunt Rochester with support from 50% of voters, compared to just 33% for Murphy.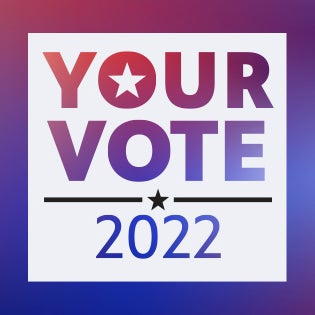 Your go-to election coverage
WHYY is your source for fact-based, in-depth journalism and information. As a nonprofit organization, we rely on financial support from readers like you. Please give today.