GOP nominee for lone Del. congressional seat is not your typical candidate
Scott Walker's campaign is the solitary quest of one peculiar man who rides around in a ramshackle jalopy that doubles as a billboard.
Listen
4:02
In Delaware's primary election last week, many political observers focused on the race between incumbent U.S. Sen. Tom Carper and progressive newcomer Kerri Evelyn Harris. Many thought the centrist Democrat Carper was vulnerable, but he vanquished his challenger with ease.
There was a big surprise, however. And that was the victory in the Republican race for Delaware's lone seat in the U.S. House of Representatives by one seriously unconventional candidate.
Scott Walker, who lost two years ago in the Democratic primary for the same seat, switched parties this year to become a GOP candidate. He defeated Lee Murphy, an actor and former Amtrak manager, in Thursday's primary and now will face first-term incumbent Democrat Lisa Blunt Rochester in the Nov. 6 general election.
It's new territory for Walker, who runs a one-man campaign operation so threadbare, that calling it a grassroots campaign would be a charitable designation.
The candidate wholeheartedly agreed with that assessment.
"I'm like dust, below that. I'm substrata,'' he quipped in a wide-ranging interview with WHYY this week.
Actually, Walker's campaign is the solitary quest of one peculiar man who rides around in a ramshackle jalopy that doubles as a billboard. That 1991 Toyota station wagon sports large wooden signs painted with landscapes and his name — and he plants them where lots of motorists are likely to see it.
Oh, and the 67-year-old father of four often slept in that wagon over the winter after a dispute with his wife.
A no-budget campaign
He hasn't raised any money for the race and doesn't have a staff. Walker said he ekes out a living providing flowers to a few hotels and shopping centers in the region. He used to run recovery houses, but he said he lost them to foreclosure.
He's also a self-described alcoholic who sought refuge in a recovery house this year. Here's an excerpt of what Walker said in a Facebook Live post in February. The video was taken by Jim Martin, who helps those struggling with addiction and homelessness in Sussex County.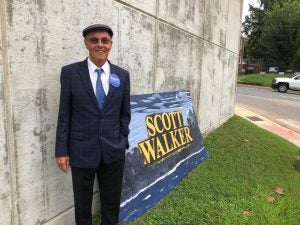 "I'm looking for a sober house because I have a drinking problem and I can't seem to lick it with medication or any other way,'' Walker said during the rambling post. "I need help with my addiction right now. I have too much at stake, and the people of Delaware would expect me to be in tip-top shape all the time."
Walker never went into rehab and acknowledged he still drinks five or six beers a day as he campaigns to defeat Rochester.
Rochester and her campaign did not return calls to discuss the unusual challenge.
Ironically, Rochester has already defeated Walker in an election. That occurred in 2016 — in the Democratic primary. Walker won just 5 percent of the vote, finishing fifth in a six-candidate race.
But this year he decided to run as a Republican, after switching parties and even briefly changing his registration to unaffiliated in 2017.
In the GOP primary, he took on Murphy, who played the U.S. secretary of defense in the Netflix series "House of Cards."
The party didn't endorse either candidate, but most loyalists expected Murphy to roll to victory.
Instead, Walker won, 53 percent to 47 percent.
His victory was not as shocking and likely won't have the impact of Christine O'Donnell's 2010 GOP primary win over popular congressman and former governor U.S. Rep. Mike Castle in the race for U.S. Senate. O'Donnell lost to Democrat Chris Coons in that general election.
But Walker's triumph was a definite surprise, to him as much as anybody.
Walker said he was driving home to Milford that night after the polls closed and resigned himself to his second electoral defeat — and the apparent end of his political aspirations.
"I said, 'That's it, I'm done,' " he recalled. "I'm going back to gardening tomorrow and going back to work."
Then he got a call from a radio host.
"He said, 'Scott, you know, you won.' I was stunned while I was driving."
His wife reached out, too.
"She kept texting me and said, 'You are on the news. You've got a check mark next to your name,' " he said. "And that's how it ended."
GOP leader: 'We were surprised'
So now Walker is a 2018 torchbearer for the Republicans, his name and race against Rochester just below Carper and his GOP foe Rob Arlett on the general election ballot for Nov. 6.
Party director Emily Taylor wouldn't commit to supporting Walker's candidacy in a state where Democrats have a 2-1 voter advantage.
"We were surprised, but that's the way it happened," Taylor said. "We'll have to, since they were surprising results, decide what's the best way to maximize the limited resources we have as a party."
Walker, who is white, said he thinks he can win enough votes in predominantly black Wilmington to defeat Delaware's first black member of Congress.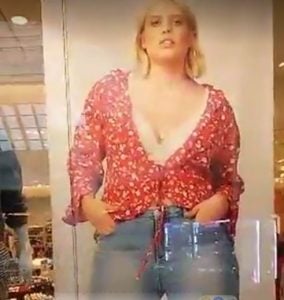 His platform? A free-market economy and national defense through an anti-ballistic missile system.
Walker, who recently dropped 60 pounds, is also railing against obesity as a national health crisis.
That stance has led to strident criticism of him on social media in light of a Facebook video he posted that was critical of plus-sized model whose photo was on a store window.
"She is very very obese, and this is just a protest because women should not get the idea that it's OK to be unhealthy,'' he said in the video filmed in video.
Walker said he's glad he posted the video. Amid cries that he is engaging in fat-shaming, Walker said he's just trying to save the country trillions of dollars in medical costs.
And eventual doom.
"They should be ashamed they aren't taking care of themselves,'' he said. "If somebody doesn't speak about that, we're going down, and we're going to be speaking Chinese in a few years — if we're still alive."
WHYY is your source for fact-based, in-depth journalism and information. As a nonprofit organization, we rely on financial support from readers like you. Please give today.