Delaware Democrats sweep to victory in races for U.S. House, attorney general, auditor, treasurer
Democrats maintained their stranglehold on all nine statewide elective seats.
Democrats in Delaware maintained their stranglehold on statewide elective seats Tuesday, sweeping to victory in races for U.S. representative, attorney general, auditor and treasurer.
Democrats, who hold a nearly 2 to 1 voter registration advantage over Republicans, have held all nine statewide posts since 2018, and the midterm results reflected their dominance over GOP foes.
The unofficial results, with 100% of the vote tabulated:
Three-term U.S. House incumbent Lisa Blunt Rochester defeated three-time candidate Lee Murphy, 55% to 43%. Blunt Rochester defeated Murphy by 17 percentage points two years ago.
First-term incumbent Attorney General Kathy Jennings beat Julianne Murray, 54% to 46%.
First-term incumbent treasurer Colleen Davis dispatched newcomer Greg Coverdale, 54% to 46% to win re-election.
Newcomer Lydia York defeated Janice Lorrah in the race for auditor, 54% to 46%. York had defeated incumbent Kathy McGuiness in the September Democratic primary, two months after McGuiness was convicted of two misdemeanors for hiring her daughter.
Blunt Rochester said Delaware voters sent her back to Congress for a fourth term because they knew she will do the hard work necessary to improve lives.
"We still have work to do in terms of recovering from the pandemic economically, as well as making sure that we are all well'' healthwise, Blunt Rochester told WHYY News soon after 9 p.m. when the early results showed her with a larger 20-point lead. "We talked about rebuilding, rebuilding our economy, rebuilding our infrastructure. And so we've been able to start on that with the bipartisan infrastructure bill and the CHIPS and Science bill."
She said voters appreciate her willingness to work across the aisle in today's divisive political climate.
"I will work with anybody — Democrats, Republicans, independents — to get things done for Delaware,'' she said. "And I think that resonated with people, that they know I just want to solve problems and make their lives better."
One voter who supported Rochester was retired state trooper William Chapman. He said Murphy "really represents the far, far right extreme," doesn't prioritize women's rights, and would exacerbate the "agitation between Democrats and Republicans."
But Rochester "has already proven that she attempts to work across the aisle,'' Chapman said. "I like her policies as far as defending women's rights and all the other social issues. I think she's on the right side of it as opposed to Mr. Murphy. "
The dual victory of Blunt Rochester and York also marks the first time Delaware has had two Black politicians in statewide elective posts.
Rochester said York, a lawyer and certified public accountant "brings a level of integrity and transparency to that office'' that was tarnished by scandal in the last year. "And so I'm just proud to be with her.'
She noted that all four statewide winners Tuesday were women. "Two Black women and two majority women,'' she said. "I'm proud to have been leading this really historic ticket."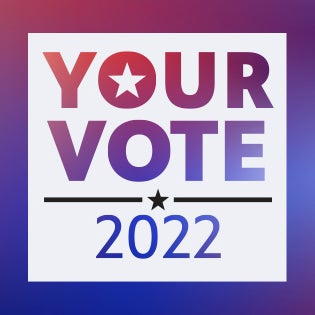 Your go-to election coverage
WHYY is your source for fact-based, in-depth journalism and information. As a nonprofit organization, we rely on financial support from readers like you. Please give today.