Return to Ukraine proves heartening — and heartbreaking — for Delaware woman
Poladko and her family fled Russian bombs and tanks when the invasion began in late February. They are now living in Poland while mulling their future.
Listen
3:35
Returning to Kyiv and her native Ukraine in July, five months after fleeing the tanks and missiles from the Russian attack on her homeland, Tatiana Poladko experienced a feeling of euphoria.
The city thrived during the day, with diners filling cafes, people working, kids going to camp, and laughter filling the air.
"It felt like things were great, the blooming, blossoming city," Poladko recalled. "People smiling, eating ice cream, and just beautiful."
Then midnight came.
Poladko was working on her computer at their home about 15 miles from Kyiv, doing her job for the TeenSHARP education nonprofit she runs in Delaware, New Jersey, and Philadelphia with her husband Atnre Alleyne. She normally worked late to collaborate with her colleagues in Wilmington, which is seven hours behind Kyiv.
Suddenly, an air raid siren pierced the silence.
The shrieking, repetitive sirens triggered a harrowing flashback of the dangers they escaped in February during their odyssey by car, train, and foot, to safety in Poland.
"That was very, very terrifying," Poladko said about the first of many late-night air raid sirens she endured during her nearly three-week journey back to her war-torn homeland.
"The entire neighborhood was pitch black, curfew at 11 o'clock," Poladko said. "It felt to me, first and foremost, being in the house, like all those visceral feelings of fear that we experienced in the first few days, they all came back."
"I was just like having so much terror in my soul, I felt like the missiles were going to fly in my house. And I was just wondering, is anybody else around?"
She called her husband Atnre Alleyne, who was with her three young children in Warsaw, where they have lived since early March. He helped her calm down but for the next several days, the pattern was the same: blissful days, frightening nights.
Each time, she found herself "trying to figure out what my actions should be since my house does not have a bunker."
'I cry a lot when the brain cannot fully understand what is happening'
Poladko spoke with WHYY News last week by phone amid a new and fierce round of deadly bombardment from Russia, which continues rocking Kyiv and other cities today.
Alleyne, who was visiting the Mid-Atlantic area to see family and do work for TeenSHARP, including holding a fundraiser at the Wilmington Country Club, came to WHYY's Wilmington office, and called his wife from the studio.
The couple says they are adjusting fairly well, living in a four-bedroom apartment while their children — Zoryana, 7, Nazar, 4, and Taras, 3 — are in Warsaw schools and engaging in activities such as swimming and tennis. Poladko's 81-year-old father, who had been living with the family when the war began, has since reunited with his wife near the Romanian border.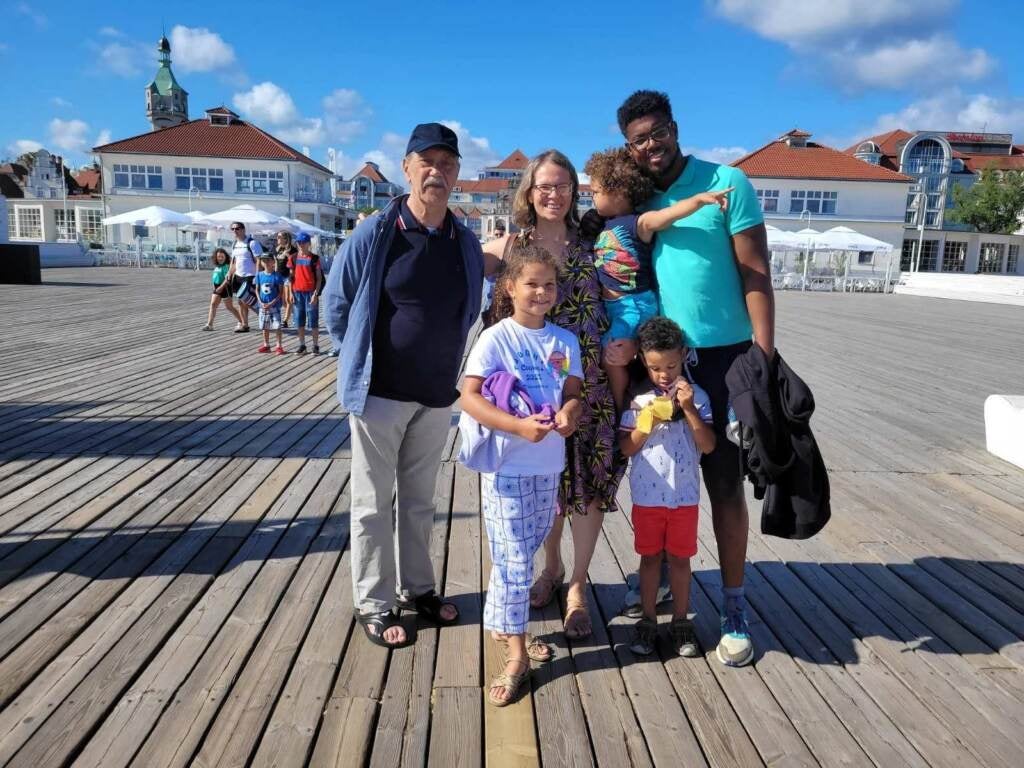 "We're all feeling less on top of each other," Alleyne said. "So the kids are doing well. That's [been] first and foremost for us throughout the whole thing. We shielded them from a lot but there were some scary moments" on the way out of Ukraine.
"They love their school. They also want to go back to Ukraine. My daughter's birthday is in February, and she said, 'For my birthday, I just want the war to be over.' And she keeps asking me when it's going to be over. But you know, how do you explain to a 7-year-old all this — the persistence of the terrorism from Russia?"
Poladko bemoans this devastating period for Ukraine and its citizens, including herself.
"I cry a lot," she said. "I cry a lot when I'm proud. I cry a lot when the brain cannot still understand what is happening, the death and destruction that Russian folk are bringing. And what's particularly frustrating is uncertainty about when is the end."
Yet she's grateful her immediate and extended families have escaped harm.
"We're doing well, thankfully, all things considered," she said.
Seeing 'consequences of the attacks and the country being rebuilt'
Poladko returned to Ukraine in July to sort out issues with travel documents, including her passport, "which was going to expire," she said.
While there she decided to clear out her old house as the lease will soon expire. She collected clothing and bedding, and donated other items to needy residents who had been displaced "with nothing" to the Kyiv area from elsewhere in the battered country.
The family had abandoned the home in the normally peaceful village of Novi Petrivtsi on Feb. 26 after Russian military helicopters flew just above rooftops during what she said was a failed attack on a nearby power plant.
"It was an important point of closure, an important opportunity to catch up with people I love," she said.
During the nearly 500-mile journey across the Poland-Ukraine border to the Kyiv area in July — and on the way back — Poladko said she witnessed so many scenes of destruction and reconstruction in her homeland.
Driving west to east, she "saw the consequences of attacks, and the country being rebuilt right in front of your eyes," she said.
Poladko said she swelled with pride as she watched one merchant re-hanging his store's sign amid the piles of rubble from the bombs. He was preparing to repair the structure.
"You could see the anti-tank gear on the roads everywhere," she said. "In different places, Ukrainians painted it blue and gold, which was making it part of the scenery, making it a little bit more normal. We are continuing to live despite these circumstances."
Tatiana Poladko saw dismantled Russian tanks on the street during her July visit to Ukraine. (Courtesy of Tatiana Polodko)

Tatiana Poladko saw dismantled Russian tanks on the street during her July visit to Ukraine. (Courtesy of Tatiana Polodko)

Part of a downed Russian warplane is marked on a street in Ukraine. (Courtesy of Tatiana Polodko)
Her visit came at a time when Ukraine was perceived as beginning to turn the tide against the attackers.
"Over time my friends would post as they were coming back to Kyiv, pictures of themselves in a coffee shop enjoying a latte," she said. "And almost your brain cannot believe it, because that is not the image that was ingrained in my head.
"It was very eerie to see life as normal, until the air raid [sirens]," she said. "There I was in the middle of the day, seeing my friends, having a lovely dinner, even driving through the city. And it's summer."
The first air raid sirens eviscerated her optimism, however.
Poladko and Alleyne still intend to return, if possible, to her Ukraine. But with uncertainty reigning, they are exploring other options, including a return to the Wilmington area.
"I was trying to tell myself that by June that the Russians are going to run out of money. War is very expensive," she said. "And given all the sanctions and whatnot, it just seemed like all the right things were going on and they just would possibly not have the funds to continue this intense of an attack."
"Then I was hoping to be back by September 1st. That did not happen. Now we understand this is a much stronger engagement than all of us desired."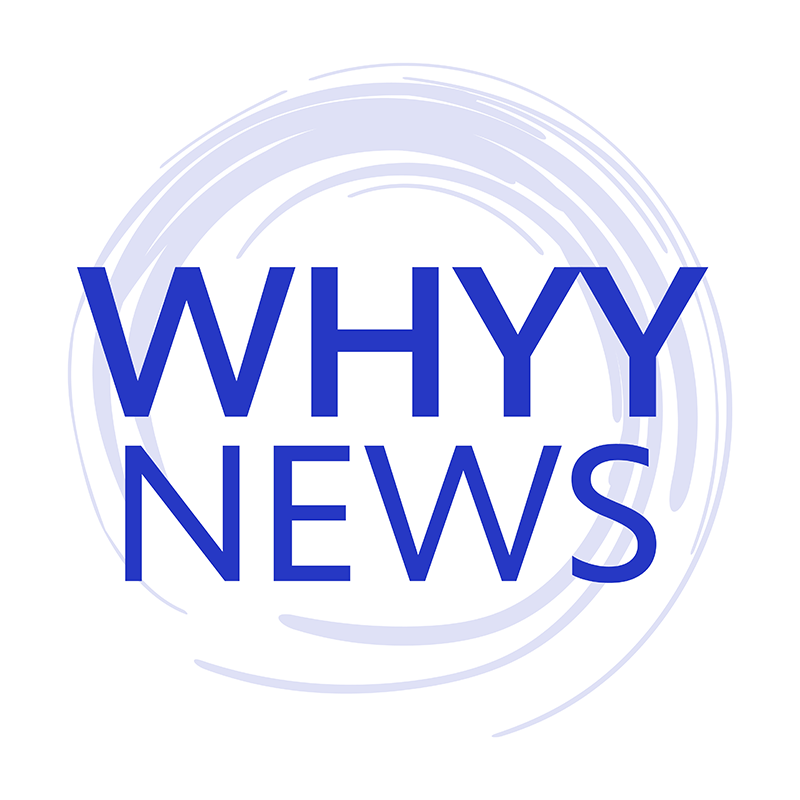 Get daily updates from WHYY News!
WHYY is your source for fact-based, in-depth journalism and information. As a nonprofit organization, we rely on financial support from readers like you. Please give today.