Fleeing Russian bombs, tanks, destruction: Delawarean in Ukraine recounts family's ongoing odyssey to stay safe
Tatiana Poladko and her family of six live near Kyiv. Since the bombing began, they have been on the move, by car and train.
Listen
3:37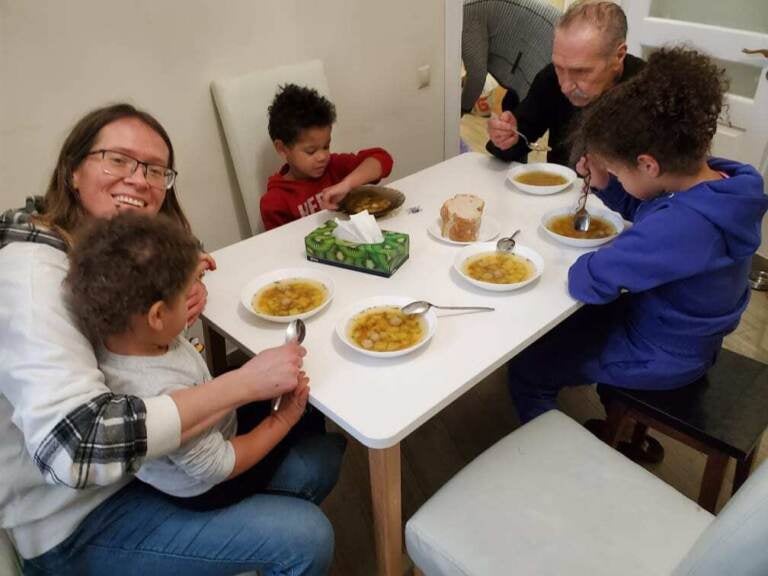 A thundering boom rocked Tatiana Poladko's home near Kyiv as she slept a week ago.
Terrified, Poladko awoke with a feeling of doom, at first thinking Russian bombs that had been anticipated for weeks were now dropping on her peaceful village about 15 miles from the Ukrainian capital.
"The explosion was so strong, even though it was far away, that I felt the house shaking," Poladko said.
She now thinks the sound that so frightened her was anti-aircraft artillery — not missiles — but one fact was certain: Vladimir Putin's invasion had begun. Poladko knew then it was time for her family — husband, three young children, and her ailing 81-year-old father — to escape to a safer location away from the missiles and advancing troops.
If she had any doubts about evacuating, they were erased after daybreak when Russian helicopter gunships flew low above her neighborhood in what she said was a failed attack on a nearby power plant.
"The kids were just screaming, like they became hysterical," Poladko said. "Obviously we got scared because for a second it looked like they were about to shoot missiles from those helicopters."
Thus began a harrowing and continuing odyssey for the Wilmingtonian who has lived in her native Ukraine with her family for the last year. Poladko, who runs the academic program TeenSHARP and has worked virtually through the pandemic, recounted her family's excruciating ordeal during an hourlong phone interview with WHYY News.
The family has traveled hundreds of miles in a westward zigzag route from their home in Novi Petrivtsi to three different towns. They first traveled by car — her family of six packed into a friend's Volkswagen Passat with a woman and her daughter — and then by train.
They stayed one night in a hotel Zhytomyr, leaving hours before the bombing began there and where at least four people were reportedly killed in a bomb strike Wednesday.
They traveled about 185 miles overnight by rail to Kovel, and then 110 miles to Lviv, where they are staying temporarily in the apartment of a friend who has gone elsewhere in the nation under military siege. Lviv is about 40 miles east of the Polish border.
Safe for now, now Poladko and her family are waiting to join a logjam of tens of thousands of people hoping to be among the 1 million Ukrainians who have already fled their country.
"The lines are insane," Poladko said. "People are taking 48 hours just sitting in line to get through the same points of entry into Poland."
'None of us thought it's going to be ruthless like this'
Poladko, her husband Atnre Alleyne, and their children — Zoryana, 7, Nazar, 3, and Taras, 2 — returned to her homeland last year. Her mother Lyudmila died in 2020 and Poladko left Delaware to be with her father Eduard, who has health issues.
Poladko and Alleyne have been able to work virtually for TeenSHARP, their nonprofit extracurricular program for Black and Latino high school students aspiring to be admitted to elite colleges.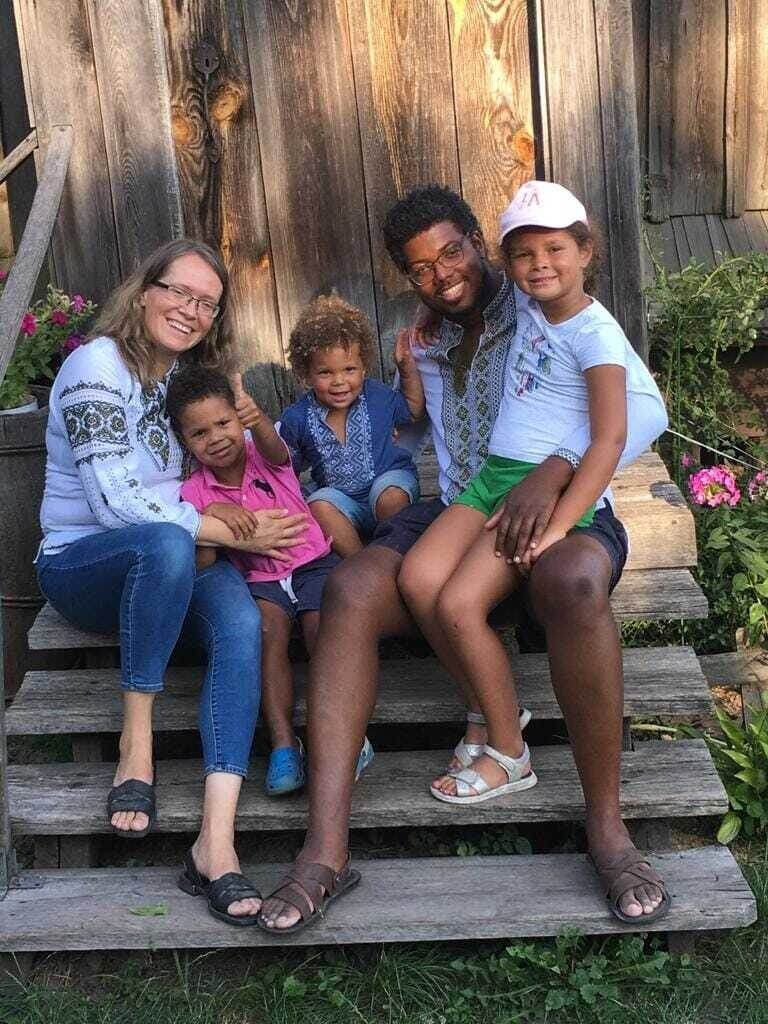 They grew increasingly worried, by Putin's monthslong military buildup on the Ukrainian border, their days and nights fraught with trepidation. On Feb. 17, President Joe Biden said there was "every indication" Russia would attack its neighbor and former member of the Soviet Union within days.
"We were hoping he wouldn't attack," she recounted, but "none of us thought it's going to be ruthless like this."
The first bombs fell on Feb. 24 — eight days ago — and each day has seen more destruction and bloodshed even as Ukrainian soldiers and citizens who have been issued firearms have battled the invaders. On Wednesday, Russian troops reportedly took control of Kherson, a southern port city of about 280,000 residents, almost as many as Pittsburgh.
Meanwhile, Poladko and her family have been on the move.
They don't have a car because they don't need one for transportation in their small town, but on Feb. 21 they began trying to purchase one. That effort proved fruitless, so on Feb. 25, when they decided to go by rail, it was already too late.
Train stations were jammed beyond capacity with prospective riders, Poladko said. "It was insane," she said. "There are people falling off trains. It was just a really scary situation. Folks were waiting for four days to get on" a train.
She began offering to pay for a ride to safer ground, searching via social media groups in and around Novi Petrivtsi. She offered to "pay handsomely," she said.
Her plea was answered by one mother from her children's child care center who lived a few miles away. The woman told Poladko she had a car but was afraid to drive through a possible war zone alone.
"So we cook up a plan that we are going to somehow, someway figure out how to pack in a small regular sedan car," she said.
The logistics were compounded by the fact that Alleyne stands 6-foot-6. But they figured cramming into a small vehicle was far safer than staying. They decided to push off the morning of Saturday, Feb. 26.
Running into a tank on the road to Zhytomyr
They only packed essentials – a couple of changes of clothes, toiletries, medicines, snacks.
Poladko also had to tell her stubborn father that he could not bring a suitcase. "We're leaving it all," she told him.
By the time they left, Ukrainian troops had flooded the area around her town in hopes of repelling a possible Russian attack, blocking off the route they had planned to drive.
Meanwhile, overnight they heard "more explosions, more shooting," as they mapped out a possible route.
"We knew we were going to western Ukraine," Poladko said. "But we did not have a particular destination in mind. We just needed to pick safe routes, as safe as they could be.
"I was worried at this point because I started to read early information about Russians shooting at the civilian vehicles that are on the run. It was extremely scary for all of us. You know, how are we going to make it out?"
They had to pass through blockades, where soldiers scrutinized their papers and quizzed them to make sure they were not Russian soldiers posing as Ukrainian citizens.
Poladko and her fellow occupants in the Passat were grateful, however, that the road was mostly deserted, "which was great because we could get some speed, but also, like, very, very eerie."
One tense moment came when they saw a lone tank in front of them on an otherwise deserted stretch of rural roadway. They feared they would come under enemy fire, but the tank turned and rolled into the forest. They never knew whether it was Ukrainian or Russian.
They arrived in Zhytomyr, about 100 miles from their home, after a four-hour drive, only to find that troops were setting up a blockade against the Russian soldiers and their vehicles.
That night people were walking on the streets and stores were open and Uber rides were still available, but it was obvious "the city was preparing for a battle."
'I'm safe and that's not something to be taken lightly'
Their friend with the Passat went on alone with her daughter to the Polish border. Poladko and her family went to the train station Sunday afternoon and waited for a train they could board, as long as it was headed westward.
They caught a train that evening to Kovel and arrived the next morning. At the Kovel station they learned that in a couple of hours, they could catch another train to Lviv, more than 100 miles to the south, where a friend had offered them an apartment to use.
That's where they have been since late Monday, worried about the present and the future, both short- and long-term.
"I'm safe and that is not something to be taken lightly" since a reported 2,000 civilians have been killed already.
There have been no bombs or fighting so far in Lviv, the largest city in western Ukraine with more than 700,000 residents.
"Thank God, nothing," Poladko told WHYY. "We've had some sirens, so there is something our anti-aircraft system is catching, but we have not experienced an explosion, you know."
The next stop, they hope, is Poland or southwest into Hungary, and maybe then to a U.S. Embassy.
Returning home to Delaware might not be an option now, however. Her father needs her assistance and does not currently have the proper paperwork to travel to the United States.
Yet she continues to hold out hope that her fellow Ukrainians hold off the Russians.
"I think Russians are already realizing that this is no joke," she said. "They're running out of missiles. They are sending kids here to fight. … And especially with the sanctions in place, it's going to be extremely tough for them to keep this going.
"It's perhaps naïve, but I'm really, really hoping that there's going to be a world in which, in the next couple of months, we may be able to come back to our home in Ukraine."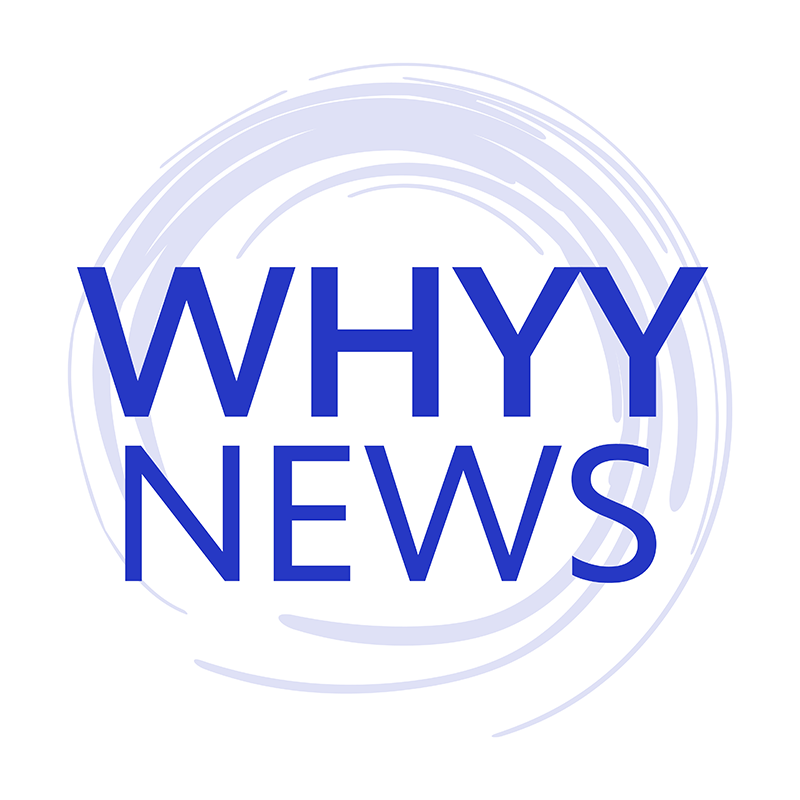 Get daily updates from WHYY News!
WHYY is your source for fact-based, in-depth journalism and information. As a nonprofit organization, we rely on financial support from readers like you. Please give today.