Delaware inmates' families, advocates grill officials about transfers to Pennsylvania
Sharon Osburn's mother and aunt recently died. She has lupus and breast cancer and struggles to walk, even with a cane. She says she can't make the 90-minute trip to Pennsylvania's Camp Hill prison from Wilmington to visit her son.
Osburn said her son, who is serving 15 years on weapons and other charges, is among the approximately 330 Delaware inmates whom the state began moving to Pennsylvania prisons in November.
Delaware's goal is to address a chronic shortage of prison guards, which costs the state hundreds of thousands of dollars a week in overtime pay — and leads to burnout and high turnover.
Osburn was one of about 75 prisoners' relatives, criminal justice reform advocates and elected officials who gathered for a meeting Friday about prisoner transfers at the offices of the Wilmington HOPE Commission, which helps former inmates transition to society.
"I want my son back home. He's got seven kids. Two I raised. This is putting more strain on me. I don't care what he did. He's not a murderer. He didn't kill anybody," Osburn told a trio of prison officials led by Steven Wesley, chief of the Bureau of Prisons.
"You don't want nobody to treat your child like that. Would you? Why would you do it to us? We are parents. We had them, carried them for nine months. Not y'all, so y'all don't care," she said to a chorus of cheers and clapping.
The meeting was organized by the American Civil Liberties Union of Delaware to get a dialogue going between affected families and prison officials.
Wesley said the transfers will alleviate the strain on guards. Officials said they hope aggressive hiring cuts the vacancy rate, now about 13 percent. Then the prisoners can return.
"It's not a forever strategy. It's an overall process so that we can bring them back, and, when they come back, hopefully the institutions are safer," he said. "We also have to have the staffing so we can effectively deliver quality programs."
Wesley urged anyone with concerns to meet with him afterward or contact his office. He promised that the state, which will be paying Pennsylvania about $30 million over the two-year period, will be monitoring how the inmates are treated.
The decision to transfer prisoners was first reported by WHYY this summer. The state moved forward with the transfers despite concerns by lawmakers who wrote to Gov. John Carney and asked him to reconsider executing "the shell game of shipping our overflow problem to other states."
The first prisoners were sent to the Camp Hill prison near Harrisburg, but other Pennsylvania prisons will also be accepting Delaware inmates. The state has said prisoners it transfers must have at least five years remaining on their sentences and not be involved in civil litigation.
The governor and Department of Correction officials insist the move is necessary to alleviate the burden on correctional officers.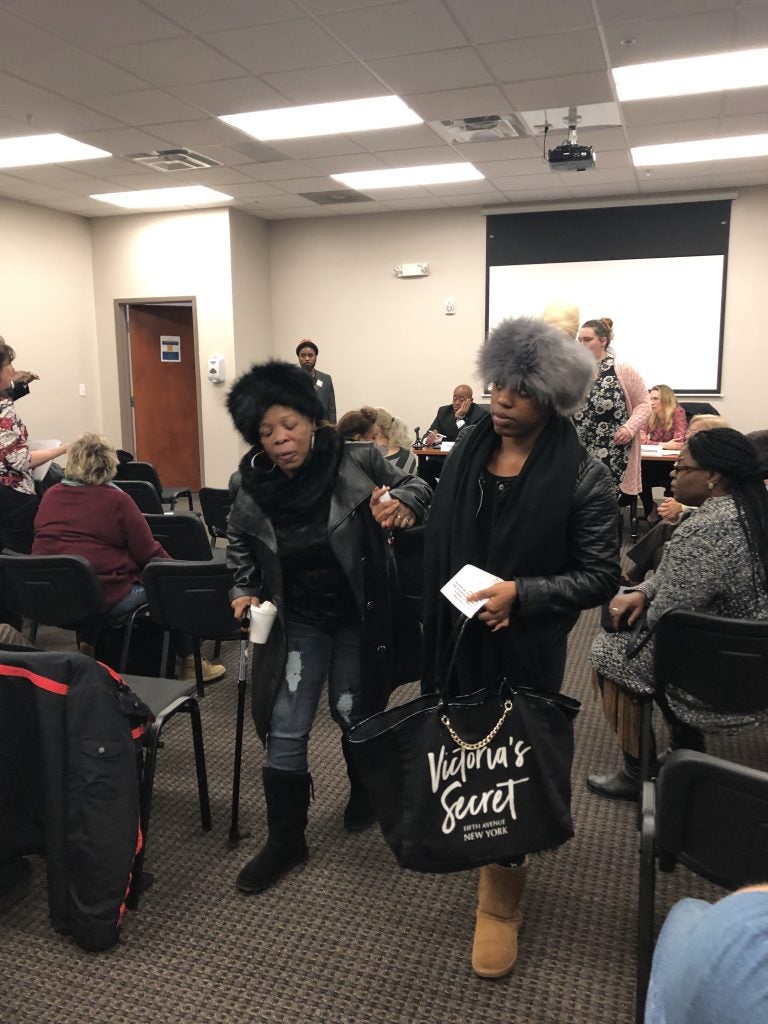 Because of chronic understaffing, as well as high turnover and vacancy rates, guards are often "frozen" in place and forced to work additional shifts to maintain safe operational levels in the overcrowded Delaware prison system. This year, the state raised the starting pay to $43,000 and added other incentives; as of November, there were still 237 guard vacancies out of 1,910 positions.
Those correctional officers are responsible for safety in a correctional system that, as of Friday, held 5,738 sentenced inmates and defendants jailed in lieu of bail in four Level V prisons. Another 667 prisoners are in violation of probation and work-release centers.
Carney and prison leaders made the decision to move up to 330 inmates without seeking the public's comment, despite fears by some lawmakers about foisting Delaware's problems on another state, as well as the burden on prisoners' families, who now could face long drives to visit their loved ones.
Cutting mandatory overtime and filling vacancies among the ranks of correctional officers were the only unmet recommendations after an independent report was released this year into a fatal prison uprising in February 2017, just 10 days after Carney took office. Sgt. Steven Floyd was killed in the riot at the Vaughn Correctional Center near Smyrna.
But criminal justice reform advocates want him to reconsider the mass movement of prisoners and consider other options to reduce the prison population. Friday's event was hosted by the ACLU of Delaware's Campaign for Smart Justice and H.E.A.D.S. U.P. in the 302.
The ACLU has filed a freedom of information request with the state seeking more details on the inmates transferred, the selection criteria, agreements with Pennsylvania, and the treatment of the transferred inmates.
Erica Marshall, an attorney who is managing the ACLU's Smart Justice Campaign, said inmates' families simply want answers and "just have a lot of concerns for their loved one and how they are being treated up in Pennsylvania."
Marshall said the ACLU's primary goal is to reduce the prison population in Delaware to manageable levels. She urged the state to seriously consider detaining people held in lieu of bail — currently 969 — only when absolutely necessary. Another suggestion is to use the state's "compassionate release statute" when applicable to release prisoners older than 70. Wesley said about 60 of those prisoners are now being held.
Representatives from Carney's office and the prisons were invited to Friday's meeting, along with elected officials from the state, Wilmington and New Castle County. While three prison leaders attended, Department of Correction Commissioner Perry Phelps did not attend, nor did it appear that anyone from Carney's staff participate in the meeting. Wesley said Phelps had another commitment.